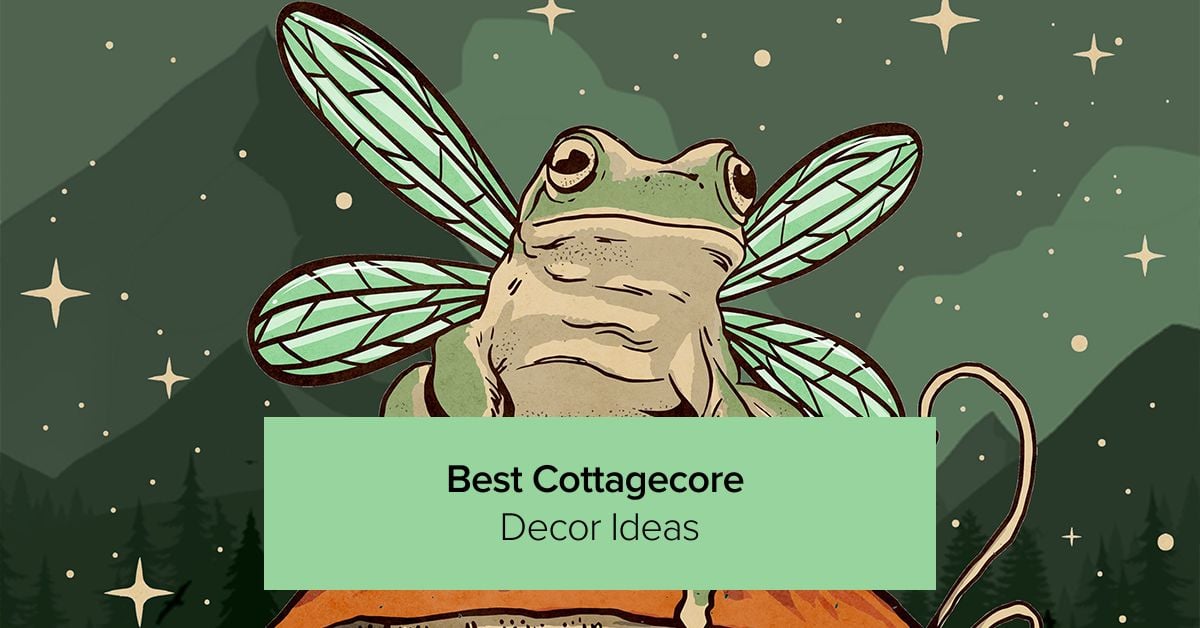 If it's your dream to dump your city life, buy a cottage and live a rural idyll, cottagecore might be the perfect aesthetic for you and your interior. And while you might not be able to pack up and move to the country just yet, you can bring the rustic look into your home with these 15 cottagecore decor ideas.
If you're like us and feel a little crazy about all the time you've been spending indoors lately, you might be daydreaming about ditching everything and moving to the country. But who has time or money for that? Or should one even leave the city to enjoy a more rustic lifestyle? Enter cottagecore and all its hygge-inducing, slow-living goodness.
What is Cottagecore and how it started
For the uninitiated, cottagecore is an aesthetic movement that romanticizes country life and practical tasks like knitting, gardening and baking, back to a simpler time when people lived off the land and made their own clothes and food. It is often described as country living meets greenery and abundant flowers with a healthy dose of vintage thrown in for good measure.
Cottagecore started as a trend on Tumblr and TikTok in the late 2010s, but it's been around a lot longer than that. In fact, its roots can be traced back to the Victorian era when it was popular for wealthy city dwellers to escape to country towns for leisure.
Cottagecore aesthetics exploded into the mainstream during the coronavirus pandemic, likely as an antidote to the endless scrolling of bad news and anxiety that came with it. Remember how everyone is baking bread and sewing masks in 2021? It was cottagecore.
Since then, the trend has only grown, with more and more people drawn to the idea of ​​a slower-paced, more sustainable reality. And while it may seem like something that will only be popular among those who remember the days before wifi, cottagecore has actually caught on with millennials and Gen Zers who want to decorate their homes the way their grandmother did.
How to make your home more Cottagecore
Cottagecore aesthetics are inspired by a longing for an idealized past, far from the worries and uncertainties of the modern world. As a result, the style is heavy on flowers, natural materials and vintage-inspired accessories. It's also about creating a space that feels cozy and inviting – somewhere you can relax and recharge away from the hustle and bustle of everyday life. Think reading nooks, dried flowers hanging from the ceiling, and worn quilts draped over the furniture.
If you want to invite the same tranquility to your interior, check out these 15 cottagecore decor ideas to get on board the movement. Continue reading to the end of the article for a bonus gallery of cottagecore wall art ideas to complete the look!
Layer patterns and fabrics
There is certainly nothing pristine or overly coordinated about the cottagecore style. Rather, it's about layering different patterns and fabrics to create a cosy, lived-in feel. So don't be afraid to mix and match—floral prints can match stripes, gingham can be paired with polka dots, and solids can be offset with plaids. When it comes to fabric, think linen, wool and cotton in a variety of textures.
Mix your wood
Wood is a common theme in cottagecore style, but that doesn't mean you have to stick to one type. In fact, incorporating different woods can add character and depth to your space. So don't be afraid to mix and match! Try pairing a rustic farm table with some mid-century modern chairs or team a weathered dresser with a sleek metal bed frame. The possibilities are endless, so enjoy!
Go wild with wallpaper
Whether used as a feature wall, alongside paneling, or applied to furniture, wallpaper screams cottagecore. And there are so many different ways to use it! Busy floral prints are always popular, but you can also go for something unexpected like toile, gingham or even stripes. Just make sure you choose a design that speaks to you and your personal style.
Bring the outdoors in
One of the most defining characteristics of cottagecore design is its focus on nature, so it's no surprise that greenery plays a big role in the style. Houseplants of all shapes and sizes are welcome, as are fresh flowers, dried flowers and herbs. For a truly impactful display, try arranging some plants in vintage jugs and baskets around the room.
Add wall art
Pastoral wall art is a great way to add a touch of vintage style to any cottagecore ensemble. But don't feel like you have to stick to rural landscapes—any artwork that evokes a sense of peace and tranquility will do. So whether you choose a calm nature watercolor, an old sketch study, or even just a pretty botanical print, make sure it speaks to you and makes you feel at ease.
Make a DIY sink Hull
Skirts for sinks! To give your kitchen, bathroom or appliances that unmistakable cottagecore vibe, buy a skirt for your sink. If you can't find one you like (or if you're feeling crafty), you can always make your own. All you need is some fabric, elastic and a sewing machine. And if you really want to get creative, you can add some ruffles or lace trim.
Show you China
Cottagecore trend or not, there's something so satisfying about displaying your best china. Whether you use it for everyday meals or save it for special occasions, taking it out of the closet and displaying it is a great way to make your home feel more inviting. Plus, it adds a touch of sophistication to the cottagecore aesthetic.
Embrace junk
Gone are the days of minimalism and jarring Marie Kondo style—with cottagecore, more is more, even if it gets a little messy. So if you've been holding on to those trinkets for years now is the time to display them. Arrange them on open shelves, wardrobes and windowsills, or create a gallery wall with frameless artwork, vintage photos and pretty postcards.
Use muted colors
Cottagecore prefers muted colors and earthy tones. Think off-whites, creams, vintage blues and greens. These colors are not only calming and peaceful, but they also lend themselves well to layering. So if you're not sure where to start, try painting your walls a neutral shade and then build from there with fabrics, wallpaper and accessories.
Decorate with vintage finds
Secondhand and vintage furniture is a staple in any cottagecore home. And there's no need to spend a fortune—check out your local flea market or thrift store and see what you can find. Old-fashioned chalkboard shelves, bureau-style desks and old wardrobes can all be given new life with a little elbow grease and some paint. Just make sure the pieces you choose match the overall feel of your space.
Decorate with everyday items
A casual approach is key with cottagecore style, so don't hide your everyday items – make them part of the decor instead. Toiletries, books and even clothes can be proudly displayed on open shelves and cupboards. Kitchen utensils can be hung from the ceiling or displayed on a magnetic board, while watering cans and old tins can be used to bring some greenery indoors.
bring back Bead board
If you're looking to give your place a cottagecore makeover, you can't go wrong with beadboard. Or plank and slat. Or any mockery, for that matter. These traditional wall coverings are often used in country-style homes, and they can instantly make any space feel more cottagey. You can find this at most home improvement stores or do it with some plywood and molding.
Make it extra cozy
Fans of the cottagecore aesthetic know that coziness is key. So if you're lacking in that department, it's time to make some changes. Add some soft throws and pillows for coziness, light some candles for ambiance, and consider investing in a cozy piece of furniture like an overstuffed armchair or a knitted ottoman. These little touches will go a long way in making your space feel warm and inviting.
Dress up your Windows
Window treatment solutions like blinds and shutters can work in almost any space. But if you really want to make your cottagecore dreams a reality, then sheer white curtains are a must. The flowing lines of the fabric will add a touch of romance to any space, while the light color will help keep things feeling airy and open. Balance the white with some natural green plants, and you'll have a space that feels straight out of a pastoral painting.
Reduce Technology
Cottagecore lifestyle calls for a simpler way of living, so you'll need to reduce the technology in your home to get the look. We're not saying you have to ditch your TV or computer entirely (although, if that's your goal, more power to you). But try to keep cords and accessories out of sight. Not only will it make your space look neater, but it can also help you feel more relaxed.
Cottagecore Wall Art Ideas
Here's a bonus gallery of our favorite cottagecore wall art ideas to help you get started on your cottagecore journey! All the designs below are printed on metal plates, making them durable and easy to clean. Plus, they come in a variety of sizes to fit any space. Enjoy it!
Over to you!
From adding a woven basket to your bathroom to covering your entire kitchen in floral wallpaper, these tips will make you feel like you've escaped to the countryside—no matter where you live. So go ahead and give yourself permission to slow down, take a deep breath and enjoy the simple things in life. Your cottagecore sanctuary awaits.
And if #aestheticdecor is more your thing, we've got you covered there too! Check out our post on 21 aesthetic bedroom ideas that will make you swoon for some inspiration.
Do you have any tips for achieving the cottagecore aesthetic? Share them with us in the comments below!