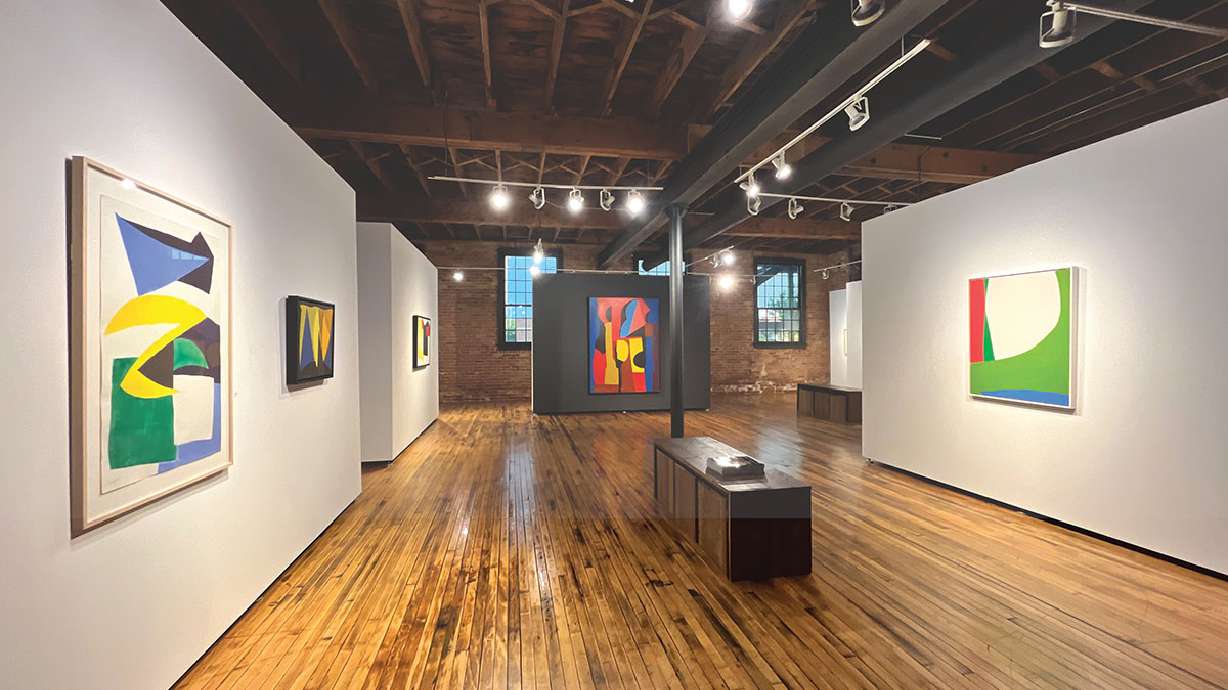 Estimated reading time: 4-5 minutes
Now through September 24, don't miss the chance to immerse yourself in Southern Utah Museum of Art's exhibit, "The Space Between: Visions of the Southwest," organized in partnership with Modern West Fine Art.
Aside from a scenic trip to Cedar City, many other benefits await as you head to SUMA for this thought-provoking and visually exciting exhibit. Here are five good reasons to add it to your family's itinerary this fall.
Witness the work of four incredibly talented artists
"The Space Between" brings together works by four artists who explore the past, present,
and future of abstract art forged in the creative melting pot of the desert: two mid-century modernists, Louis Ribak (American, b.Lithuania, 1902-1979) and Beatrice Mandelman (American, 1912-1998); as well as two contemporary artists, Arlo Namingha (American, Tewa/Hopi, b.1974) and Shalee Cooper (American, b. 1978).
Mandelman and Ribak were members of the Taos Moderns group, which included influential artists from New York, Los Angeles, and San Francisco who moved to Taos, New Mexico. The group introduced abstract, modern styles in the art of the Southwest.
Ribak and Mandelman first came to New Mexico in the mid-1940s and helped transform conventional Western art into a new form of American modernism centered on abstractions of nature. Although they were married and lived in the same artistic community, their styles are distinct. Ribak uses organic shapes and lyrical brushwork while Mandelman's work includes more geometric abstraction that plays with color and collage.
Contemporary artists Cooper and Namingha are both residents of the American Southwest and each use their own unique modernist styles.
A trained photographer, Cooper began painting out of an interest in light and geometric abstraction. Her association with 20th-century abstractionists such as Mandelman and Ribak is evident through their shared interest in the use of negative space and a preference for expressionism over representationalism.
Namingha comes from a family of artists and is the son of one of the most celebrated Hopi-Tewa artists in the world, Dan Namingha. His sculptures, made of polished wood and stone, are reductionist interpretations of pueblo buildings, landscapes and animals as well as abstractions of cultural symbols.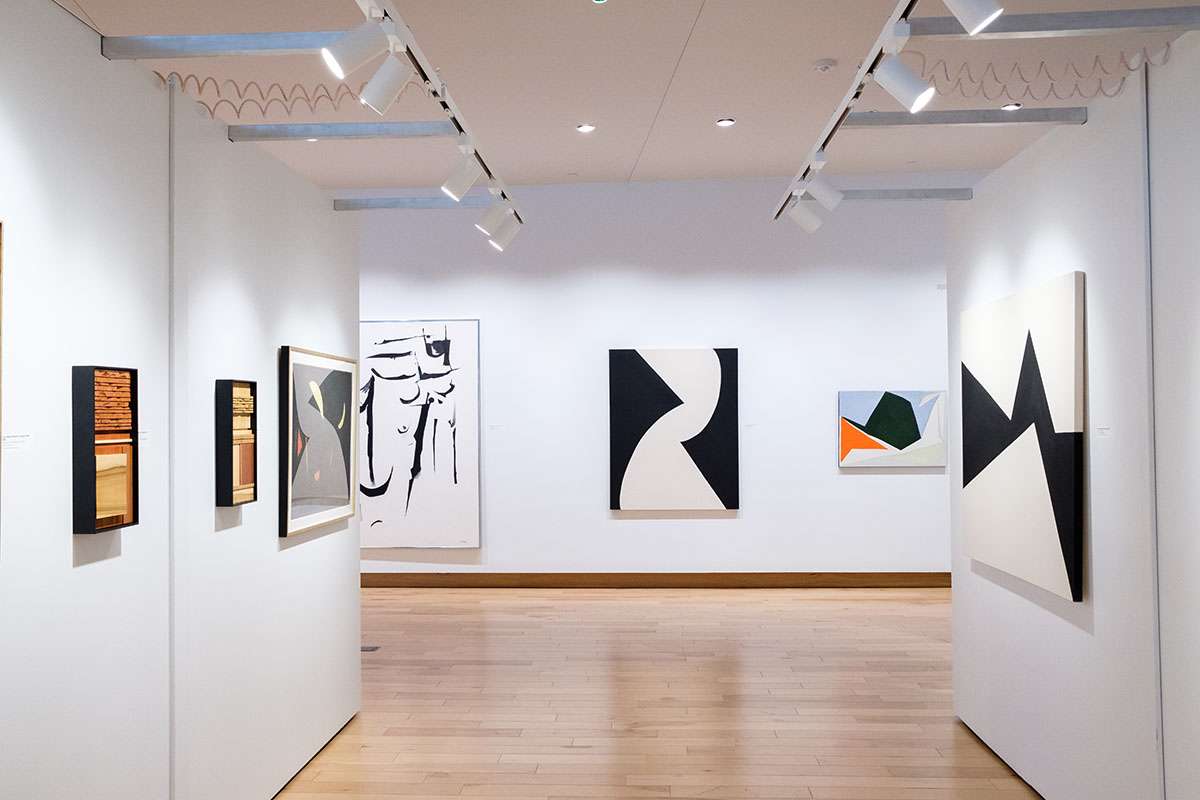 See works that have never been shown publicly
Imagine the bragging rights of being able to claim that you were among the first to view a famous artist's work. Well, many of the paintings and pieces in "The Space Between" have never been shown in public, so here's your chance! And while much of this will be on display at SUMA, you can also catch some of Mandelman and Ribak's work at Modern West's exhibit in Salt Lake City, which is being held concurrently. This exhibition lasts until September 10.
Deepen your appreciation for the American Southwest
The unique beauty of the Southwest desert is reflected in "The Space Between" exhibit. For example, Ribak and Mandelman typically used the same color palette of primary colors in their works. But after moving to New Mexico, they expanded the palette to include desert colors such as sandstone vermilion, clear sky blue, vibrant solar yellow, bold turquoise and iron oxide red. The Southwestern landscape also inspires Namingha's artwork, along with narratives and symbols of the Tewa and Hopi.
Expand your mind and get in touch with your emotions
The best way to enjoy abstract art is to focus on how it makes you feel rather than its literal interpretation. As you take your time to absorb each work, pay attention to your emotions. The goal of many abstract artists, including the four on display, is to use the universal languages ​​of color, form and composition to express meaning and evoke an emotional response. Notice where your eyes focus and what catches your attention first. Perhaps it can evoke feelings and memories, both positive and negative. Even the colors an artist uses can evoke certain emotions. Several studies — including one published in the Frontiers in Human Neuroscience Journal — have found that abstract art can activate alternative pathways in the brain and increase creativity.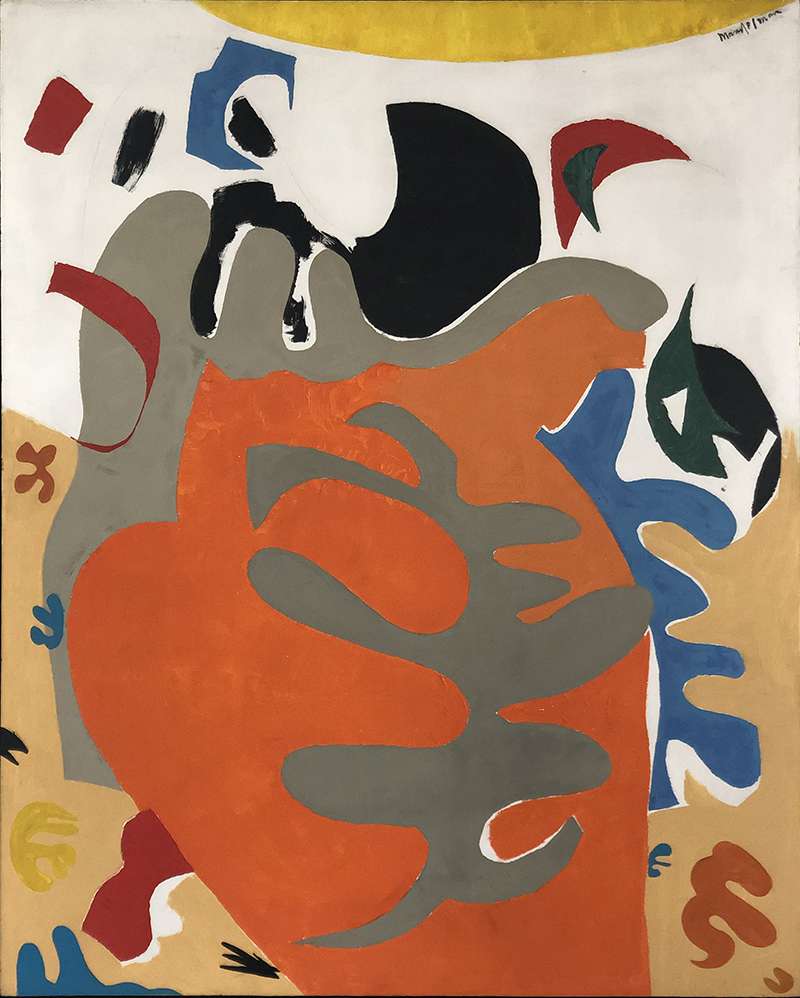 Entry is free
Another thing you'll love about this exhibit is that it won't take any money out of your pocket. Thanks to Cedar City RAP Tax, Zions Bank, Utah Arts and Museums funded by the Utah Legislature and the Sam and Diane Stewart Family Foundation, SUMA is free and open to the public. Hours are Monday through Saturday from 10:00 a.m. to 8:00 p.m. and you can find more information about this and other exhibitions on SUMA's website. Be sure to check out "The Space Between: Visions of the Southwest" from now until Sept. 24.
x
More stories you might be interested in
.