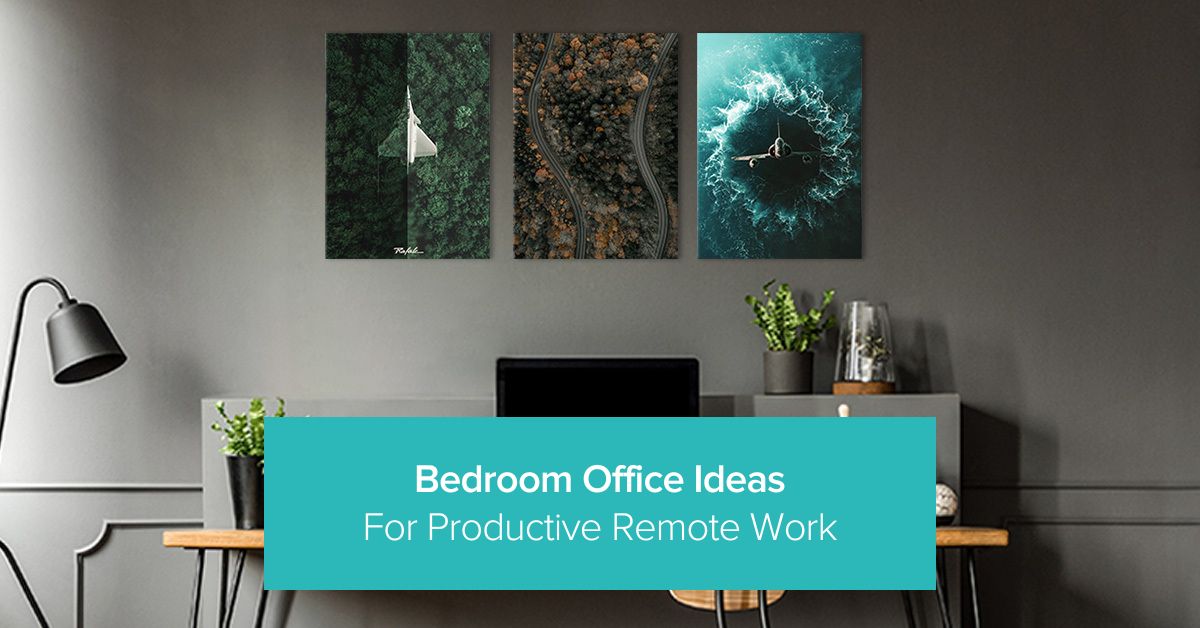 There are a number of reasons why you might want to consider creating a bedroom office. Maybe you work from home and need a dedicated space to focus on your work. Or maybe you're an entrepreneur who's always looking for new ways to increase your productivity. Whatever the reason, these bedroom office ideas we found can inspire you to create the perfect space for your needs.
In this article, we will show you some bedroom office ideas that can inspire your bedroom office;
Layout / Furniture Arrangement
Lighting
And other key considerations.
Key considerations for a bedroom home office space
Bedroom Office Location
One of the first things you need to do is decide on the location of your bedroom office. If you have a spare bedroom, this is probably the best option. However, if you don't have a spare room, you can still create a great office space using a corner of your bedroom. Just make sure you have enough space to work comfortably.
Bedroom Office Space & Design
Once you have decided on the location of your office, the next step is to start planning the design. If you're working with a limited amount of space, you'll want to focus on functionality over aesthetics. However, if you have a larger area to work with, you can really go wild with the design and make it as unique as you want.
Desk space and storage space
Some great bedroom office ideas include incorporating a desk into the design. This way you will have a place to work on your laptop or write down ideas. You can also add shelves for storage or put up artwork to personalize the space.
Reading corner
Another good idea is to create a reading corner. It's a great place to curl up with a good book or take a break from work. You can also use this space to meditate or do light yoga.
If you have the space, you may want to consider adding a futon or day bed to your bedroom office. This way, you can use the space as a guest room when you have friends or family over. Plus, it gives you an extra bed to use when you need it.
Personal decor
Finally, don't forget to add some personal touches to your bedroom office. This can include photos of your family or favorite places, souvenirs from your travels or even your favorite pieces of art.
Posters are a great addition to an office space, you can opt for Travel Posters, Motivational Posters or Minimal Posters to create a bedroom office that is not only functional but also looks funky and fun.
By following these simple tips, you can easily create a beautiful and functional bedroom office that will help you be more productive. So start planning your space today and see how much difference it makes in your work life.
Complete list of home office ideas
Try to find natural light
Natural light can improve employee productivity and mood, and it can also help reduce eye strain. In addition, natural light can make an office space feel more open and welcoming.
Add your office desk to the corner
Mount wall shelves above desk for office storage
Shelves can be a great way to save space in your home. If you have a lot of stuff you need to store but don't have a lot of space, shelving can give you the extra storage space you need.
Transform an underutilized guest bedroom
Keep bedroom offices well lit
Share your master bedroom
Creating a bedroom office can be a great way to make the most of your space. By taking the time to plan and divide the space, you can create an efficient and comfortable work area.
Try to make it a dedicated work space by giving the office a different aesthetic
Incorporate wall art to define a style in the bedroom office
Create self-shelving space in a previously unused corner
Add a home office desk with plenty of storage space
If you have a large bedroom, you may also want to add a filing cabinet or bookcase to store office supplies and paperwork.
A rug can define your office area
If you have a smaller bedroom, you may be able to get away with just a desk and chair. However, you will still need to make sure that the space is large enough to accommodate your furniture comfortably. You may also consider adding a lamp to provide additional light for your work area.
Natural light makes the space feel inviting and open
Use cabinets as a subtle room divider
Consider a larger built-in desk solution for more than one workspace
Create a cubicle in your large master bedroom with a semi-circle desk
Your office bedroom space can be any style you want it to be
You can use a floating desk to save space that can double as a dressing table
Transform unused walk-in closet space into your bedroom office
Create a full accent wall from the bedroom office section
Longer desks make it easy to divide office spaces
Top Home Office Design Tips
Use task lighting to get a good view of the work in front of you.
Consider tall cabinets to free up vertical space by using horizontal space.
Channel your inner interior designer by adding wall decor and desk shells to your setup if you have the space.
Using a freestanding desk can free up floor space for things like shoes and floor cabinets.
Opt for a narrow desk if your work doesn't require a large screen.
A Murphy bed or a loft bed will be an advantage to turn your bedroom into a full office when needed.
A large enough bedside table can double as a desk and sleeping storage if it is ergonomically friendly.
Keeping your desk separate from your bed can help maintain a healthy work-life balance
Let your office furniture blend in with the rest of your bedroom decor
Your small office space can be divided by using wall decoration and cabinets
Additional home office look
Create a dedicated work space: It is important to have a designated area in your bedroom that is used exclusively for work. This will help you stay focused and avoid distractions when working from home.
Ergonomics: Make sure your workspace is ergonomically set up to avoid any possible discomfort or pain. This includes having a comfortable chair, proper lighting and ensuring your monitor is at the right height.
Organization: Keep your space organized so you can stay productive. This can include investing in some storage solutions and using a planner to keep track of your tasks.
Closure
There you have a variety of bedroom office ideas to inspire your next home office space. A bedroom office combo is ideal for people with minimal space.
Go ahead and curate your own space and make it your own.
Check out our other articles: open in a new tab.