A wide public discussion is taking place in Ukraine over what to do with seven street murals painted in November by the British artist Banksy on a series of ruined buildings in and around Kyiv.
The conversation became urgent after thieves last month made off with one work of art from the town of Hostomel, about 15 miles (25 km) outside the capital. It shows a woman in a gas mask and dressing gown holding a red fire extinguisher. She stands next to a real flame-obscured window.
Banksy painted the image and six others during an unpublished trip to Ukraine. He later admitted in a video that it was his job, done "in solidarity" with the Ukrainian people. The Instagram post showed the artist at work – his identity has been obscured – as well as interviews with local people walking among ruins.
On December 2, a group of men chiseled the dressing gown woman from the side of a scorched wall. When challenged by a local, they claimed to be representatives of Neo-Eco, a French charity that is reconstructing the devastated Hostomel housing estate using recycled materials.
Suspicious, the person called the police. Officers arrived at the scene and arrested eight men. The mural was recovered in good condition and is now being kept under guard at Hostomel's police station. An investigation into the crime has been opened.
In a statement on Monday, Ukraine's Prosecutor General's Office said the Kiev man who allegedly organized the robbery had received a "suspicious notice". If convicted, he faces up to 12 years in prison.
"He realized the value of the work and planned to sell the graffiti and use the proceeds as he saw fit," the office said. "For this, he involved men who were unaware of his intentions, whom he ensured he had all the appropriate permits to dismantle the mural."
The perpetrators cut away the graffiti, placed it on wooden boards and wrapped it in plastic film. They were caught before they could load the Banksy into their car. "Thanks to the concern of citizens, the police and other security forces succeeded in arresting them," the statement said.
The mural has now been declared a cultural property with an estimated value of 9 million hryvnias ($243,900). The theft has sparked a debate over what to do with the Woman in the Dressing Gown, and other perishable works, painted at a time when Russia is trying to erase wholesale Ukraine's culture, identity and language.
Some experts have argued that the Banksy graffiti should stay where it is. But much of the art was painted on buildings slated for demolition, during a winter season of sub-zero temperatures and snow.
There are unresolved questions about how to prevent the pieces from being stolen in the future, and whether they can be properly displayed in a city under frequent Russian attack. Kiev is in darkness for much of the day after several strikes at electricity substations.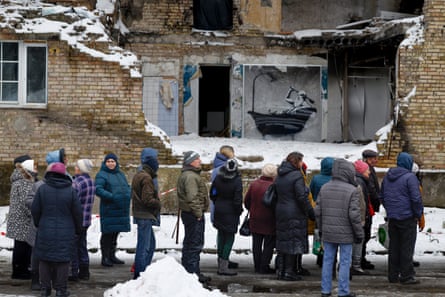 Neo-Eco proposed to auction off the already removed mural to raise funds for Hostomel's reconstruction. The charity is restoring 316 flats and six buildings. They were damaged in March when Chechen soldiers lived in them for several weeks, leaving their own graffiti on the walls, as part of Vladimir Putin's unsuccessful military operation to seize Kiev.
"Banksy is a little ray of sunshine. He has a different way of looking at things, which is elevated rather than brutal. The mural is brilliant," said Bart Gruyaert, co-founder of Neo-Eco. He added: "Many people see it as a monument to their suffering. It is long lasting. Art travels through time."
Gruyaert said the police are keeping the Bansky for now as it is evidence in their case. It was unclear when the alleged thieves might stand trial. They claim they took the mural to raise funds for Ukraine's military. Prosecution was made more difficult by the fact that the mural "doesn't belong to anyone", Gruyaert admitted.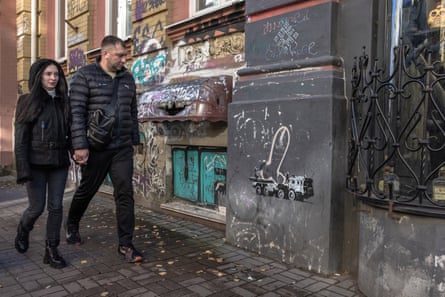 The French government is funding the €30m cost for the pioneering Hostomel reconstruction project. The local community or hormoda will decide in consultation with the town's mayor whether to support a plan to sell the mural. Other suburbs are having similar discussions.
"It depends on them. We will respect any decision they make," Gruyaert emphasized. His colleague Benjamin Constant said Neo-Eco was investigating how to safely remove the mural when the thieves took matters into their own hands. "They were about a week ahead and fixed the problem for us," he said.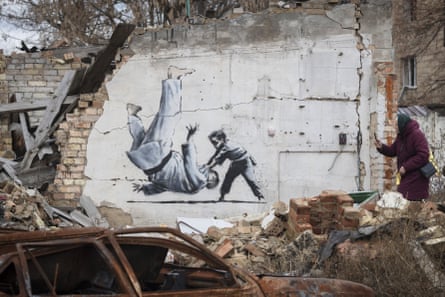 The owner of the vandalized apartment where Banksy did the painting fled abroad shortly after the Russians invaded last February. Tetiana Semenova said seeing the image brought back memories of her "big, happy family" that used to live in the neighborhood. The space once echoed with the laughter of her grandchildren, she said.
"Banksy drew even more attention from the world to us with his mural," she told Ukraine's media center. "Subhumans decided to steal it," she added sarcastically. "They cut it off the house, like a piece of skin off the body. Orcs [Russian soldiers] the inside mutilated and underlings finished it."
Alevtina Kakhidze, a Ukrainian artist living near Kiev, said Banksy had sparked an unprecedented conversation about the importance and meaning of art. She said a taxi driver inquired about the auction process after a Banksy mural went up on his block of flats overnight.
Most Ukrainians were supportive, she said. A few local artists reacted "jealously" and there was criticism of a Banksy painting depicting a female gymnast in the city of Borodianka, she added. The topic was associated with Soviet sports culture, and not Ukrainian, it was suggested.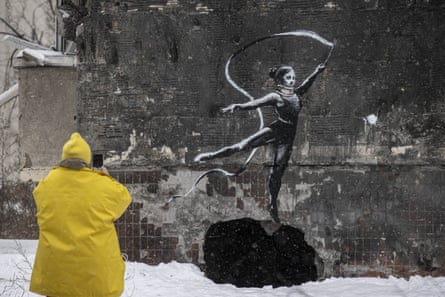 Kakhidze praised Bansky for taking a risk to travel to wartime Ukraine. "I like his performance. There is no point in talking about the intrinsic merits of his art," she said. "What matters is the political context, the situation and the dialogue he started, at a time when it is difficult to exhibit anything in a gallery because the electricity has been cut off."
Ukraine's deputy culture minister Katerina Chuyeva said she was confident a "consensus" could be reached on whether to preserve the works in situ or move them elsewhere. Describing Banksy's works as iconic, she said she walked past his mural of two children playing, painted on a concrete slab in front of an actual tank crash.
"I realized it had to be preserved. The artistic expression is extremely powerful. You feel and understand the importance of it," she said. There was an obligation to protect cultural relics for future generations, in the same way some objects were preserved after World War II and the fall of the Berlin Wall, she added.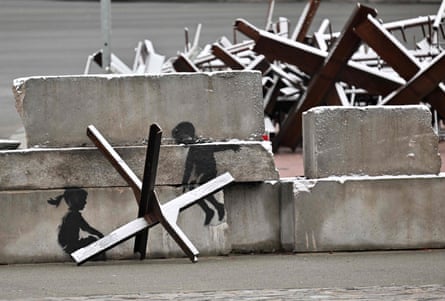 Constance Uzwyshyn, a PhD student studying contemporary Ukrainian art at the University of Cambridge, said Banksy's creations were not "permanence". "They are painted on a fleeting canvas. They're not going to last," she noted. The murals worked on different levels as "soft diplomacy", "artistic aesthetics" and as community projects, she added.
She continued: "They make people feel valued. I personally think Bansky did his job by going to Ukraine with his team and risking his life. He raised the importance of supporting the country."