Portage Park — The couple's duo behind the colorful Far Northwestside shop wants community support to help them stay in business after a tough year.
Homeline decorations (also known as Al-Bazzar) at 4358 N. Cicero Ave. sell handmade lamps, tapestries, rugs, tableware and household items imported from Turkey. But if sales don't go up, it could be closed altogether by the end of the year, owner Youssef Barakat said.
Owners make close-out sales to empty inventory before ordering new items. This is a test to see if the store can survive.
"From here to December, I want to see what the business will be like and what the sales will be," Barakat said. "If it sells well, I might keep it open."
According to Barakat, recent shipments cost $ 12,000, and pandemics have swelled such shipments. He needs to make that money from his income in order for his business to survive. If not, he considers closing, but that's not what he wants to do.
"It's a beautiful store … but it would be better if I could sell the goods," he said. "I need to support my family, [want] To keep the business. "
Barakat and his wife Hollowed Geis opened a shop in 2018. It became known for its colorful lights.
Barakat moved from Turkey to the United States in the 90's and settled in Chicago before his wife Hollowed Geis opened a store in Puerto Rico.
However, Hurricane Maria devastated the island in 2017 and the family lost their homes and shops. They packed up the leftovers and returned to Chicago, where they opened homeline decorations.
Shops are on the corner of Montrose and Cicero. The owner said that each of the hundreds of lamps has a unique glass mosaic design and is all handmade in Turkey.
"For decades, and during the war, this was a Turkish tradition," Barakat told Block Club earlier. "Once upon a time, during the Ottoman Empire, they made these mosaic lamps long before electricity and illuminated them with candles."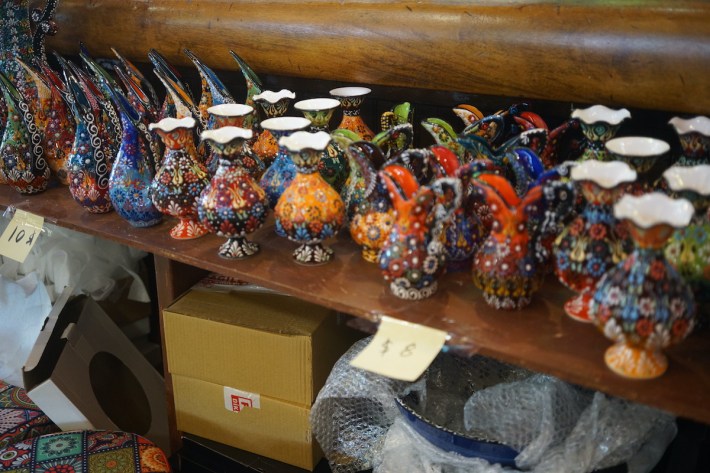 Barakat said the business was doing well when the homeline decorations opened. They tried to sell their products online, but stopped offering online sales due to increased face-to-face sales.
However, during the pandemic, foot traffic and sales declined, Barakat said.
Barakat wants his neighbors to shop at his store, especially for holidays. He said his lamp was a great gift. We also sell small stools with colorful patterns.
"These are suitable for bedrooms … you can sit and talk, and they are great," he said.
During the closeout sale, small lamps start at $ 35 and go up to $ 55 depending on size, while large lamps with multiple bulbs go down from $ 150 to $ 115.
Porcelain household items such as vases, plates and bowls range from $ 10 to $ 30 depending on size and artwork.
Barakat is grateful for finding a new home on the northwest side, but hopes more people will help "keep us up".
Homeline decorations are open Monday to Saturday from 10am to 6pm. If you see something you like from the window, you can call the store at 312-539-5633 and put the lamp on hold.
Listen to "It's All Good: A Block Club Chicago Podcast" here.