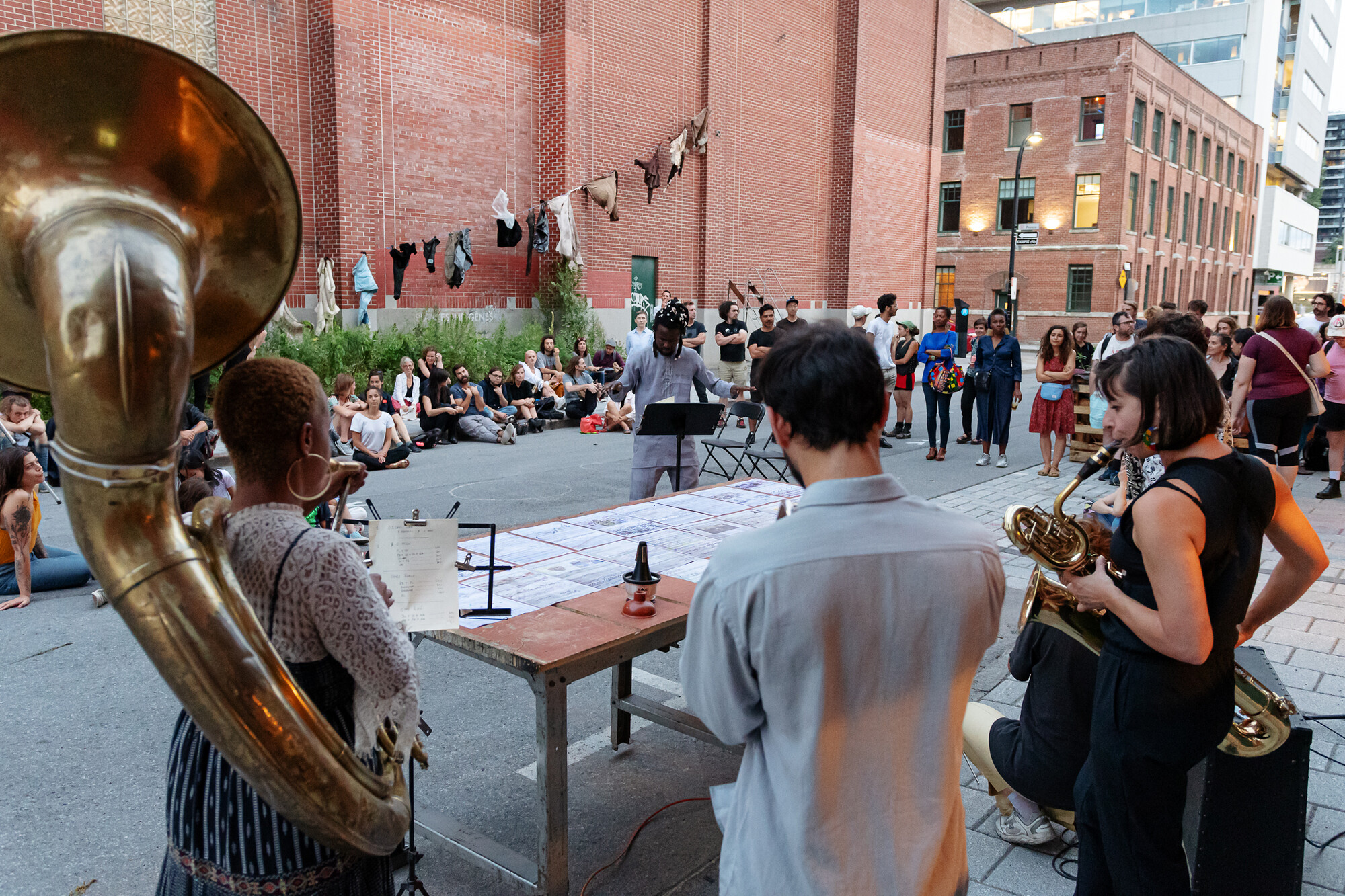 All the world's protest is a complex video and sound installation by Nigerian artist Ayọ̀ Akínwándé, created especially for the Pulverturm as part of an annual public art project curated by the Edith-Russ-Haus for Media Art.
Fascinated by the "Year of Protest"—as journalists around the world called 2019—Akínwándé obsessively and meticulously collected news clippings from demonstrations that took place around the world, which he then combined into an installation with newly composed music.
The work is the fourth installment of Akínwándé's ongoing artistic research project Archive the future. The series – an interrogation of political engagements in the public sphere – was inspired by spontaneous gatherings and performative political events in Lagos, where the artist made audio and video recordings of conversations revolving around daily sociopolitical realities, both intimacy and monumentality to elicit
The carefully curated video installation of the tumultuous news clips is accompanied by a collection of twelve compositions. The artist composed this soundtrack from improvised jam sessions performed as artistic responses to the original sounds of the demos, played by six musicians sitting in their pandemic lockdown isolation rooms and collaborating with each other via Zoom. The architectural form within which the elements of the work are gathered evokes a strange scientific "situation room" aesthetic – growing into a metaphor for the incomprehensible tension between our inability to participate and our yearning for connection and understanding, all while the world is seemingly falling apart, even behind the meter thick walls of the Pulverturm.
Artist, curator and writer Ayọ̀ Akínwándé lives between Nigeria and the UK. He was the 2021 recipient of the Media Arts Award of the Foundation of Lower Saxony at the Edith-Russ-Haus.
The project was made in collaboration with Ida Toninato, Nastasia Louveau, Elena Rosauro, Xaver Rüegg, Leandro Irarragorri, Benjamin Udezi, Olasukanmi Abayomi, Lukas Mantel, Manfred Mildenberger.
The Pulverturm (Powder Tower) belongs to the former castle wall and is the only remaining building of the fortifications of Oldenburg. Its history goes back to 1529, when Count Anton I (1505–1573) renewed the city's military facilities. Since 1996, the Pulverturm has been used for cultural purposes during the summer months.
Business hours:
Friday: 2-6 p.m
Saturday and Sunday: 11:00-18:00
While Night of the Museums (Night of the Museums), September 24: 11am-midnight