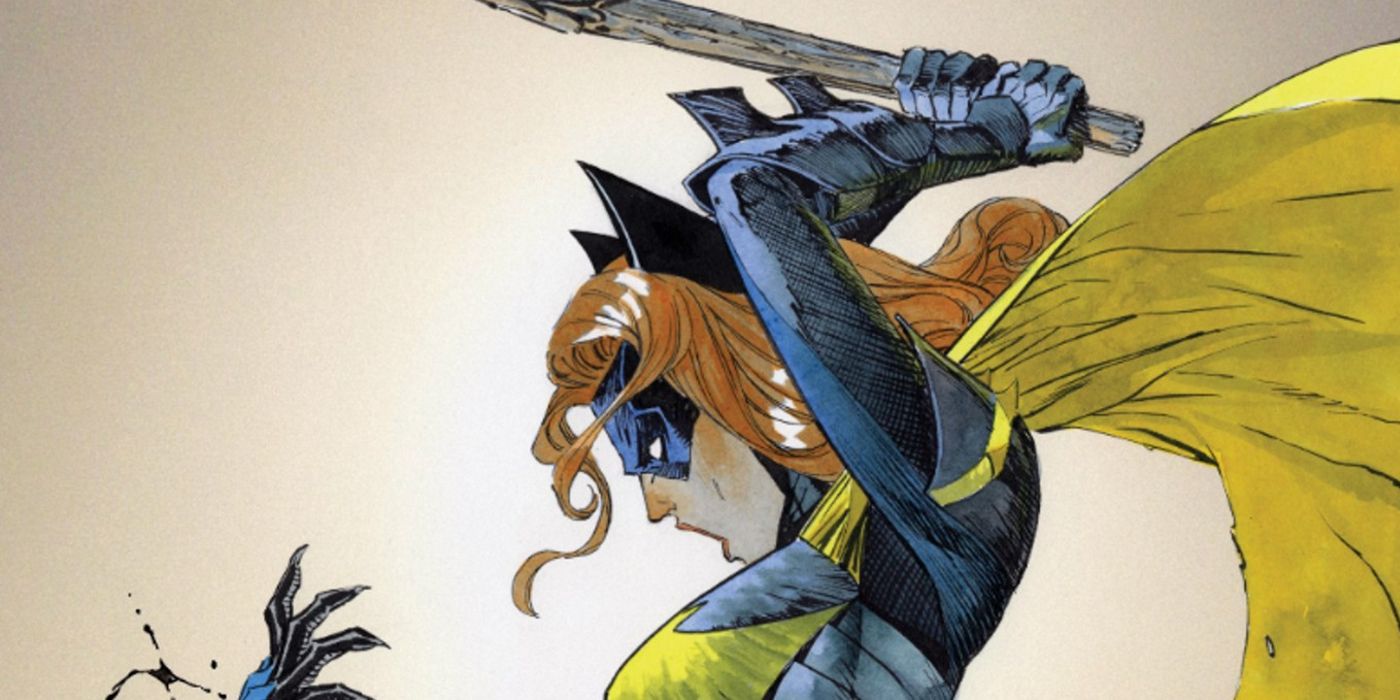 Batgirl takes out a wooden pole and aims to kill the King of the Dead Nightwing in Guillem March's epic cover for the final issue of DC Vs. Vampires.
An upcoming cover for the final issue of DC vs. Vampires shows Batgirl wielding a bloody pole against Nightwing, her former flame and current lord of the vampires.
DC vs. Vampires #12, written by Matthew Rosenberg & James Tynion IV and illustrated by Otto Schmidt, will be released in December, but a hint of the bloody events therein can be seen from the issue's main cover with art by Guillem March. Batgirl stands on top of Nightwing's shoulders, her thighs firmly gripping his head as she holds a pole in her hands, preparing to plunge it into his heart.
RELATED: A Shazam Family Member Is Severely Traumatized In DC Vs. Vampires
"The disastrous final issue of the best-selling series will end with a bang and a whimper!" read the edition's description. "Green Arrow will lead humanity's final charge from the blood mines of Smallville. Supergirl's mission to get rid of the world comes to an explosive end. And it's Batgirl against Nightwing for the fate of the entire planet — the stakes could not be higher when the future of humanity is at stake!"
How did Nightwing become a vampire?
Nightwing's descent into evil was one of the main plot threads in it DC vs. Vampires and the range's range of accessories. Originally revealed as a secret member of the dead in March's DC vs. Vampires #6, Nightwing ripped out Batman's heart and quickly dispatched most members of the Bat-Family immediately afterward. In later issues, the former Boy Wonder would lead an army of leeches to take over the world, reducing the vast majority of humanity to moving matter designed to feed undead soldiers.
RELATED: The vampire apocalypse brought out the best in Talia al Ghul
A prequel in DC vs. Vampires: All Out War #2 indicates that Dick Grayson may have become undead in a misguided attempt to protect his sister and Bludhaven. He was approached by the Acolytes of Shadow, a splinter group of the vampire population who asked him to destroy Mary, Queen of Blood. It turns out that Dick went along with their request, but was either tricked or fell victim to his weaker instincts after becoming a vampire himself. Either way, Batgirl has been vowing revenge against Nightwing since the death of her Bat-family, and she's recently recruited Harley Quinn – who has an anti-vampirism formula in her bloodstream – as an unlikely ally.
DC vs. Vampires #12, by Rosenberg, Tynion IV, Schmidt and March, also boasts variant covers by Nathan Szerdy and Filya Bratukhin. The blood-soaked issue will be released December 27th from DC Comics.