The very beloved entertainer was excited about the idea when the prospect was flagged at the hospital. It was even more so when he saw the study of portraiture. "Sit at the end, [Margaret] Bert's face was on the moon, and the next time I met her, he was gone, "Patty says. "It was very inspiring that he had it there because he knew it."
Dawson worked as an artist in Canberra's Prime Minister's Office and the Ministry of Trade throughout the 1970s, spending the next decade carving, designing and installing Meyer's Christmas windows.
At some point in making a 2m x 1m portrait, she asked her husband to turn it upside down on an easel. "When you start painting and draw, your brain focuses on what you think you are seeing. You know where your eyes are and where your nose is, but that is It may not be right, "she says. "When you raise it, you will see your shortcomings because you have to focus on something your brain isn't looking at."
The portrait was broadcast three times at the Blackburn artist's house, where Newton began his marriage, in honor of the late pioneer of television known as Moonface and his wife, who died last October.
Patty suggested one of the distinctive elements. It's the moon in the window with Bart's face facing down. "Even now, we look up at the moon and say good night to Bart, especially the little ones. [grand] Children, "she says.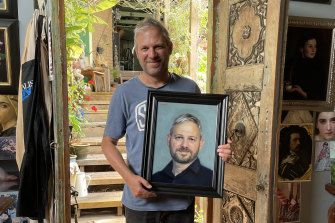 Sydney-based Wendy Sharpe won the Archibald Award for her in 1996 Self-portrait as Diana of Erskineville, The first self-portrait that a woman won. She has been a finalist six times. Her self-portrait against a ghost background is her entry this year.
Sharp's paternal grandmother and aunt So were supernatural powers, as were their great grandmothers who lived in Russia at the time and now in Ukraine. "I've been thinking about all these psychic women in my family and have always loved psychic photography," says Sharp. "I also like the same paintings that are not in this world, or that are real and intangible. It's a kind of two worlds, reality and the supernatural."
Rye-based artist Vicky Sullivan has featured opera singer and composer Deborah Cheetham in her 11th entry, the Archibald Awards this year. Past works include actors Kerry Armstrong, John Waters, Sigrid Thornton, and Steve Bastoni.
Brett Sutton, Victoria's Chief Health Officer, was her subject last year.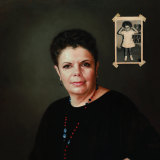 A realist painter, Sullivan continues to enter Archibald, even though he has never been a finalist. Realism is not popular in this country, she says. She says, "I want to show her portrait so that the subject can walk straight from the painting into her room."
Last year's Archibald, which celebrated the 100th anniversary of Australia's most famous art award, had more women than men as finalists and was the first of a long-running male-dominated awards.
This year's Archibald Award entry is the number one award worth $ 100,000 and must be closed at the Art Gallery of New South Wales by April 1st and painted in the last 12 months. The winner will be announced on May 13th.