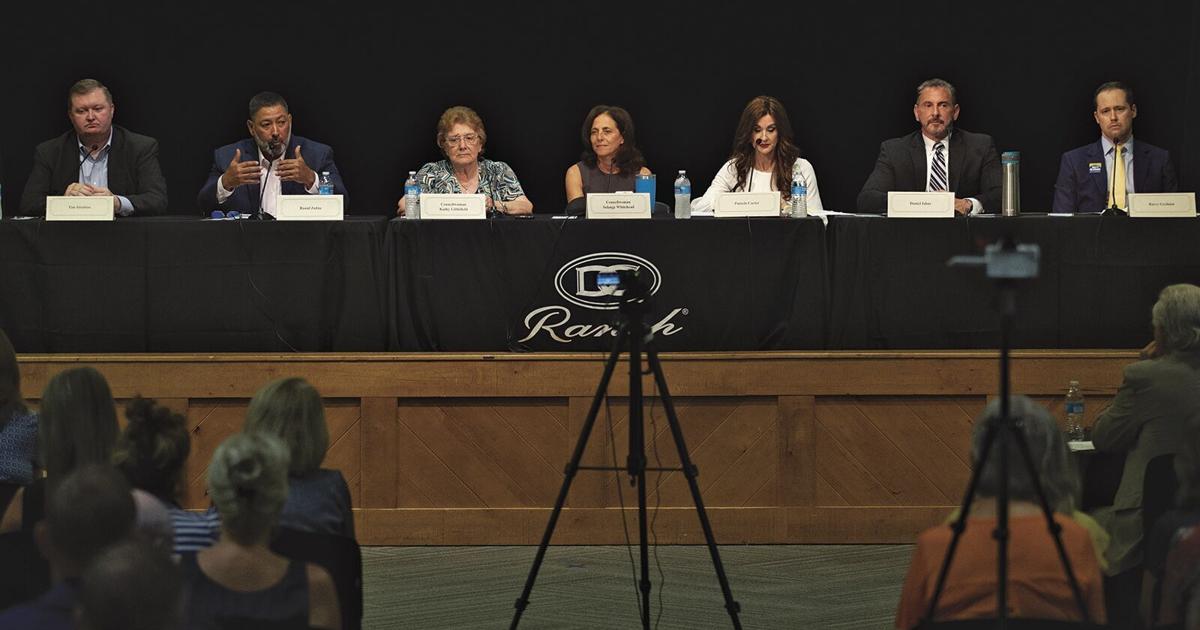 Seven candidates are running for three city council seats in what could be their last chance to stand out before the primary in a 90-minute debate on July 20 at DC Ranch.
About 100 people attended events sponsored by DC Ranch, the Scottsdale Area Chamber of Commerce, Scottsdale Atmosphere and Scottsdale Progress. The forum can be viewed at scottsdalechamber.com.
All seven candidates – Pamela Carter, Barry Graham, Daniel Ishac, Kathy Littlefield, Tim Stratton, Solange Whitehead and Raoul Zubia participated in the forum.
Littlefield and Whitehead are running for re-election, with one vacant seat vacated by ousted Councilwoman Linda Milhaven.
Here are some highlights from the forum.
If elected to City Council, how will you attract and retain new businesses?
Stratton is leaning toward relocating its corporate headquarters here, and Zubia warns that the city's inability to provide achievable housing could be a major stumbling block.
Littlefield said promoting tourism is critical because tourists "come and say, 'This is where I want to do business. This is where I want to grow.'"
Whitehead added: "Continued investment is what is particularly attractive to high-tech companies."
As the former owner of "the largest sports medicine and weight training facility in the country," Carter said…I do know it's possible to attract businesses here and allow them to thrive.
Ishak stressed the importance of "making sure we are the city that draws us all here".
When his company considered a Scottsdale location, they looked at three broad categories: Ease of doing business – regulation and infrastructure; an adequate school system, including secondary schools and universities; and livability – availability of open spaces and activities Something like that, is there achievable housing?
Graham said Scottsdale Economic Development and Experience did a good job, but added: "I don't think we should rush to accommodate people who want to move here by sacrificing a lot of what makes us character. Business, that makes us who we are."
Do you support changes to the public art ordinance to expand where private developers need to fund public art as part of their projects?
While Zubia favored making it a requirement, and Littlefield said she supported the arts and would consider expanding the requirement, Whitehead said the city should also require developers to "provide permanently protected public open space," pedestrian-friendly development and greener building standards.
"I didn't understand funding, development as a way to fund the arts," Carter said.
Ishak said he believes public art can be an option on developers' menus that also include things like open spaces and setbacks.
"Public art is an integral part of Scottsdale's quality of life," Graham said, while Stratton said public art "should be part of the discussion process with developers," "but I don't think we should require it."
One question pointed to recent state legislation giving municipalities some control over short-term rentals, and candidates were asked what they thought needed to be done.
Overall, candidates believe the legislation is not enough, although they appreciate that the legislature has taken steps to give communities more local control — controls it removed in 2016.
"Short-term rentals are unregulated and the playing field is very skewed towards out-of-state and foreign landlords who don't really care about Scottsdale," Whitehead said, and hoped the municipality would have the ability to revoke operator licenses.
Ishak said Scottsdale must work with other cities to boycott the short-term rental industry and lobby for tighter regulation.
"They're hollowing out the community," Graham said. "They're replacing houses with unmanned mini-hotels. … The problem with the legislation is that it doesn't link a complaint to a house, it links a complaint to a person. So a bad actor can set up an LLC that assigns the deed to LLC and evade penalties."
Stratton noted that lawmakers who think cities are too harsh could deprive communities of sales tax revenue. "We need to have a registry where three hits and you're out," he said.
Zubia called the recent legislation a "Band-Aid" and agreed with Stratton's "three-hit-and-go" policy.
Carter said she was the first candidate to mention the law in previous forums and thanked the lawmakers.
Candidates had mixed views when asked if they would support extending the retention levy, which expires in 2025, to include bike paths, parks and quality of life such as arts and culture.
Almost all candidates said it was a matter for voters to decide.
Ishac and Zubia generally agree that a range of city services should be included on the ballot so voters can choose how they spend their money.
Graham and Stratton argue that the roughly $30 million unused in the tax should go to the maintenance of parks, reserves, and greenbelts, while Littlefield emphasizes the need to spend that money entirely on reserves because the The City has no other funds for this purpose.
Littlefield also hopes to use funds from existing taxes to buy land near the reserve's "gooseneck" area near Dynamite Road to expand its use for animal migration.
If you were elected to the City Council, what would be your top two priorities?
Carter: "My priority is to protect, preserve and promote commerce, tourism, and the way we live here.
Ishak: "If we can't maintain economic strength, we can't do anything else for our city."
Graham: "I think the most important issue is managing the kind of runaway development that so many of us are seeing," and "that goes hand-in-hand with restoring public trust in the city council and improving public outreach."
Stratton: "I think the two most pressing issues facing the city of Scottsdale are maintaining our economic standing through economic development and the unresolved water crisis."
Zubia: "We have to maintain a vibrant economy. … We have to figure out a way to create housing, we have to figure out a way to attract better businesses here."
Littlefield: My number one priority is water…the second thing is to control our development and make sure it makes sense when we are short of water. "
Whitehead: "Water is my number one concern."
Take an example of an existing project that is an example of a good development and an example of a bad development.
Ishak: "An example of a development that I support and speak at council meetings is actually Greenbelt 88. The proposed development is actually to create beautiful apartments, commercial space, and improve an aging, vacant 25 % of the strip mall."
Graham: "One example I would say is that the Optima in Heights and Scottsdale Road may be premium. … I would say Greenbelt 88 is an example of underdevelopment."
Stratton: Greenbelt 88 is a perfect example of an old mall remodeled for the modern.
Zubia: Support Greenbelt 88. "One development that I don't think is worthwhile is just north of Palm on Scottsdale Road on the west side – very ugly."
Littlefield: "I would say the Greenbelt 88 is pretty bad."
Whitehead: "I'm going straight into Kimsey", which was completely overhauled by the developers at Whitehead's insistence.
Carter: A project at 92nd Street and Shea Avenue in the city. If a developer builds 300 homes on 8 acres, that's 600 cars and 1,200 people living there, she said. "Think about transportation and everything it takes to build these tall buildings."
What specific areas of economic development would you like the city to focus on?
Stratton: "I think as a city, we need to do a better job of recruiting and retaining corporate headquarters. The city needs to get back to town-based healthcare and it needs to do a better job of recruiting educational institutions. "
He also noted that the city needs to make sure "we keep tourism fresh."
Zubia: Want to see high-tech companies come to Scottsdale as well as medical offices and corporate headquarters.
Littlefield: The city should increase the number of medical schools and high-tech and high-tech educational facilities in the area.
Whitehead: High tech is great for Scottsdale and tourism like sports and medical tourism, and for more events that bring people to town.
Carter: "I love airports. I love sky parks. I do believe technology is growing." It's also important to protect tourism.
Ishak: "It's important to note that in order to attract employers, we have to provide them with the workforce. Our secondary and higher education has to produce the talent these employers want."
Most importantly, he said, the city needs to be safe, with enough housing for everyone, with low taxes and sound regulation.
Graham: "I'm a big fan and a big supporter of the health corridor, the healing corridor, the health economy and industry. We have an older population, which makes sense."
He added that the city must protect its tourism industry by not overbuilding and being careful with its water supply.
.