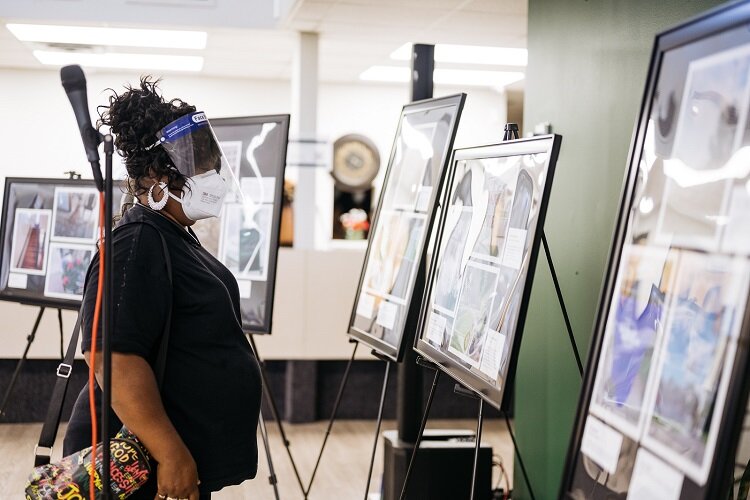 They say that a picture is worth a thousand words. But for Detroiter Loretta Powell, they also make excellent conversation starters.
Powell, who lives in the city's East Canfield neighborhood and works with Detroit's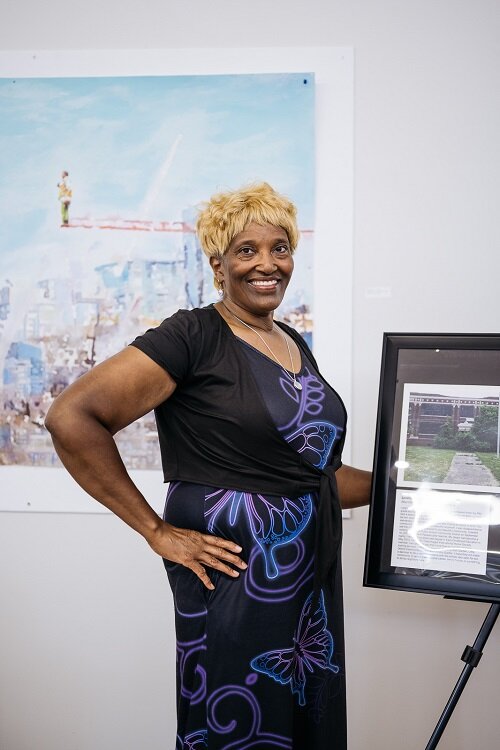 Loretta Powellpublic school system, recently participated in a photo-documentary project where she and other participants took photos of her East Side Detroit neighborhood focused on themes related to safety and security.
"I photographed a butterfly rain garden I created. Then I did the abandoned school down the street from me and an abandoned house," she says. "I found out that every picture has a story. I was really happy with what I did and achieved."
A collaboration between the Eastside Community Network (ECN) and the University of Michigan's School of Information, the project relied on a method of community engagement known as photovoting. Photovoice uses photographs taken and selected by participants as a tool to reflect on emotions, experiences and ideas associated with those images.
The method was first developed in 1997 to assisting rural women in China's Yunnan province to have more say in policies and programs that affected their lives. That was all used in Flint, Michigan to engage local youth and adults in the issue of neighborhood violence.
The ECN University of Michigan photovoting project, which took place this year, involved 11 East Side Detroiters who used photovoting techniques to investigate issues related to safety and surveillance in their communities. For Powell, the photos of the school and abandoned building represent a negative shift that has occurred in her community.
"It made me sad," she says. "And my emotions came out because I talked about what happened to me when the neighborhood changed. And I didn't even feel like living here anymore because it wasn't the same."
On the other hand, the photo of her garden evoked feelings of safety, as did the experience of working with her neighbor to improve the area around her house in a positive way.
"I created my butterfly garden in 2019 and then my neighbor did [a vegetable garden] on my yard And I was inspired on the other side of my house [to create] a gazebo garden," says Powell. "So right now I'm very proud of my neighborhood because it looks so much better."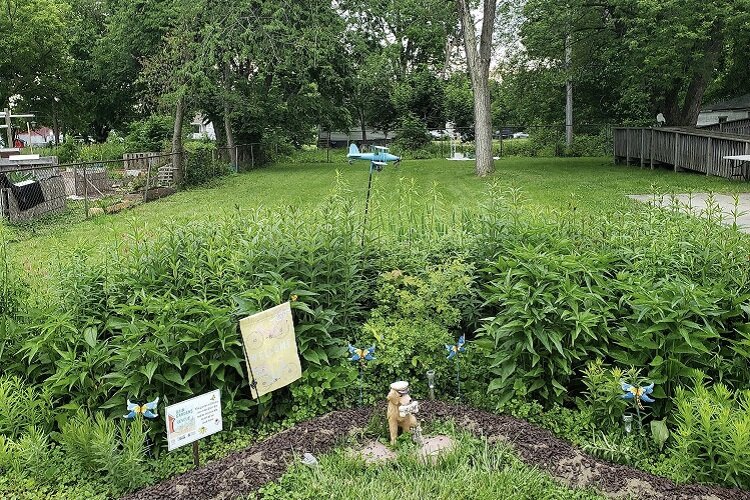 This photo of Loretta Powell's garden was featured in the photo voice exhibition. (Loretta Powell)"Where was this project?"
This year's East Side Photo Vote effort grew out of a long-standing relationship between ECN and the University of Michigan's School of Information. The two organizations have been working together since about 2013 and collaborate on a variety of endeavors, including events where students from the university showed interested seniors how to maximize their use of electronic devices such as tablets and Fitbits.
Alex Lu, a University of Michigan PhD student with master's degrees in Social Work and Information Science, was the catalyst to get the photovoting project off the ground. He is part of a U of M social innovation group which is dedicated to finding ways in which technologies can address problems facing marginalized groups and individuals.
Lu's interest in surveillance technology helped spark his decision to spearhead the initiative. The theme of the project also agreed well with an ongoing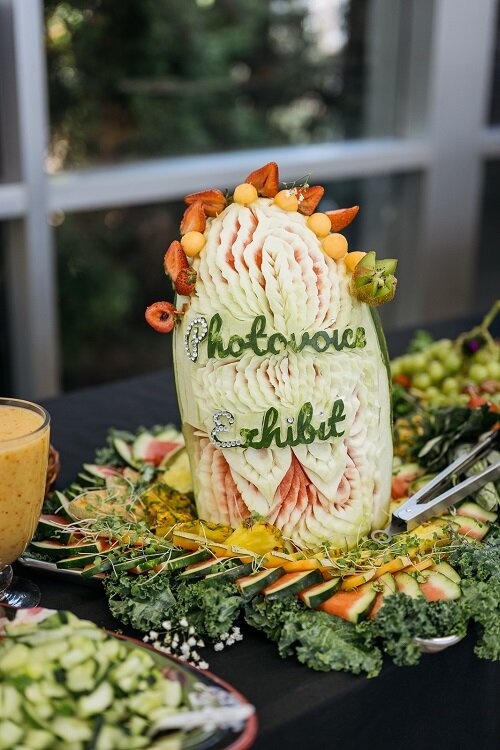 A food sculpture featured at the exhibition. (Steve Koss) conversation within the Lower Eastside Action Plan (LEAP) coalition – of which ECN is a part – about Project Greenlight, a video surveillance system used by the Detroit Police Department, which was used in conjunction with facial recognition software. Thus, the idea of ​​collaborating on a photovoting project related to surveillance issues was quickly accepted by ECN.
When the East Side nonprofit began reaching out to the community for participants, the response was pretty overwhelming, according to Savana Brewer, a senior program director at ECN.
"My phone started blowing up with calls," she says. "Some of them said: "Where was this project? I've wanted to talk about Project Greenlight forever."
The focus of the project, which began in May, eventually expanded to encompass the idea of ​​safety. ECN selected 11 participants – 10 women and one man, most of whom are seniors – from the nonprofit's service area, which includes parts of the 48213, 48214, 48215, 48224 and 48207 zip codes. Each was provided with cameras, trained by an experienced photographer, and given three weeks to photograph their communities.
The group gathered for several workshops where the participants selected and discussed different photographs, using assignments such as "What does safety mean to you?" and "How does it feel to be watched?"
"They really expressed their perspectives, feelings and views on the subject, safety and surveillance in this case," says Lu. "Each participant selected some images or pictures to use as a stimulus for group discussion."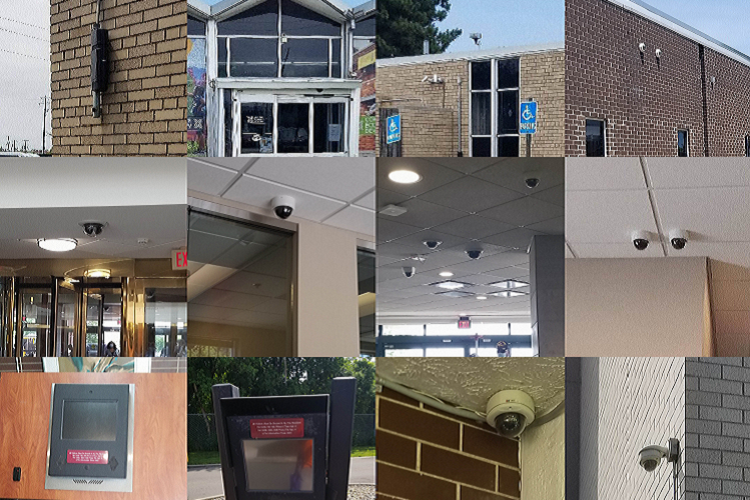 Lenderrick Bridges took pictures of cameras in his East Side Neighborhood. (Lenderrick Bridges)'Every photo has a story'
Lenderrick Bridges is a retiree who previously worked in the airline industry and regularly works at ECN teaching computer skills to local residents. He chose to focus his lens on surveillance technology in his community.
"[I was wondering] exactly how many surveillance cameras will i notice? It [turned out to be] like 15 to 20 cameras on me every day," he says. "I didn't realize there were so many cameras throughout the neighborhood."
Although he was "kind of stalked" by all the cameras around him, Bridges really enjoyed being part of the photovoting project and hopes ECN and University continue the program, perhaps broadening its reach to include more youth who can share their own perspectives.
The photovoice project concluded with a Photovoice exhibit called "Every Photo Has A Story" at the Stoudamire Wellness Hub at 4401 Conner Street that took place on Saturday, August 27th.
Photos in the exhibit included a photo montage of surveillance cameras and photos that ranged from dangerous intersections and clogged storm drains to colorful gardens and beloved pets. The event also included interactive activities such as a bulletin board to help gather additional community feedback on the photos and issues related to the project.
ECN and U of M hope to use data from the project to improve community safety and advocate for more "socially just" uses of surveillance technology on the East Side. Encouraged by the community's interest in the project, the partners are considering engaging in more photovoting projects in the future. And that's something Bridges, who loved being part of the effort, really hopes comes true.
"When we all got together and put everything together, it was very interesting. I learned a lot [of things] I didn't know it was going on in the neighborhood," he says. "I'd like to see it be an ongoing kind of effort, like maybe having a group of photos every month showing different things on the East Side shows."
Resilient Neighborhoods is a reporting and engagement series that explores how Detroit residents and community development organizations are working together to strengthen local neighborhoods. This is made possible with funding from the Kresge Foundation.
.