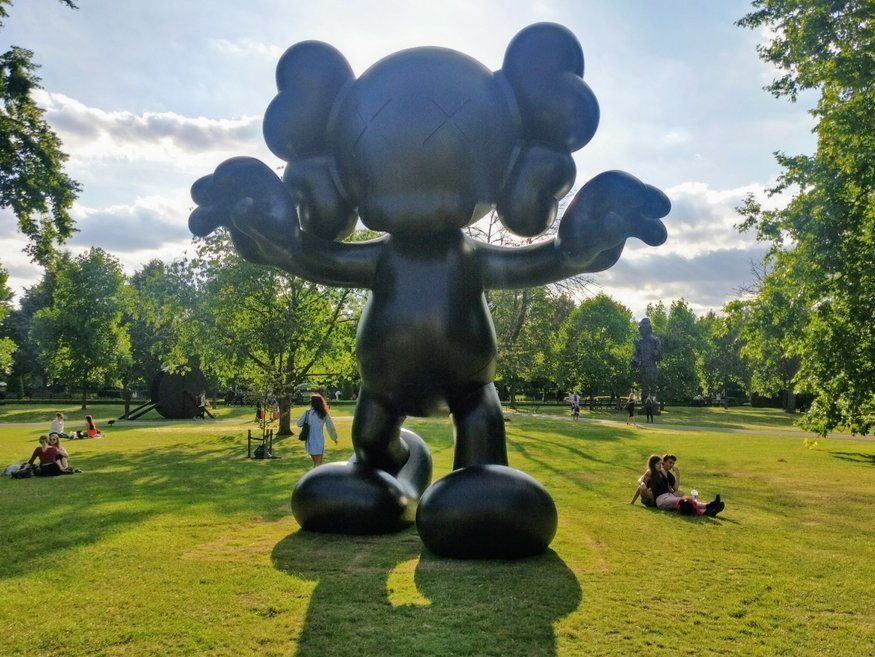 For the tenth year in a row, Frieze has unveiled details of Frieze Sculpture 2022, curated by Clare Lilley (Director of Yorkshire Sculpture Park) at Regents Park. This prestigious public art exhibition featuring 19 international artists will open from September 14th to November 13th, 2022.
Held in Regent's Park from 12-16 October 2022, Frieze Sculpture, in conjunction with Frieze London and Frieze Masters, brings together the world's leading galleries to celebrate the city's creative spirit.
Frieze Sculpture will also collaborate with two major public art events, the 11th edition of 'City Sculpture' and the Mayor of London's fourth pedestal plan in Trafalgar Square. Together they will form London Sculpture Week, a city-wide celebration of public art featuring work by 38 artists. These three initiatives will provide the public with an unmissable opportunity to engage in major sculpture works across the city at some of London's most iconic locations.
Frieze Sculpture 2022 embraces more than two generations of artists, different materials, and multiple approaches to thinking and making sculptures for the public realm. This year's exhibition spans the historic English Gardens of Regent's Park, featuring artists Péju Alatise, Shaikha Al Mazrou, Matthew Darbyshire, Ida Ekblad, Tim Etchells, John Giorno, NS Harsha, Emma Hart, Robert Indiana, Jordy Kerwick, Alicja Kwade, Beverly Pepper, Pablo Reinoso, George Rickey, Ro Robertson, Ugo Rondinone, Marinella Senatore, John Wood and Paul Harrison.The display will be accompanied by a
Free audio guide narrated by Lilley, available from Frieze.com
"This is my tenth year as curator of Frieze Sculpture. It's been a great decade working with the Frieze team, installers, galleries and a range of outstanding artists. Since 2012, Frieze Sculpture has The week-long exhibition that ran alongside turned into a major summer and autumn show in London. Every year I set out to put on an exhibition for one of the world's leading art fairs, and for those who might never have considered viewing sculpture before. No The two Frieze Sculptures are the same, but both are anthems of open-air sculpture.

Clare Lilley, Curator of Yorkshire Sculpture Park
The 2022 exhibition spans multiple themes; works by Robert Indiana, John Giorno, John Wood and Paul Harrison, and Tim Etchells are structured into texts that convey a message that blends poetic and political messages. Poetic politics is further exemplified in the work of Péju Alatise and Ro Robertson, whose eyes turn to women in nature and non-binary healing, Shaikha al Mazrou, Beverly Pepper and Ida Ekblad, who create ambitious sculptures that Full of human sensitivity. female. The work of Marinella Senatore, Pablo Reinoso and Ron Arad conveys the importance of solidarity as a community and social voice. Finally, as our world looks to the near future with uncertainty, the works of Alicja Kwade, George Rickey, Emma Hart and NS Harsha evoke universality and spirituality, while Matthew Darbyshire and Jordy Kerwick explore folklore and myth.
Participating artists and galleries, Frieze Sculpture 2022:
Péju Alatise Sim and the yellow glass bird, 2022 kó art space
Ron Arad Dubito Ergo Cogito, 2022 Osborne Samuel Gallery
Shaikha Al Mazrou Red Stack, Lawrie Shabibi 2022
Matthew Darbyshire Hercules meets Galatea, 2022 Herald St
Ida Ekblad The Book of Boredom, Galerie Max Hetzler 2022
Tim Etchells Don't Look Back, 2022 Vitrine
John Giorno SPACE MIRRORS MIND, 2022 Almine Rech
NS Harsha Desired for – Arrived at, 2021 Vadehra Art Gallery and Victoria Miro
Emma Hart Big Time, 2022 Sunday Painters
Robert Indiana Empire Love, 1966-1971 Waddington Custot
Jordy Kerwick Vertical Plane I, 2022 Vigo
Alicja Kwade Tunnel-Tell (Ceci Sera), 2020 König Gallery and Pace
Beverly Pepper Curvae at Curvae, Marlborough 2013-2018
Pablo Reinoso Speaker's Corner, Waddington Custot 2022
George Rickey Five Lines in Parallel Planes, 1966 Kasmin
Ugo Rondinone Yellow and Blue Monk, 2020 Gladstone
Ro Robertson Drench, 2022 Maximilian William
In 2022, Marinella Senatore agency joins Alliance Mazzoleni
John Wood and Paul Harrison 10 Park Signs, Galeria Vera Cortês 2022
Claire Lilly Since 2012, she has been choosing and sited Frieze Sculpture. She is the Curator of Yorkshire Sculpture Park, where she has curated and published works including Ai Weiwei, Fiona Banner, Alfredo Jaar, Giuseppe Penone, Sean Scully, Yinka Shonibare CBE, David Smith, James Turrell, Joana Vasconcelos and Bill Viola.
Lilley is a member of the Government Art Collections Advisory Committee and a board member of Art UK in London and the George Ritchie Foundation in New York. She lectures around the world and contributes regularly to publications including a background article on the history of Phaidon Vitamin C's ceramic sculpture, "Clay and Ceramics in Contemporary Art". In fall 2021 she will be a specialist in SkyArts' sculpture commission series LANDMAR
category
Label
author
Mark Wester
Mark Westall is founder and editor of FAD Magazine, founder and co-publisher of Art of Conversation, and founder of the @worldoffad platform