This week's exhibition
Impressionist taste: Contemporary French art from millet to Matisse
The newly discovered Van Gogh is one of the highlights of this study of Scottish love for Impressionism and its heritage, as well as the abundance of Monet and Matisse.
Scottish National Gallery, Edinburgh, July 30-November 13
Also displayed
Miyako Ishiuchi
This unforgettable photographer focuses the lens on what we have left behind.
Stills Center in Edinburgh until October 8th
Young and wild?1980s Art Germany: Punk, Painting, Prints
Germany's neo-expressionist scene of the 1980s, including Elvira Bach, Ina Balfas, and Georg Baselitz.
Ashmorean Museum, Oxford, July 30-November 20
Home for the People: Tessa Lynch
Prints exploring alternative models for housing and communal play.
Edinburgh Printmakers, until September 18th
George Shaw: Local
This painter draws you into the melancholy vision of modern England.
Box, Plymouth, until September 4th
This week's image
Italian Magnum photographer Ferdinando Sciana has reached the end of her illustrious 60-year career, but in a very entertaining and insightful interview he gave us, he took just one of the photos he took. He claims that he thinks it's just a club. Playing in his Sicilian hometown – anything was fine.Read the full interview here
What we have learned
Italian Magnum photographer Ferdinando Sciana has reached the end of her illustrious career
Damien Hirst will burn over 5,000 of his paintings
An Australian artist is throwing McDonald's pickles on the ceiling of the gallery, demanding NZ $ 10,000 (£ 5,200).
Avant-garde feminist photographs on display in France
Kherson's secret art society creates a vision of a dire life under Russian occupation
Artemisia Gentileschi's Rome lies in a thrilling virtual reality
Nina Katchadourian recreated the incredible challenges of a Scottish family in the Pacific dinghy for 38 days.
King Kong is making a comeback in Birmingham ahead of the Commonwealth Games
Nyaparu'William' Gardiner's stunning work captures the stockman and landscape of his native Pilbara in Western Australia.
Climate activists glued themselves to Botticelli's Primavera
In Arthur Lannion's new work, the painter covers major life events such as the death of his father and the birth of his son.
The location of the Roman fortress on the walls of Hadrian was reconstructed in wild colors to commemorate the 1900th anniversary.
V & A commended the best work of the year with illustrations
This week's masterpiece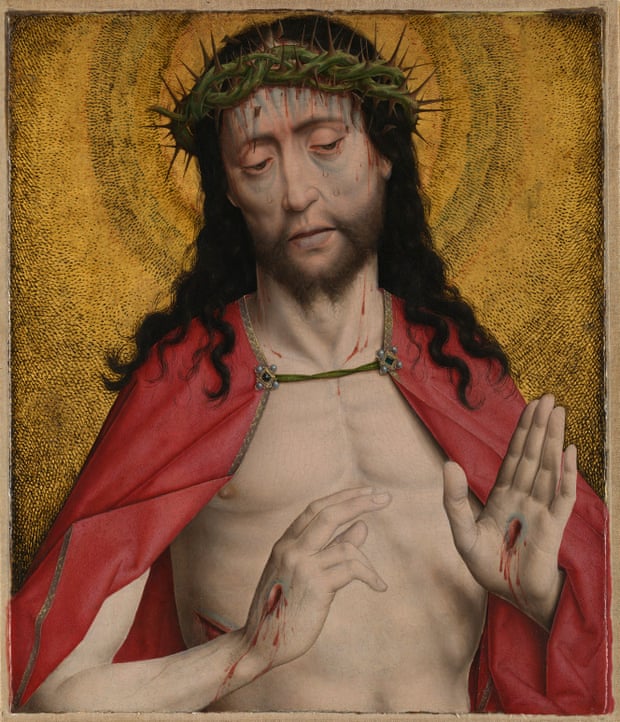 Workshop of Dir, Christ crowned with thornsk seizure c. 1470-75
A crystal ball of salt water hangs on the face of Christ. The shocking reality of his tears is one of the ways this painting undertakes to afflict you with the suffering of the incarnation of God and the most painful, pathetic, face-to-face encounter it can produce. Not too much. His eyes are bleeding with sorrow and suffering, and as the crown of thorns dig into him, the redness reflects the dark blood that falls on his forehead. Flemish painters discovered a raw eye on reality in the late Middle Ages and made it possible to create such works. The match, which the apprentices and assistants probably portrayed in his style, takes his fantastic and realistic cocktail to the disturbing extremes in his masterpiece, The Fall of the Damned. This little picture (43.8 x 37.1 cm) makes Christ himself look like hell is calling.
National Gallery, London
don't forget
To follow on Twitter: @GdnArtandDesign..
Sign up for the Art Weekly Newsletter
If you haven't received a regular email summary of art and design news yet, sign up here.
contact
If you have any questions or comments about our newsletter, please email us at [email protected]