A painting by Edvard Munch that lay hidden in a barn next to a version of The Screamto keep it out of the hands of German soldiers, it must be sold at auction and the proceeds split with the family of the Jewish man who was forced to sell it when he fled the Nazis.
The monumental Dancing on the beach will be auctioned by Sotheby's in London on March 1 and is estimated to fetch around £12-20 million.
Just over four meters wide, it is an enigmatic composition with dancing figures and two of the artist's greatest loves – relationships that ended in tragedy and sadness.
It is being sold by the family of Thomas Olsen, a Norwegian shipowner and Munch's neighbor, who died in 1969. He bought it in Oslo in 1934, just months after Curt Glaser, a leading German academic, was forced to sell it in Berlin.
Both men were close friends of the artist, who painted portraits of their respective wives, Henriette Olsen and Elsa Glaser.
Now, through Sotheby's, their descendants have negotiated the upcoming sale, correcting at least one wrong of the Nazis who included Munch in the 1930s among artists banned as "degenerate."
Dancing on the beach was part of a masterpiece of 12 large panels, which Max Reinhardt, the theater director, commissioned in 1906 for his avant-garde theater in Berlin. Munch designed sets for his productions of Henrik Ibsen Ghosts and Hedda Gabler and, creating his theater in the round, Reinhardt asked him to paint a frieze that would surround the audience in an upper-level hall and immerse them in what the artist called "images from the modern psyche." mentioned.
When the theater was renovated in 1912, the frieze was divided and Dancing on the beach was acquired by Glaser, director of the Berlin State Art Library, who published the first German monograph on Munch, among other scholarly publications, and assembled an outstanding art collection. Persecuted by the Nazis because of his Jewish background, Glaser lost his job and his apartment was confiscated. He sold his collection and escaped to Switzerland, eventually going to America, where he died in 1943.
Olsen hung Dancing on the beach in the first-class lounge of his passenger vehicle, the MS Black Watch, which traveled between Oslo and Newcastle over several months in 1939. It was part of his extraordinary collection of about 30 works by Munch. After Britain declared war on Germany, he hid them in a remote barn in the Norwegian forest. They included a version of The Screamwhich Sotheby's sold on behalf of the Olsen family for a record $119.9 million (£98 million) in 2012. Its proceeds helped the recent reopening of the Munch Museum in Oslo, one of the world's largest institutions dedicated to ' an individual artist, supported.
Lucian Simmons, Sotheby's vice chairman and global head of restitution, told the Observer: "Not only is this an incredible painting that has this incredible history of being commissioned by Max Reinhardt, who was a superstar in the theater world, but it also has this incredible twin history of belonging to these two great patrons of this artist . ."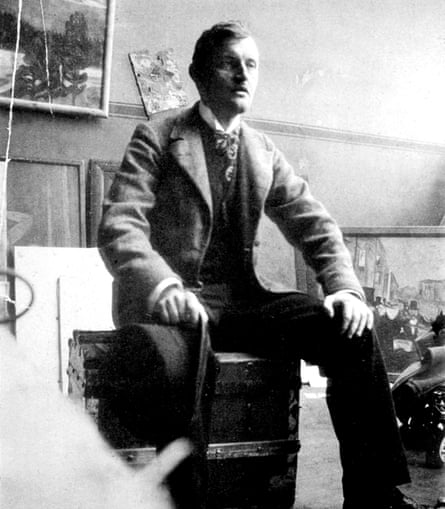 He added: "Glaser and his first wife often visited Munch in Oslo and when Munch visited Berlin in the 1920s he stayed with the Glasers. So it was not just a pure patronage relationship. Likewise, the Olsens had a house right next to Munch's house. It's a phenomenal picture – and it has a phenomenal history."
Enter the numbers Dancing on the beach It is thought to represent innocence, love, life and death, recurring themes for Munch, who faced more than his fair share of tragedy. He lost his mother when he was five and his older sister nine years later – both to tuberculosis – while his older sister spent much of her life in a mental hospital. Munch would suffer an acute breakdown in 1908.
Simon Shaw, vice-chairman of Sotheby's New York, said: "Along with instantly recognizable images such as the scream, the vampire, Madonna and girls on the bridge, depictions of dancing figures became a key motif in the artist's works from the late 1890s and beyond."
Dancing on the beach captures that feeling of "life unfolding before his [Munch's] eyes", he said, and included many of the most important motifs of his oeuvre, as well as the people who haunted the artist's memory.
In the foreground, two of Munch's greatest loves haunt the canvas – Tulla Larsen and Millie Thaulow.
"The former was a tumultuous affair that would end in Munch shooting his own hand in the heat of passion, and the latter was his cousin's wife, and Munch's first love," Shaw said.
Dancing on the beach is likely to attract worldwide interest as it is the only part of the frieze cycle that remains in private hands. All the others are in museums. It will be on public display before the auction at Sotheby's in London, from 22 February to 1 March.