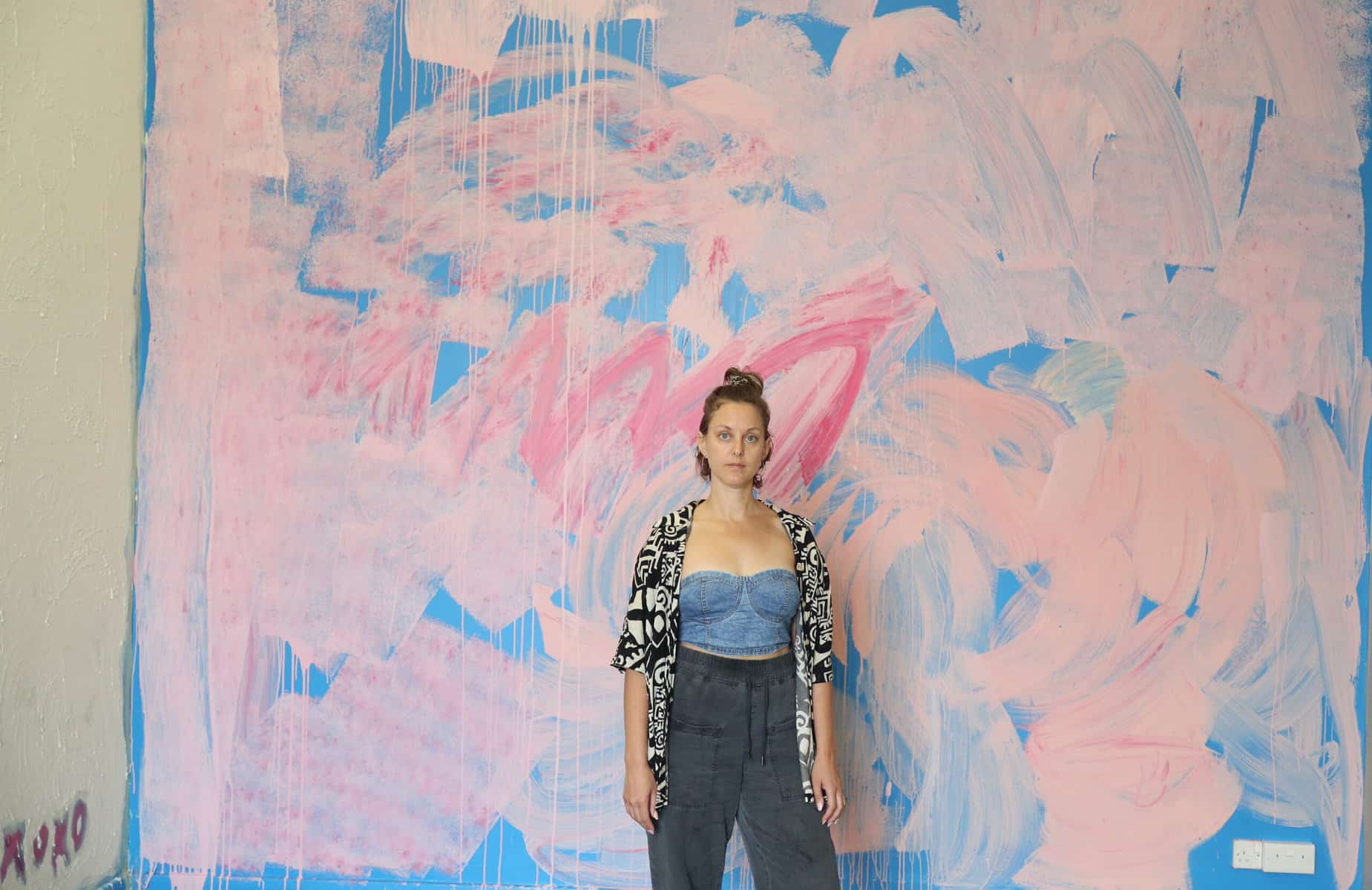 Over the course of more than four years, "I will remove you" was open to the public for three weeks starting in late June and then painted. The building will eventually be removed and the site will develop flat. To archive the project beyond its physical presence, painter Rebecca Molloy worked with visual effects artist Kieron Helsdon to create a 3D model of the installation that will also be available as an NFT.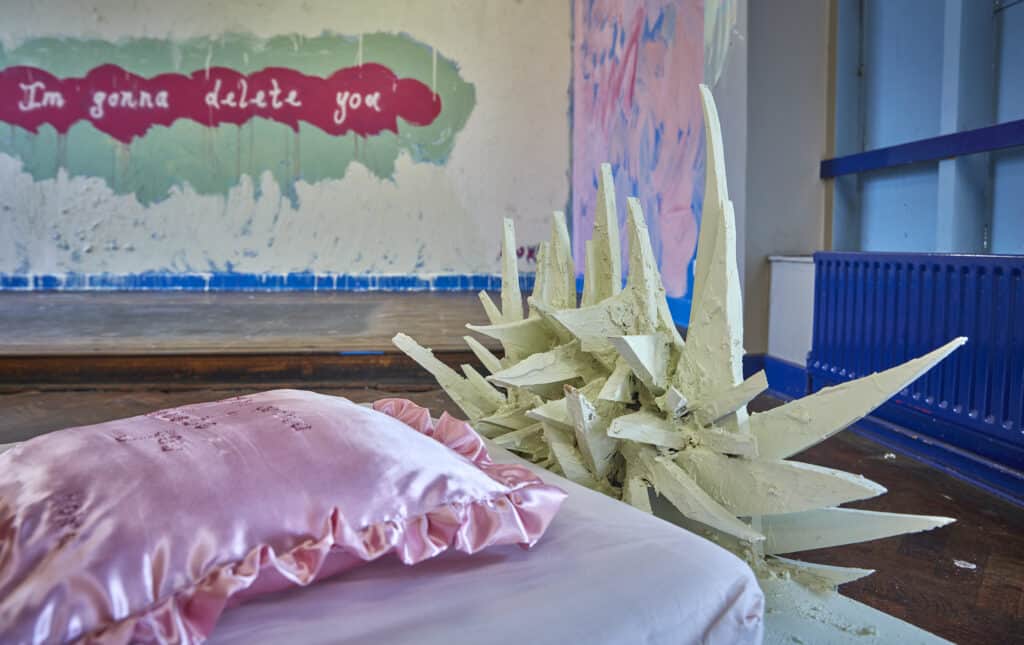 The digital work gives a glimpse of Sally Keys' former youth club and holds a detailed record of the space that holds Moroi's powerful installation. The painting covers all four walls of a large room surrounding a single bed with a pointed headboard, in contrast to the pink ruffled cushions and patchwork quilts it covers. A sense of humor is evident throughout the installation and demonstrates the experience of Fibromiargia artists. This is a chronic pain condition that leaves her bed tied up and has been unable to create or display art for several years.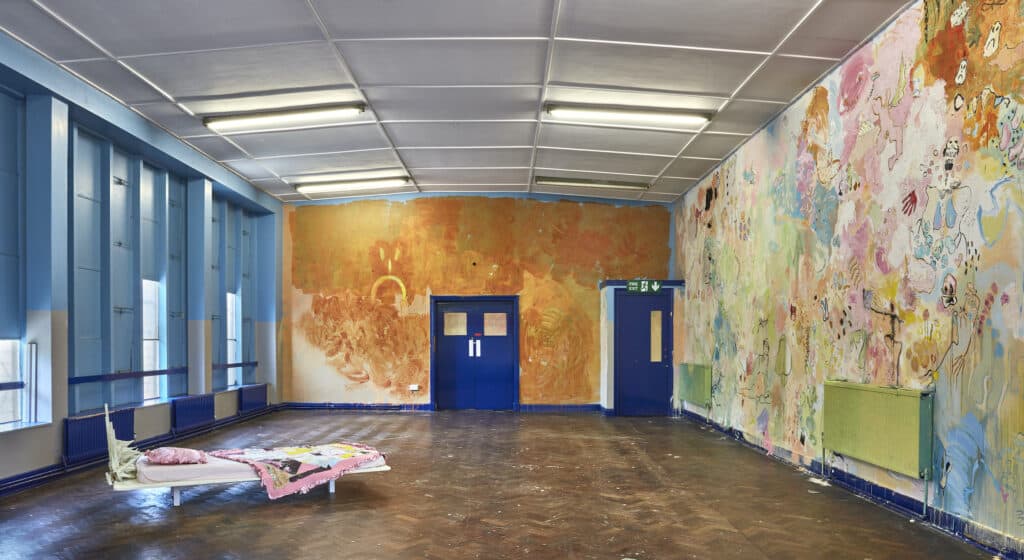 The overall effect is best described as a dream, with fragments of memory, body, and face floating in zero gravity between pictorial elements reminiscent of landscapes and clouds. The first step to the installation is a very overwhelming nightmare, waking up from a dream that took you to a strange and familiar place at once, facing a conflict between reality and an imaginary demon, and fear passing away.
The title of the work "I'm gonna delete you" is sewn on the cushion and displayed as a huge banner drawn on one of the walls. The word literally describes the artist's fight against chronic pain, as well as the imminent erasure of the installation. Less obvious is the threat of mention and deletion of culture as one of the most threatening insults to our digital alter ego. And perhaps to the artist's fear of being forgotten when she was isolated when most of us resumed post-pandemic life.
Scenes depicting physical pain and fear, helplessness and shame show the dark side of coping with pain and disability. Skull stabbed, twisted spines and vomiting skeleton, frowning and screaming as it rolls between exposed buttocks and defecation. One of the most powerful scenes is devoted to another level of confusion as the artist deals with grief by assessing the complex relationship with his deceased father. This figure, drawn with a calm pose and a calm expression, keeps looking back from the fear of the surroundings and gives peace and hope.
Rebecca Molloy operates a studio from an obsolete community center that is shared with other artists and musicians as a live-in guardian. A guardianship designed to protect buildings from squatters by making available space available at low rent prior to redevelopment is one of the few affordable options available to artists. .. These and similar collaborations between real estate developers and artists offer a rare opportunity for the general public to experience immersive art in an increasingly abandoned building. Recent projects like Averard Hotel and Fulham Town House come to mind, both of which provide spectacular background to site-specific pop-ups, but "I'll remove you" reflects a real living experience.
Presenting a bed to tell an autobiographical story is reminiscent of another comparison. The candid expressions of sadness, pain and illness are powerful similarities that connect the works of Rebecca Molloy and Tracey Emin. Both artists take advantage of intimate pain in their quest for universal truth. "I'm going to remove you" summarizes the essence of Moroi's practice of investigating human behavior, especially the interaction of our digital and physical beings.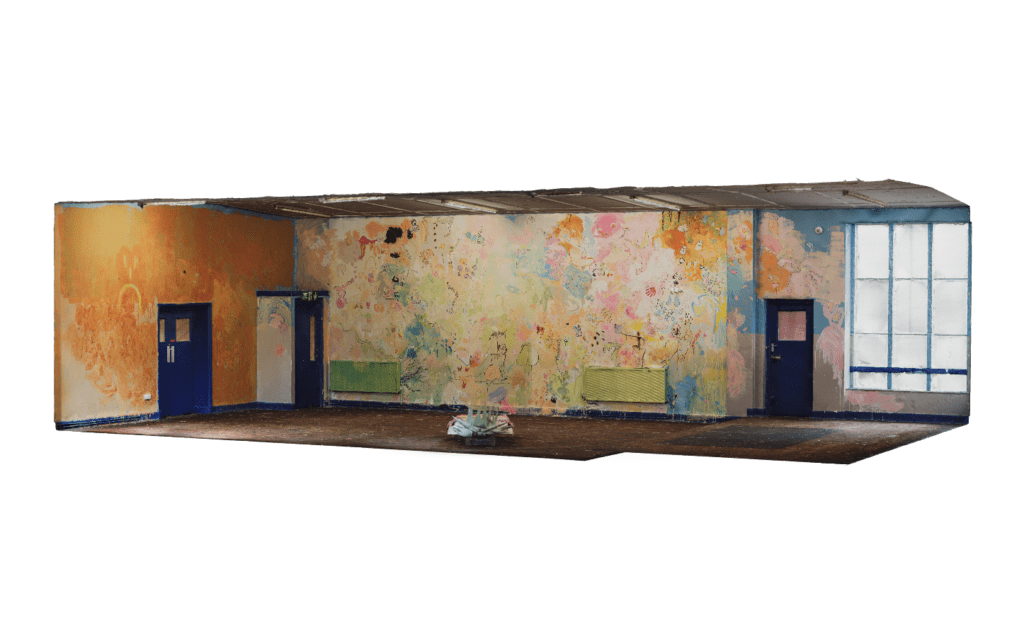 The "I will remove you" NFT drop is scheduled for Wednesday, July 27, 2022. foundation.app/ @ rebeccamolloy
@ molloy.rebecca
category
tag
author
Meike Blankholst
Meike Brunkhorst runs factor-m, an artist-centric marketing consultancy. She is also a freelance writer / translator, event manager and curator. www.factor-m.co.uk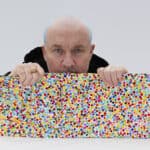 Damien Hirst and HENI will work together to present a unique exhibition of paintings from his first NFT collection, The Currency. […]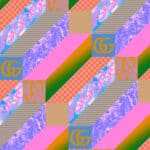 The next 100 years of the second NFT drop Gucci from GUCCIxSuperRare just went live featuring a selection of NFT artwork, a collectable fragment of Gucci's kaleidoscope heritage.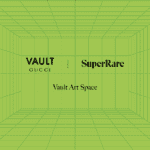 Gucci and Super Rare have joined forces to launch a new NFT art space, Vault Art Space. This is a place to view and collect the positive visions of contemporary artists.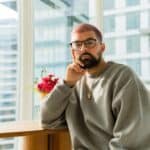 Leading digital artist FVC KRENDER has taken over Studio 525 from June 21st to 23rd and announced the LVCIDIAN YC.NFT event featuring collaboration. […]