Insider
The interior of the Yaris Cross is similar to that of the hatchback, with the addition of new treatments for elements such as the front pillars, door sills and center console, as well as new decorative finishes for the door panels and armrests. The center console stands out, reflecting its SUV status, forming a vertical feature that extends down from the multimedia display to the gear lever and incorporates heating and ventilation controls. The interior embodies a 'less is more' arrangement, with displays and controls organised in such a way that the driver can focus on the road and stay informed of key vehicle data without distraction.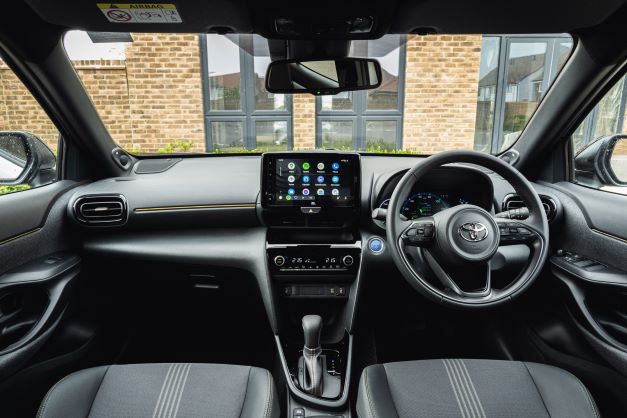 The elevated driving position provides the driver with the good visibility expected of an SUV. Compared to the hatchback, the Yaris Cross is 95mm (1,595mm) taller, 20mm wider (1,765mm) and 240mm (4,180mm) longer. The wheelbase remains unchanged at 2,560mm, but ground clearance has increased by 25mm to 170mm, reflecting its true SUV design, as well as its high viewing point and excellent driver visibility. 5.3m turning radius/circle (tire) ensures urban agility.
Space for rear-seat passengers is a little tight, though there's plenty of room for two adults to sit fairly comfortably. No more and no less. Further back, the boot offers 397 litres of cargo space, which increases to 1,097 litres when the rear seats are flipped forward. Convenience is designed as a 40:20:40 split-folding rear seat in a 60:40 or higher rating. The Toyota Smart Cargo system, available on higher-level models, has a 60:40 two-level split deck that allows part or all of the floor section to be lowered for carrying larger and taller items. With the new Flex Belt attachment option, it's easy to keep smaller items securely in place. Accessing the trunk is made simple with a power tailgate with a kick sensor for hands-free opening.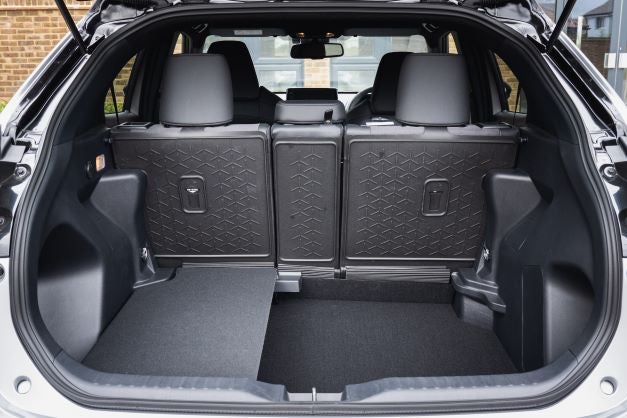 Trim-wise, the Yaris Cross is available in four versions: entry-level Icon, Rise to Design, Excel and Top Drawer Dynamic. Toyota also offers a Premiere Edition spec with lots of extra goodies.
Icon grades feature front and rear power windows, automatic air conditioning, electronic parking brake, a rearview camera, an 8-inch Toyota Touch 2 multimedia system with DAB and six-speaker audio, and a smartphone with Apple CarPlay and Android Auto integration. Toyota Safety Sense is also available as standard.
The design grade introduces a 40:20:40 split-folding rear seat and aluminum roof rails. Other features include a 7-inch multi-information display in the driver's instrument cluster, rear privacy glass and light blue ambient cabin lighting.
Premium models are the Excel and Dynamic, which come standard with a piano black finish and dark chrome detailing on the upper front grille and self-retracting door mirrors. Inside the cabin, heated front seats, dual-zone air conditioning, auto-dimming mirrors and power lumbar adjustment on the driver's seat. The multimedia system is the new high-definition Toyota Smart Connect with a nine-inch display.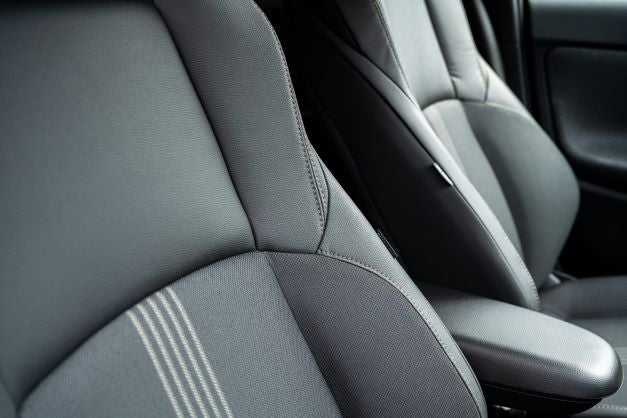 Elements unique to the Excel model include seats upholstered in a taupe combination fabric, shoulder quilting and leather-like cushions. Blind-spot monitors and rear cross-traffic alert with automatic braking are available, along with Smart Clearance Sonar with automatic braking and a power tailgate with recoil sensors.
Dynamic interior themes include black fabric seat upholstery with contrasting vertical stripes in the center of the seatbacks and soft synthetic leather upholstery.
Premiere Special Edition features a 10-inch color head-up display that projects key information to the bottom of the windshield. Data includes vehicle speed, safety warnings, navigation support and multimedia information.
All versions (except Icon) feature ambient cabin lighting in the footwells, door panels and centre console.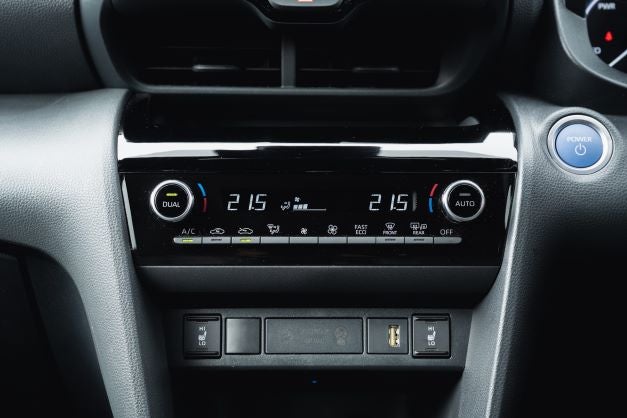 Infotainment and Connectivity
Yaris Cross introduces Smart Connect, Toyota's latest multimedia platform. It operates using a 9-inch high-definition touchscreen display for easier viewing in different lighting conditions, and has an embedded SIM card that provides constant connectivity. Navigation uses connected cloud services to ensure "always-on" navigation, providing instant information on traffic events through a real-time road events feature based on community feedback for smoother journeys.
The new system's HMI can receive over-the-air software and service updates. Through Smart Connect, the Yaris Cross offers wireless smartphone integration with Android Auto and Apple CarPlay. In addition, through the Connected Services smartphone app, drivers can remotely control many functions, such as locking and unlocking the car, onboard climate control and hazard lights, which helps in searching for cars in crowded parking lots.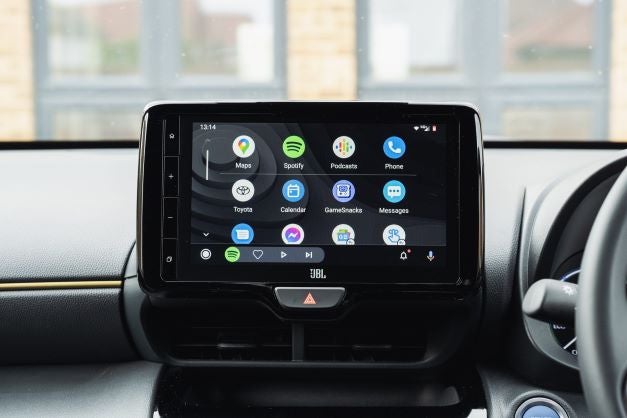 Soundproof windshield
Reducing interior noise and improving acoustic control has long been a focus for automakers. However, the ever-increasing glass surface of vehicles makes it an important way for interior noise to penetrate.one acoustics However, the windshield can reduce the sound level entering the cabin by up to 5 dB by using a specially designed acoustic insert between two polyvinyl butyral (PVB) films. The sandwich is then inserted between the two pieces of glass in the windshield.
Since the first car with a sound-insulating windshield, the Renault Clio II, appeared in Europe, the number of cars with sound-insulating glass is gradually increasing. Next up is the Yaris Cross with an acoustic windshield comprising a 2.1mm outer safety glass layer, a 0.7mm noise-reducing acoustic PVB middle layer and a 1.8mm inner safety glass layer for a total thickness of 4.6mm.
Advanced Driver Assistance Systems
All versions of the Yaris Cross are equipped with Toyota Safety Sense, a suite of active safety technologies designed to help prevent or mitigate collisions.These include a pre-collision system, adaptive cruise control, lane departure alert, lane following assist, automatic high beams and road sign assist
The functionality of the pre-collision system has been increased so it can detect pedestrians during the day and night, and cyclists while driving during the day. The model also offers intersection turn assist to identify the risk of collision with oncoming vehicles and pedestrians when turning at intersections.
On Excel, Dynamic and Premiere Edition grades, there are added protections for blind-spot monitoring and a rear cross-traffic alert system. The latter warns the driver when leaving a parking space with the potential to back up from either side into an unseen approach to the vehicle, and applies automatic braking if there is a risk of a collision. Smart clearance sonar (optional on premium models), automatic braking and an optional panoramic monitor also make parking easier and safer, with a real-time 360-degree view of the vehicle's surroundings.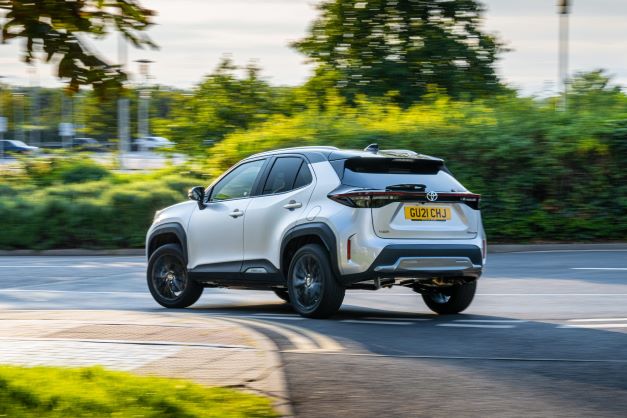 Overall, the Yaris Cross cabin is quintessentially Toyota—practical and comfortable, but lacking in glamour. Fortunately, its climate controls are separate from the touchscreen, using an easy-to-operate rotary dial while driving. It was built at Toyota Motor Manufacturing's Valenciennes plant in France and has invested 400 million euros (about 340 million pounds) to enable the Yaris and Yaris Cross to be produced simultaneously on the same production line. Competitors include the Volkswagen T-Cross, Peugeot 2008 and Ford Puma.