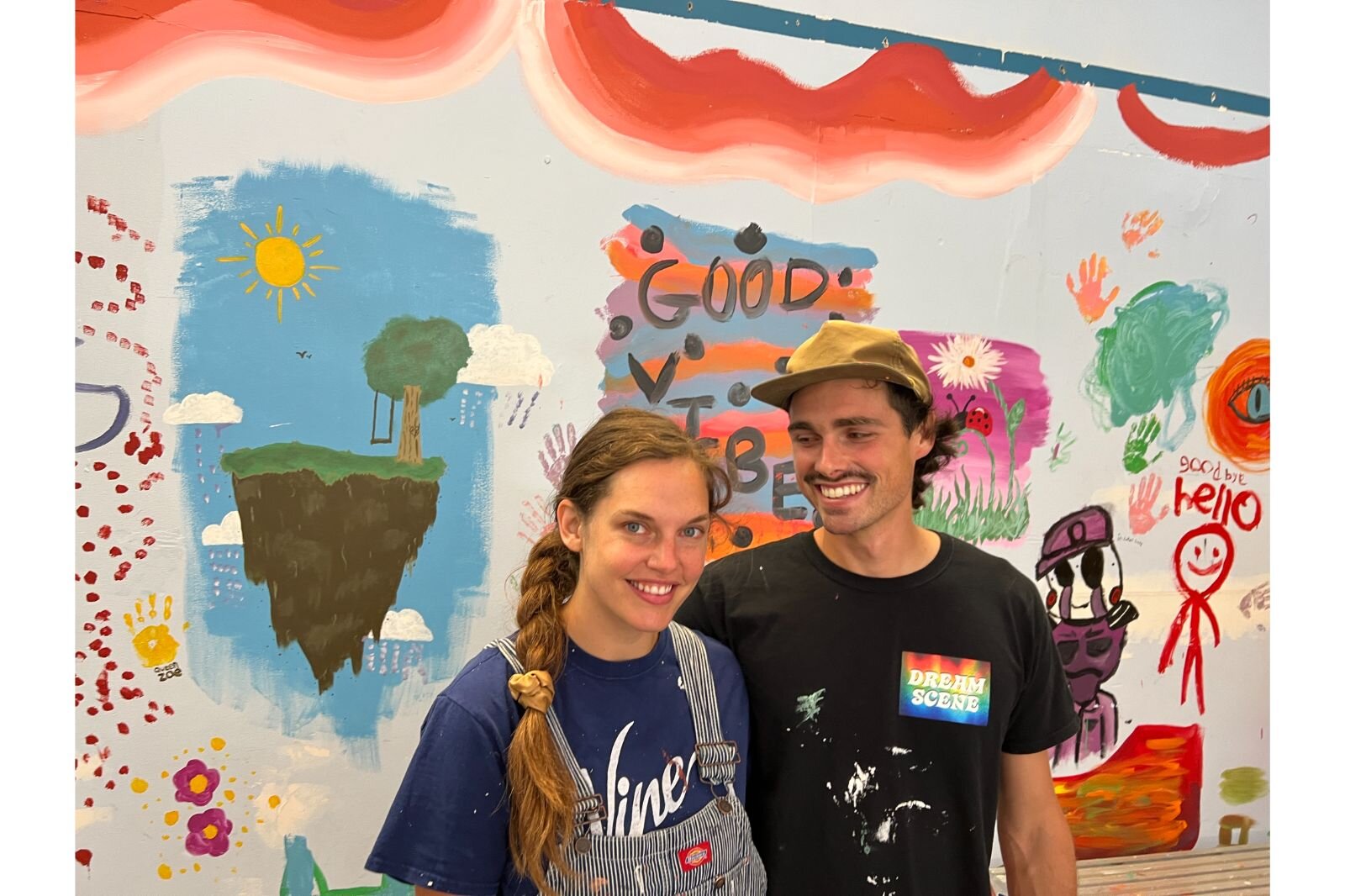 Editor's note: This story is part of Southwest Michigan Second Wave's On the Ground Kalamazoo Series.
We weren't sure how it would go – 15 or so kids, and about 10 adults outside in the 95-degree heat. What were we doing? Take photos of downtown Kalamazoo that would eventually be displayed on various utility boxes throughout the community with the help of KalBlue, a Kalamazoo visual communications company, and public art duo Dreamscene Placemaking. The program is called All things possibleand it is part of the Kalamazoo Parks and Recreation Summer Camps.
Annalee Roeder and Erik Vasilauskas, co-founders of Kalamazoo Dreamscene Placemaking, were the project leaders for the art portion of this year's All things possible program. The Kalamazoo Parks and Recreation website describes All Things Possible as "a program geared toward youth entering high school for the first time."
It is intended to "expose youth to new and exciting opportunities, including career interests, leadership, nature, and unique trips. The goal of this summer camp is to help youth be more prepared for high school and beyond."
Second Wave sat down with Roeder and Vasilauskas, as well as some of the students, and Parks and Rec employees to talk with them about their expectations of the program and the realities. I assisted for two consecutive weeks as a facilitator for the photography department and was impressed with the involvement of the youth.
One thing that struck me most about the program was the perks. Students who complete all things possible, receive free driver training. For some youth and their families, this is a game changer. Driver training in Kalamazoo can cost nearly $1,000 for both segments.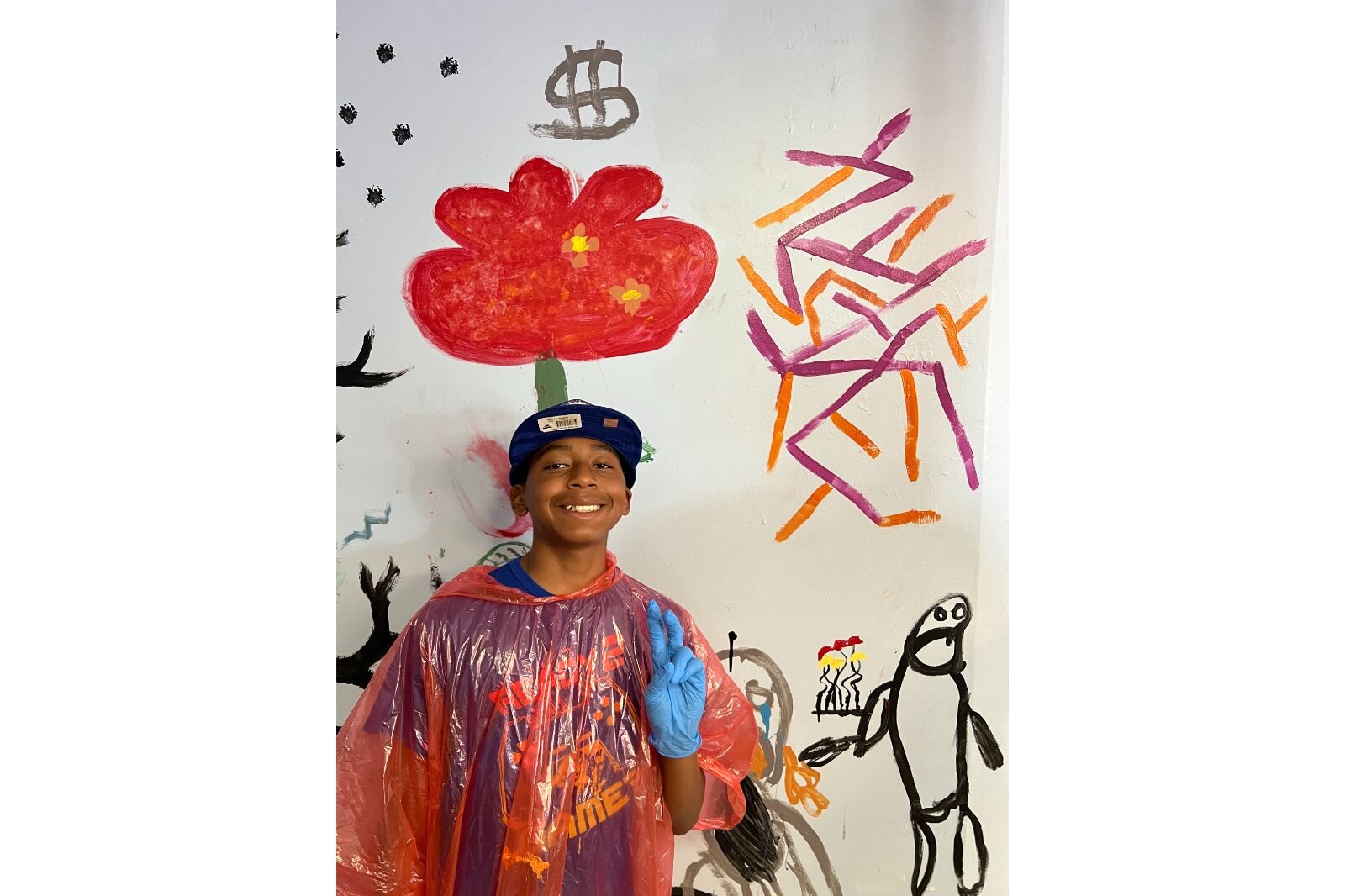 Chrus Wright poses in front of his part of the collaborative mural.Second Wave featured Parks and Rec employee, and former All things possible student Chanel Wilson who says that not paying for driver's education can remove a burden for families and students, and really propel students forward. Wilson also made it very clear that programs like All things possible provides the infrastructure for positive networks that can help students stay focused throughout high school when various pressures can lead them astray.
Some of the youth in the program were there with their siblings. One of these families was the Reigles. I spoke with former Maple Street student Lane Reigle one day during the photography session after he had finished creating a collage using some photos he had taken with a vintage Polaroid camera combined with magazine clippings.
Reigle participated in All Things Possible together with his brother and sister, who are all triplets. He says one of the main reasons why the three were in the program is because "my mom didn't want to pay for all three of us for our driver's licenses," and "she wanted us to do something in the summer." Reigle is 13 years old, going to ninth grade at Loy Norrix. He says the show was fun and would have been more fun if it hadn't been so hot. We both laughed at this because… fair.
That said, the heat is one of the main challenges for summer programming for youth. Parks and Rec even canceled a session this summer due to heat. Camps had to be held indoors or in the pool during the day. Roeder thought of the heat as an opportunity, saying it "gave a good connection with the Kalamazoo Public Library." They opened their doors to the group, who were able to use the teen center and refresh themselves during our walk." The whole group was very happy to take a break at the end of our hot photography tour of the city center, adults and youth.
Vasilauskas, who moved to Kalamazoo from Dayton, Ohio with his wife Roeder in 2015, also faced the challenges of All things possible to be more opportunities than anything else. Vasilauskas says murals and public art are things he and Roeder look for when they travel. This focus is also evident in the youth programming they curate. The youth not only took photos to be displayed downtown, but also painted a mural at the Kalamazoo Youth Development Center.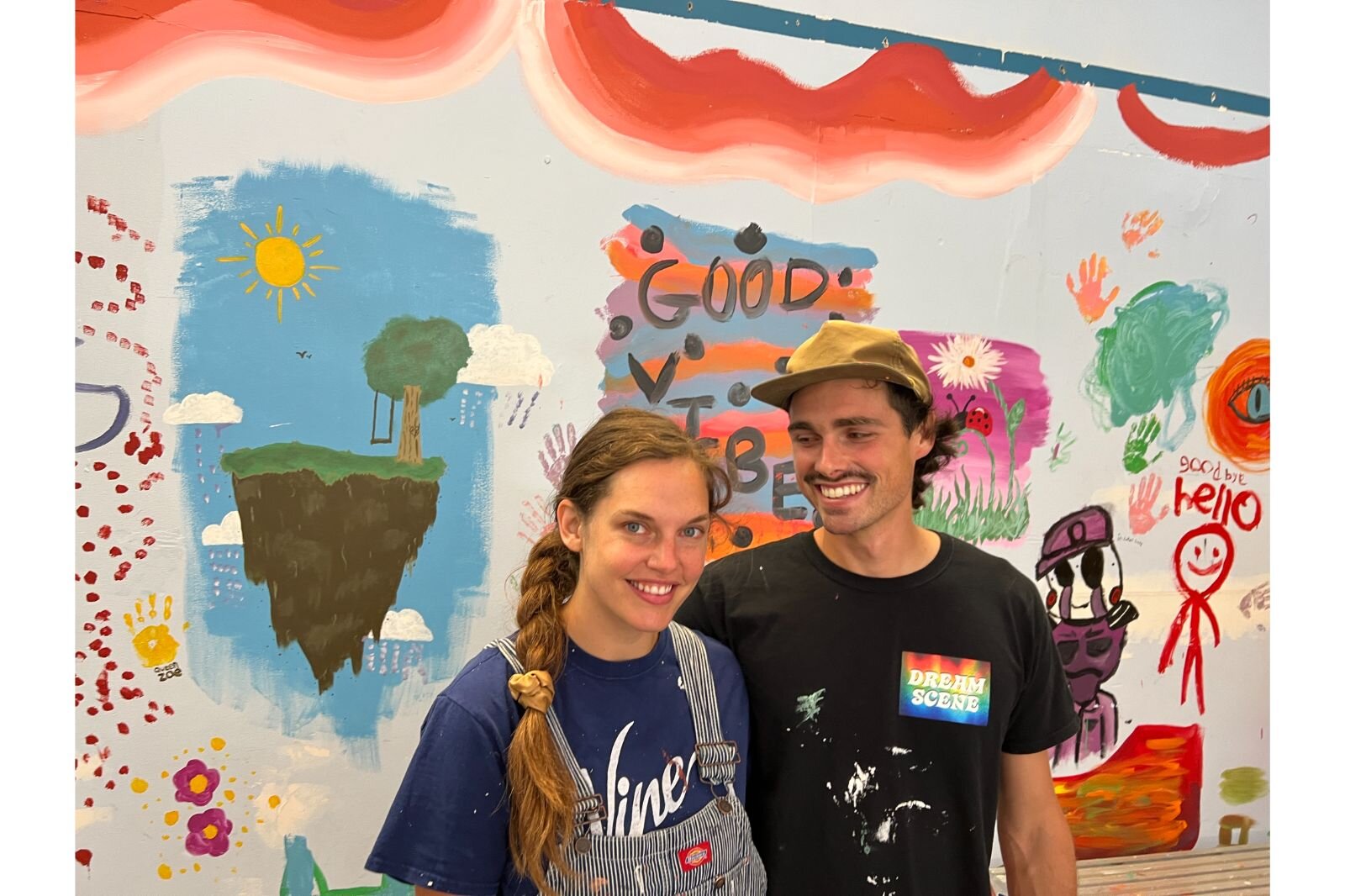 Roeder, and Vasilauskas are ready to put the finishing touches on the mural at the Kalamazoo Youth Development Center. Vasilauskas also made the point that it's a special thing to "share our experiences as working artists in the community." One of the main objectives of the art section of All things possible was to provide enrichment to the youth who come from the area in which they already live.
"The easy part is showing up," Vasilauskas says with a laugh, I asked him the same question I asked Roeder about the challenges youth programming presents. He says the hard part comes in the planning: answering the various questions about what type of art to include, where to orchestrate the field trips, and perhaps the hardest — will the youth enjoy themselves and actually learn something?
Vasilauskas and Roeder certainly accomplished their goal, at least according to 14-year-old incoming Loy Norrix freshman Chrus Wright.
"I think painting is very cool. I'm more of a colourist, but I still really like to paint." Wright gushed when I asked his thoughts on the art program. We had this conversation on the lawn outside the Youth Development Center on Crosstown Parkway and Wright was wearing a disposable poncho with paint. Wright says that his favorite part of the show was, "Creating your own ideas and making your own picture of what you think is cool."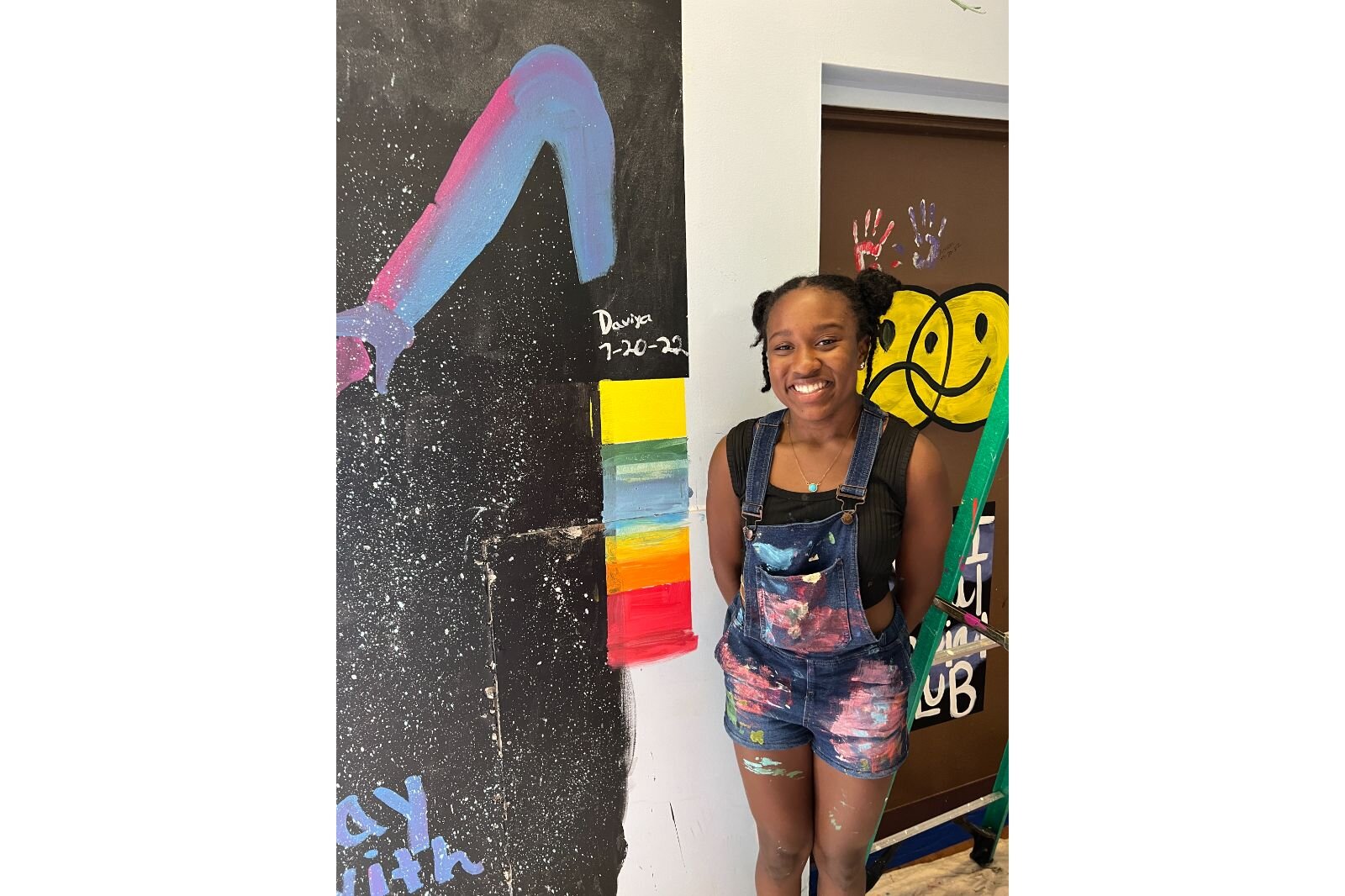 Davia McCoy poses by her mural. When interviewing Vasilauskas while facilitating at Western Michigan University Rec Center, he… told me, "On the photography side of things, I'm always amazed that a group of 25 people on the same route can take a diverse perspective of photos. We are all sitting in the same places, but we are all photographing different things." he says.
While walking through downtown Kalamazoo with the youth and other adults, Wright was very engaged using various types of cameras, and even his tablet brought from home. He used the tips and tricks provided by the facilitators by crouching on the ground and trying different angles.
Roeder said that "just the enthusiasm for the instant film (Polaroid) re-inspired her, got her excited to take pictures again," using different angles and vantage points, just as she encouraged the young people to do.
One of these students was Davia McCoy, a 14-year-old Maple Street Magnet graduate headed to Kalamazoo Central. McCoy found herself the subject of many photos the day her group walked around downtown, as well as behind the camera snapping photos all along the walk. McCoy says that All Things Possible "helps me mentally… It makes me happier." McCoy told Second Wave that the art portion is her favorite part of the entire program.
"It brings me out," McCoy says.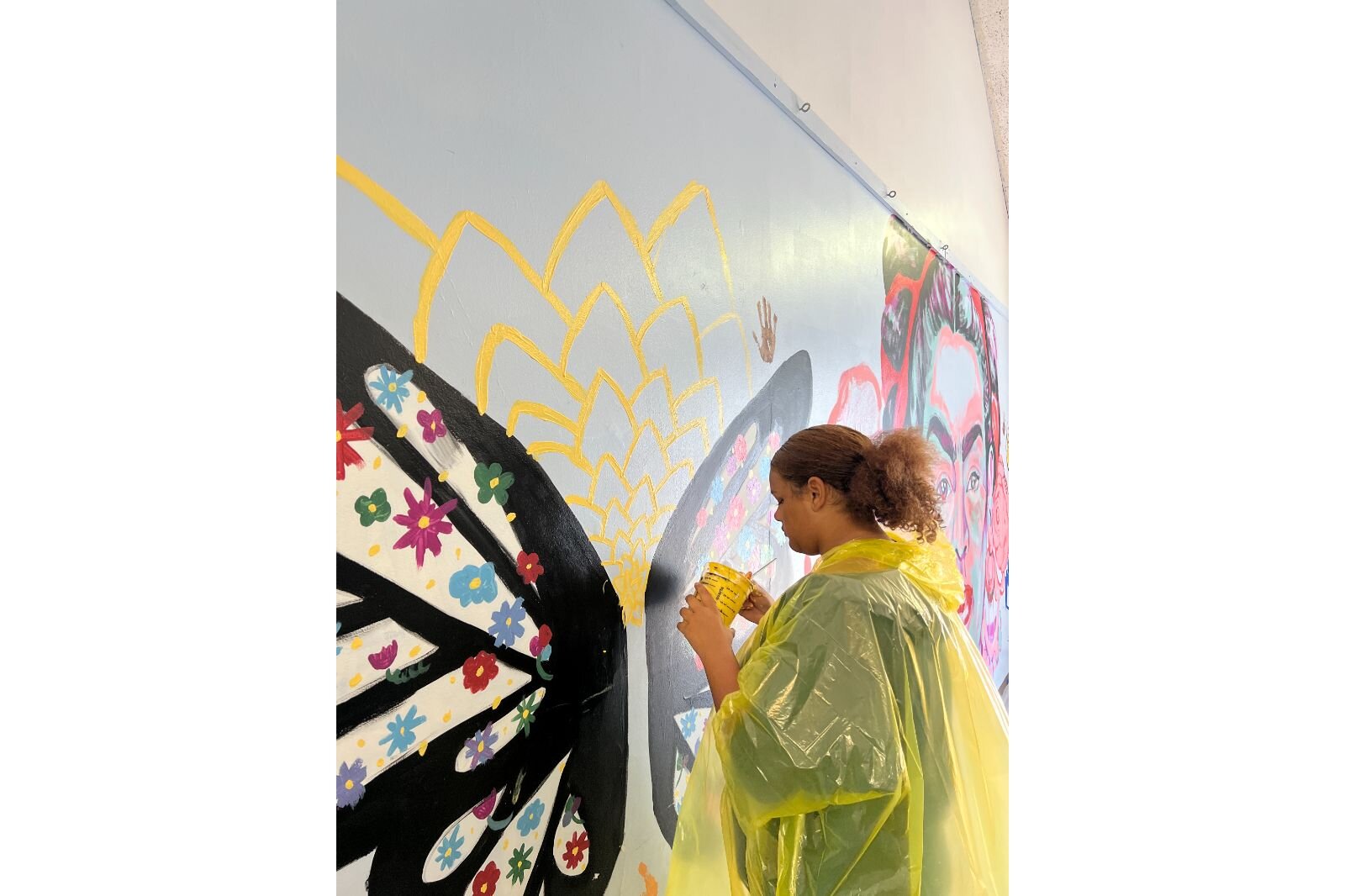 A student carefully paints their part of the mural. Parks and Rec's Chanel Wilson draws attention to this aspect of the program as we sat outside the Youth Development Center where the All things possible group was painting. She tells me how important she thinks it is for the students to step out of their comfort zone, and "get comfortable with being uncomfortable."
Now that the summer is over, the utility boxes displaying the students' photos will be installed soon. The change of seasons also means that the students have started high school, which is what All things possible was preparing them. Every student interviewed says the same thing: They are nervous and excited to leave middle school. In the same way, all of the adults interviewed want the youth to know that they have an important voice, voices that they hope will remain strong through the adversities of high school and, more importantly, growing up.