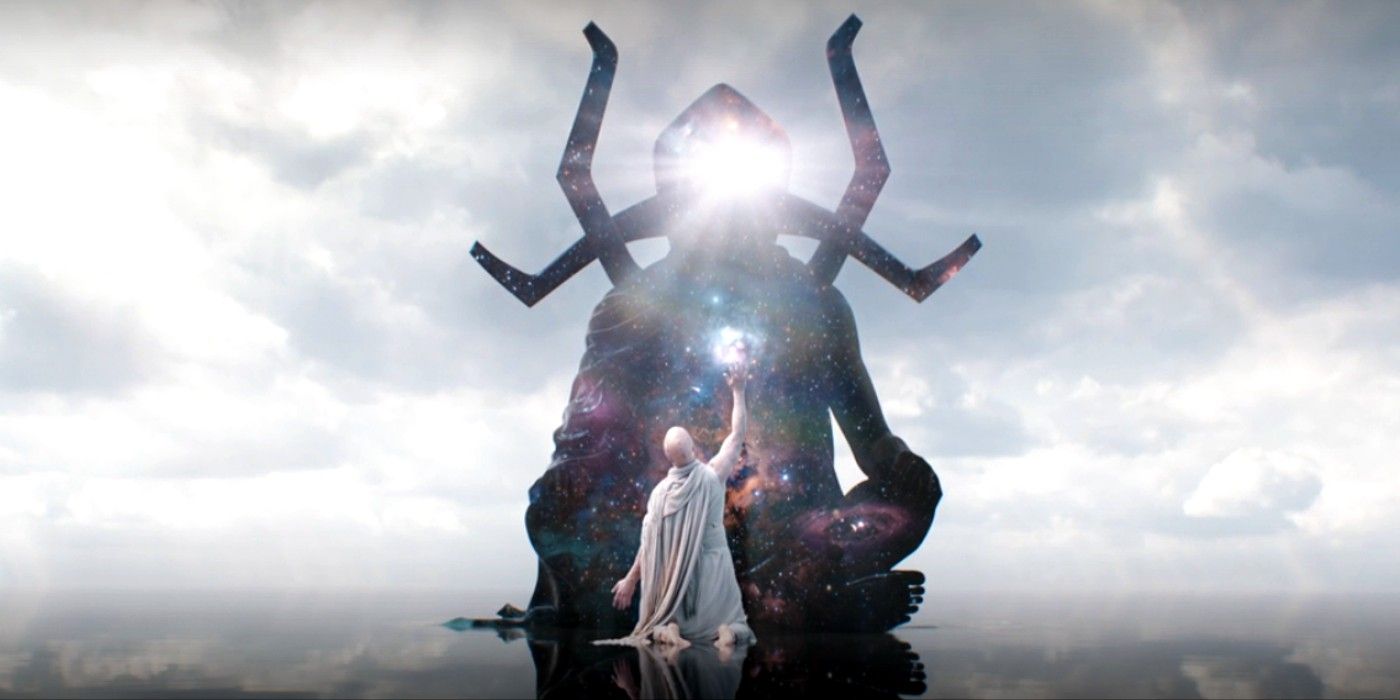 Concept artist Jeremy Love shares an early design from Thor: Love and Thunder, offering an alternate look for the MCU's Gates of Eternity.
Concept art of Thor: Love and Thunder revealed a very different design for Eternity in the Marvel Cinematic Universe.
Concept artist Jeremy Love posted a series of images on his Instagram, showing one of several early iterations of Eternity for the film, which includes Eternity towering over a Brutalist-inspired stone gate. The conceptualization of Eternity seen is much more in line with the character's typical appearance throughout various Marvel Comics titles than the Eternity that was ultimately used in the final version of the film.
RELATED: How Thor: Love and Thunder's Post-Credits May Connect to the End of Eternal
Originally introduced in creators Stan Lee and Steve Ditko's story "If Eternity Should Fail!" from the pages of 1965s Strange tales #138, the titular figure is one of the Abstract Entities of the Marvel Universe. At its core, eternity is the living embodiment of the universe as humans understand it and typically manifests as a massive, empty silhouette consisting of the cosmos itself. Eternity has played a key role in a multitude of storylines, including 2022's "Reckoning War," which saw the Fantastic Four and nearly every other living hero join forces to fend off an ancient, Multiversal army.
Gorr the God Butcher Seeks Eternity
Thor: Love and Thunder Christian Bale's Gorr the God Butcher sees Butcher carry out a deicidal campaign in the hunt for eternity, all in the hope that the ultimate entity in the universe will grant him one extremely important wish. The Eternity of the MCU is similar in appearance to the original, standing out as a cosmic silhouette against a seemingly endless pool of water.
RELATED: Thor: Love and Thunder Almost Included a Major Religious Figure
After passing $853 million at the box office, Thor: Love and Thunder was released for streaming on Disney+ on September 8 along with previously unseen deleted scenes. A behind-the-scenes documentary for the film titled Marvel Studios Assembly: The Making of Thor: Love and Thunder was also released, including various outtakes, interviews and green screen action shots.
While the future of Chris Hemsworth's Thor in the MCU is currently unclear following the film's release, Love and Thunder director Taika Waititi jokingly pitched his title for a potential fifth Thor movie. "Thor 5: Still Alive [or] Thor 5: Learn to Drive. It's like [1986 comedy] Back to school with… [comedian] Rodney Dangerfield, but [with] Thor learns to drive," he said. He also said, "I think if there's going to be a fifth film, you just have to love it, take all the zeroes off the budget and make it like a $6 million movie with just Thor on Earth learning to drive, and I think… I literally think you're making at least half a billion dollars."
Thor: Love and Thunder is now available to stream on Disney+.
Source: Instagram