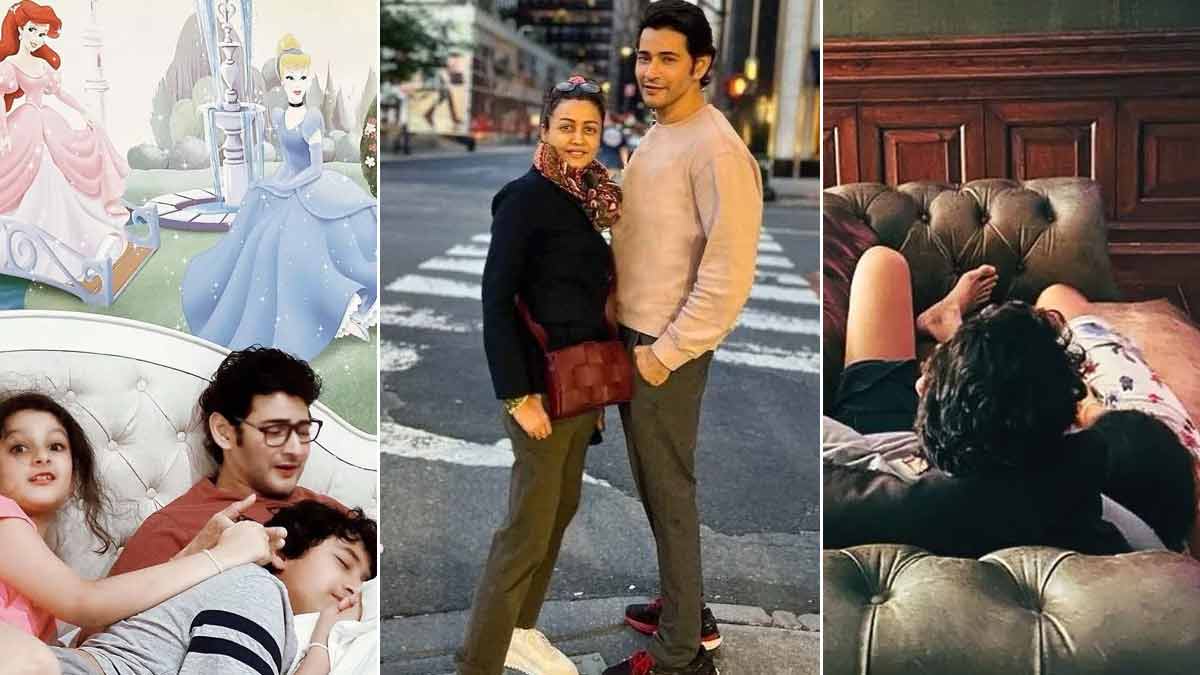 Check out pictures and videos of the interior of Mahesh Babu and Namrata Shirodkar's gorgeous home in Hyderabad.
Mahesh Babu is one of the best actors in the Telugu film industry. The famous southern actor married Bollywood actor Namrata Shirodkar many years ago and they now have two children, Gautam Ghattamaneni and Sitara Ghattamanani. Their grand home in Hyderabad is a lovely blend of earthy and dark tones that bring out the modern and the old. There are elements of both pop culture and history. The Mahesh Babu home is designed with an indoor pool and a magnificent backyard that effortlessly embodies opulence. A quick look at their stunning home can serve as inspiration to update the interior of your home in a way that exudes sophistication. Mahesh Babu keeps updating his fans on all the family activities. Check out their splendid home.
1. The Shadow Study of Modern Art
Image Courtesy: Mahesh Babu/Instagram
Mahesh Babu's study has a somber theatrical vibe, as the walls are painted in dark earth tones that reflect an old-world aesthetic. Luxurious leather sofas, smooth wood details and olive green textured walls add a modern twist to the classic aesthetic. Modern wall art makes the space vibrant and inviting.
2. A lush backyard
Almost every celebrity's home has expansive gardens. The homes of Mahesh Babu and Shirodkarhave are surrounded by lovely, open lawns, seating areas and a wide variety of plants. White patio furniture blends beautifully with wood floors (a guide on how to clean wood floors) and other colors in your backyard.
3. Bright brown dining area
The room has an open brick behind a sleek eight-person table that can accommodate the whole family, then a few. Lovely chandeliers and table lamps accentuate the beauty of the dining room.
DON'T MISS: Artistic Pots That Make Your Houseplants Stand Out
4. Indoor swimming pool
Their Hyderabad mansion also has an indoor swimming pool (side effects of chlorine in swimming pools on the skin). One side of the pool area has a large window overlooking the home garden, while the other side has a textured wall. Without a doubt, this is the most interesting part of the mansion.
Don't Miss: 5 Jobs You Can Do From the Comfort of Your Home
5. Children's room
Image Courtesy: Namrata Shirodkar/Instagram
The bedroom of the couple's son Gautam has whitewashed exposed brick walls, hardwood floors and a loose rug. Gautam's iMac is located near his white bulletin board, which is surrounded by important school paraphernalia on a black study table with metal studs. Sitara's all-white room features unmistakable Disney princesses, starting with the wallpaper showing Cinderella, Belle, Ariel and Aurora posing in front of a massive castle. Other decor in the corner of the room features colorful butterflies.
Did you enjoy reading this article? Please share your thoughts with us on our Facebook page. For more stories like this, stay tuned to HerZindagi!
Do you like this article?
.