The Redlands Unified School District recently invited board members and librarians and engineers from the AK Smiley Public Library to visit the refurbished library on four high school campuses.
They visit Orangewood High School, Citrus Valley High School, Redlands East Valley High School, and Redlands High School. The original concept behind the refurbishment began with the idea of ​​transforming one of the existing libraries into an environment suitable for student involvement. However, the idea expanded and transformed all high school libraries to provide a modern and relevant learning space for students and staff.
Jamie Cortz, director of educational technology and accountability, and his team have spent almost two years researching current high-tech libraries and working with design experts to create unique spaces for each library before the project. We worked with field staff at major schools. have started.
"We want to say that we didn't just put the neat things in the library," Cortz said. "Each change was carefully selected to meet the unique goals and needs of each school's site."
During the three-hour library tour, community members were led by the school's chief librarian or manager.
At Orangewood High School, Principal Curly Norris guides the final stages of library transformation, including new book shelves for library distribution, two new wall art designs, the latest technology and resources, and flexible furniture. I shared that I was particularly excited.
"The OHS library is a diamond on the crown of the OHS campus," says Norris. "(It) serves multiple purposes, including providing brave space for the campus, 21st century technology, co-design, and complete guidance for post-higher education planning and preparation."
In addition to flexible tables and seats in the Citrus Valley High School library, interactive touch panels, and integrated library book distribution, teacher / librarian Gina Porter and Rosa Arient-Esperanza have glass walls and large greenery. Introducing the new high-tech conference room of Screen Video and Sound Recording Studio.
"Our library isn't just for checking books, it's a place everyone wants to be," says Arient-Esparza.
"This is a space for students and classes to work independently or in collaboration to explore new communication tools such as podcasting and video editing."
Korrie Krohne, a teacher / librarian at Redlands East Valley High School, was excited to show how the library changed the common misunderstanding that the library was just a book.
"The library is about fair access to information," says Krohne. "The refurbishment of our library has created students who are informed, attentive consumers and users of information. Our vision is to secure our space for future student success. It's about building. "
One of the new features of the library is MakerLab. Here you will be provided with tools and consumables such as 3D printers and sewing machines for students to be creative and solve problems.
At the end of the tour, Redlands High School teacher / librarian Brandy Major shared how the new learning space promotes the curiosity, community, literacy, and leadership of students who use the space.
Two of the library's most popular features are RHS storytelling and presentation space and a podcast studio. These are always occupied by students who use audio to share individual stories with each other and create endless storytelling projects.
"The school library is the center of the school," said Major. "We want to scream loudly and clearly so that everyone can hear and accept!"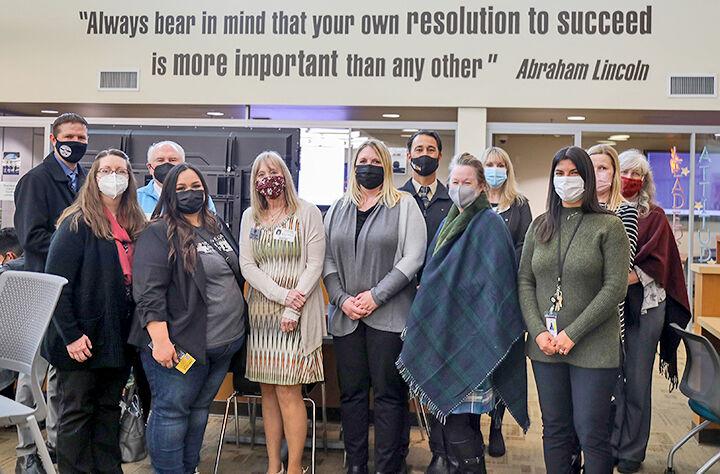 ..