A photographer has shown why couples shouldn't be afraid of any rain falling on their wedding day, insisting that despite the conditions it can still turn out just as well.
Wedding photographer Daniel Vertiz has traveled the world for his photography, which means he's been caught in all kinds of weather. Notably, Vertiz photographed a wedding in Georgia in September 2022 when the skies opened up and the rain poured down, just in time for the outdoor ceremony.
As the wedding of Claire and Curtis Thorn began, light rain began to fall before gradually becoming heavier throughout the ceremony. The wedding party all stayed at the altar and the ceremony continued, refusing to let it deter them. It made for some memorable photos in the pouring rain.
The forecast for the big day is a big factor for many engaged couples as they want to minimize the risk of bad weather. Wedding website The Knot, conducted a survey in 2022 that found October was the most popular month to get married, with 22 percent of the vote. There were also 11 percent who opted for September marriage.
The Knot emphasizes that fall weddings can mean slightly cooler temperatures that are still warm enough to allow for the possibility of holding parts of their celebrations outside. The vibrant colors of fall are another big draw for many brides and grooms.
Vertiz admitted that many brides fear rain on their wedding day, as it could be a bad omen, or ruin any outdoor plans they had in mind. However, he was optimistic that it would be nothing to worry about.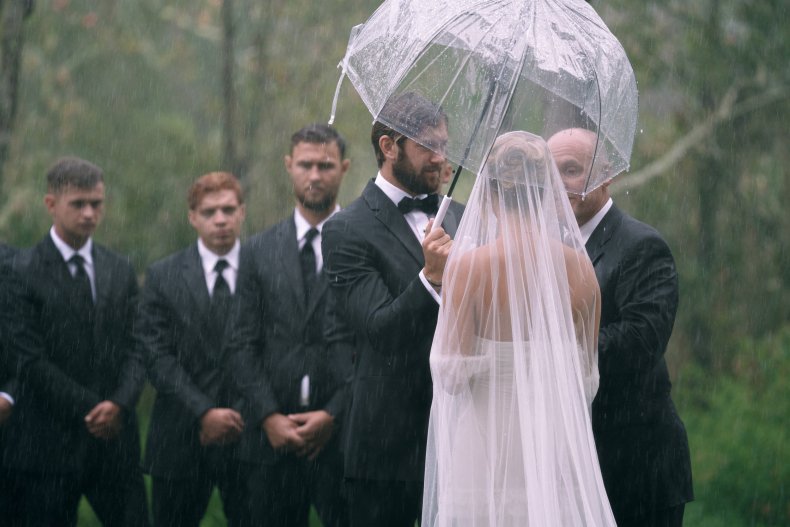 Vertiz tells News week: "Every bride dreads a wet wedding day, but Claire and Curtis took it in their stride and turned it into something magical. A true testament to their love.
"With a bridal party of 15 and 12 men in the procession, as the last two flower girls finished walking down the aisle, a slight sprinkle began to fall. A few people looked at each other wondering if the ceremony would go ahead. Then, right as Claire got out to start her walk, the rain started to fall.
"Without skipping a beat, she kept a big smile on her face with her dad in hand and came down. Her energy was contagious, and everyone was happy to see her enjoying herself. The guests had ' gathered a few umbrellas and hid under a small shelter. while the bridal party stood strong at the altar."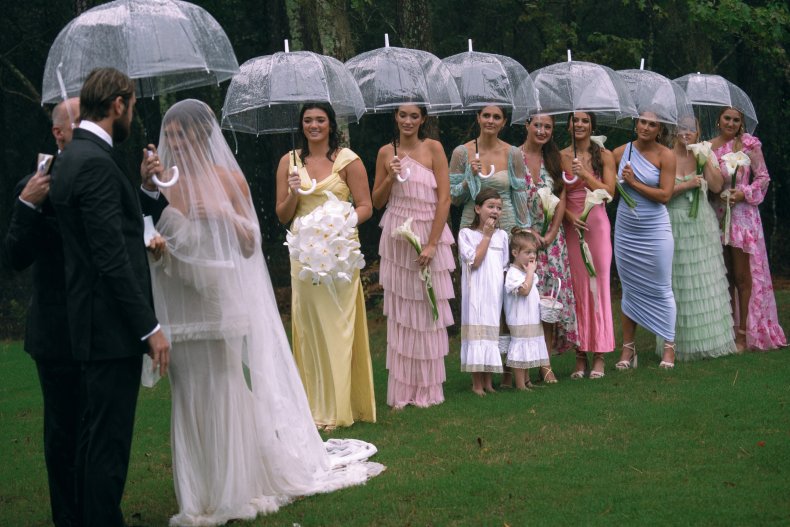 When they finally got a chance to look at the photos Vertiz and his partner, Madeline Relph, took, they were in awe of how well they turned out. The bride and groom can be seen sharing a clear umbrella and doing their best to protect themselves from the heavy rain. All the bridesmaids, in their colorful dresses, are also seen lined up, each holding their own transparent umbrella for the photos, looking incredibly coordinated.
Vertiz said: "The rain and the sheer joy of this couple just made the images more magical. We are so honored to be a part of such a special day."