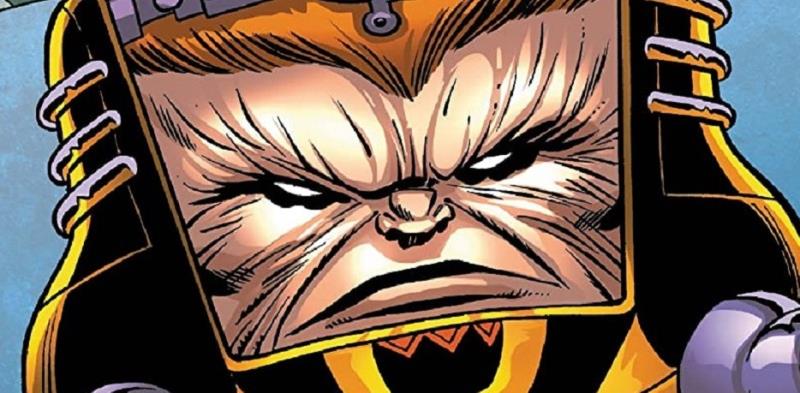 Following recent fan art based on footage descriptions, we finally have a first official look at MODOK's character design thanks to some Ant-Man and The Wasp: Quantumania merchandise art…
Last month, we shared some MODOK fan art based on the descriptions posted online following Marvel Studios' panel at San Diego Comic-Con. The image fooled some people into believing it was official concept art, but we now have a first look at the real character design thanks to some tie-ins.
An Ant-Man and The Wasp: Quantumania T-shirt featuring promo art of the "Mental Organism Designed Only For Killing" has found its way online, giving us an idea of ​​what to expect from the villain's MCU debut.
It's certainly an interesting take on the character, but MODOK has always been one of the most bizarre Marvel Comics villains, so his live-action debut should reflect that.
Apparently some #AntManandTheWaspQuantumania promo shirt has leaked, giving us our first look at MODOK!

Credit: @TheGeekyCast https://t.co/0MvpQMqXTh

— JstStrange (@StrangeJst1) September 12, 2022
We're still not sure how MODOK will factor into the threequel, but the rumor mill suggests that none other than Darren Cross (Corey Stoll) will take up the mantle after he was banished to the Quantum Realm at the end of the first. Ant-Man Movie
While the idea of ​​Cross being somehow transformed into the megalomaniac villain may seem far-fetched, it would explain why we haven't seen the character in so many years, and Stoll has been confirmed to reprise the role of the former Yellowjacket.
Peyton Reed is back behind the camera for Scott Lang (Paul Rudd) and Hope van Dyne's (Evangeline Lilly) next adventure, which features the return of Jonathan Majors as the villainous Kang the Conqueror and the debut of Kathryn Newton as Cassie Lang.
Michael Douglas and Michelle Pfeiffer will return as Hank Pym and Janet van Dyne. "Wombats" Luis (Michael Peña) and Kurt (David Dastmalchian) will also be back as Scott Lang's (Paul Rudd) sidekicks, but TI (Dave) is presumably dropped from the movie amid several allegations of sexual assault against him and his wife.
Ant-Man and The Wasp: Quantumania will hit theaters on February 17, 2023.
.