What obligation does a portrait photographer have to their subject? Is it their duty to cast that person in the best light, or the most revealing light?
As chief curator at the University of Arizona's Center for Creative Photography, I have worked with the images of fashion and portrait photographer Richard Avedon on a handful of occasions during my 16-year tenure. I curated my first exhibition of his work in 2007. The most recent show, "Richard Avedon: Relationships," is now on display in Milan.
Avedon's portraits contain so much rich detail that they can feel more revealing than seeing someone in person. In his photographs, gestures, expression, clothing and facial features all convey information about the subject – their eyebrow hairs, wrinkles, make-up, teeth and gaze all tell a story. The highly detailed photographs are an invitation to examine the photograph and of course the person Avedon reveals.
One of his subjects, the writer Truman Capote, became a collaborator and friend. Avedon made a radically different pair of portraits of Capote: the earlier one in 1955, when both men were in their early 30s, and a later one in 1974, when the two were in midlife.
The two images, exhibited side by side in Milan, show Avedon's relentless investigation. One emphasizes Capote's youth and sensuality. In the later picture, the writer's difficult years weigh on his face and suggest that age has dulled him.
Friends and associates
Avedon, who was born in 1923 and died in 2004, began his career in the 1940s as a staff photographer for Harper's Bazaar. His fashion photos featured glamorous models donning the latest fashions and living it up in exotic Parisian locations. His studio portraits sparkled with elegance, and through a lighting technique he developed that he dubbed the "beauty light," Avedon captivated the magazine's readers.
Avedon first photographed Capote in a solo portrait in 1955, when the author was just 31 years old. At the time, Capote was a rising literary star. His 1948 novel, "Other Voices, Other Rooms," was published when the author was just 24, and was met with critical acclaim and controversy for its openly gay protagonist.
The two were part of the New York arts and culture scene and shared a number of friends and acquaintances. Avedon's photo shows the young man, his torso undressed, eyes closed, arms back and chin raised.
The photographer's choice of pose underscores the vulnerability of the young Capote. Capote's face is relaxed and conveys no expression; since his eyes are closed, viewers can perceive him even though he is not looking back. Avedon has placed Capote in front of a light-colored background, and the wide space around Capote sets him apart from the world and presents a pure and guileless figure.
In 1959, Avedon and Capote collaborated on a book, "Observations," which included a series of Avedon's portraits and a running narration by Capote. The author also appears towards the end of the volume, clothed, in a portrait by Avedon that has none of the transcendental qualities of the earlier 1955 picture.
Capote also wrote a three-page essay on Avedon for the opening of "Observations," praising the photographer for his clarity of vision, his prolific output, and his extensive artistic influence.
A 1959 letter to Avedon, in which Capote refers to the photographer as "beloved collaborator," compliments the finished volume and praises Avedon for "doing well with our little story."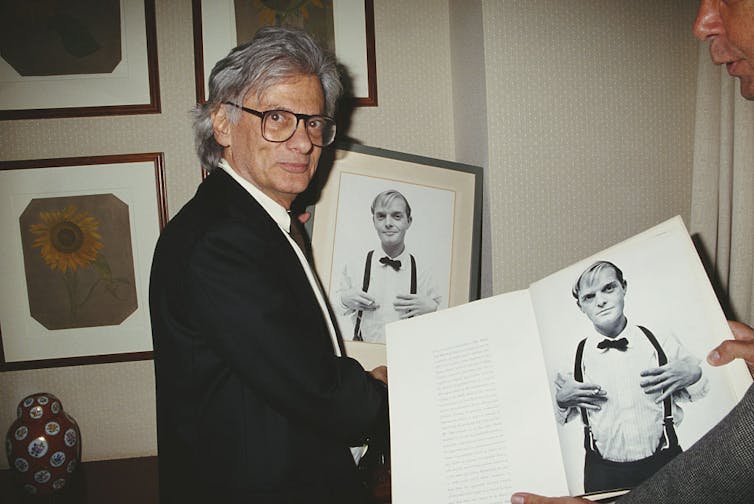 Then, in early 1960, Capote wrote to friends and announced that he had just signed a contract for the book he was researching. The true crime novel, "In Cold Blood," was about the brutal murder of the Clutter family in Holcomb, Kansas. In the letter, he mentioned that he intended to return to the Midwest with Avedon, whom he described as "quite easily the world's greatest photographer."
Avedon traveled to Kansas to visit Capote during his research and to photograph accused murderers Perry Smith and Richard "Dick" Hickock. The unflinching portraits of the men, with their white backgrounds and rich detail, were typical of Avedon's style at the time. Dick Hickock's face appears damaged, but there is little to suggest that the subject, who appears defeated and vulnerable, could be capable of such unimaginable violence.
Beautiful or cruel?
In his later years, Capote began dishing out literary menace, publishing stories in his unfinished novel "Answered Prayers" that exposed secrets of New York's high society. Chapters of the book-in-progress were printed in Esquire in the mid-1970s, leading to broken friendships and Capote's social isolation. His alcoholism and drug use were well known, and after an unproductive decade, Capote died of liver cancer in 1984 at the age of 59.
Avedon made his last portrait of Capote in 1974, when the author was 50 years old. By that point, the two had maintained a relationship for nearly two decades. In this image, the lithe sensuality of the earlier portrait is gone. Avedon now focuses on Capote's head, which fills much of the frame.
Capote looked out of puffy eyes, his thinning hair pulled back from his mottled forehead. The mind that produced some of 20th-century America's richest prose is there, but the face depicted is aged and damaged.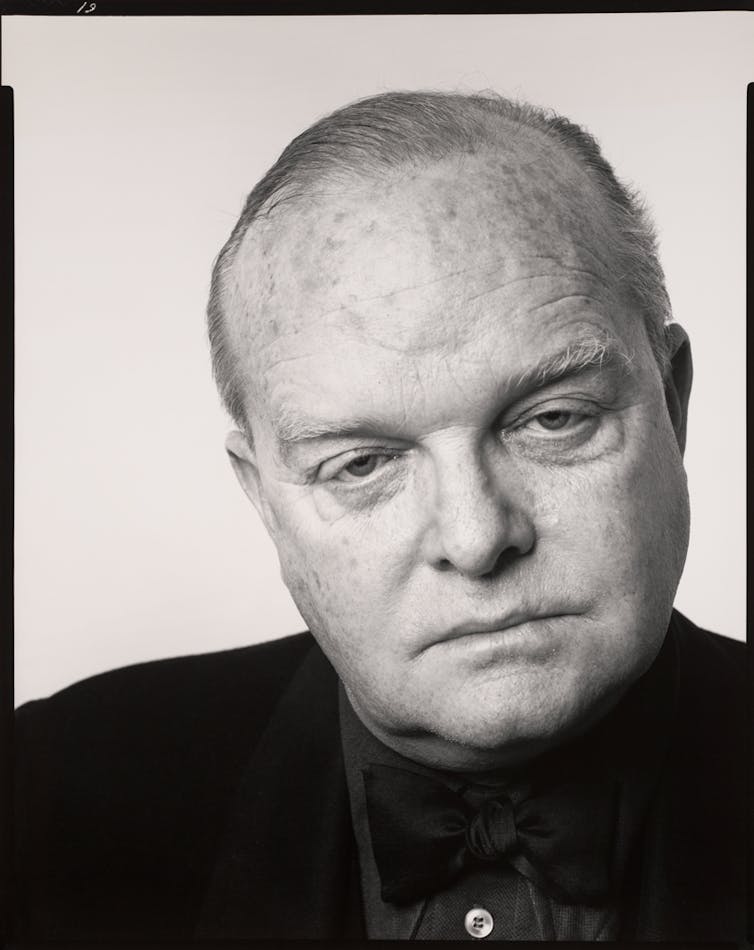 Capote reportedly complained about the 1974 portrait, calling it "very unflattering" and claiming he was ill the day the photo was taken.
Critics took aim at Avedon for unfairly using the power of his camera. As he shifted from a focus on early fashion works intended to celebrate fashion designers and sell clothes and magazines to a focus on portraiture, his photography became more probing and revealing.
The term "brutal" has been used to describe some of Avedon's portraits, although the photographer has pushed back against the charge.
By the late 1990s, the photographer saw that the portraits functioned as works of art, and this, he believed, relieved him of concern about the feelings of those pictured. In a 1999 interview with the San Francisco Chronicle, he said, "I've never thought of my photographs as brutal in any way, but as kind of beautiful. I really find great beauty in the kind of avalanche of flesh that comes with age with a face happens."
It can certainly be uncomfortable to be the subject of Avedon's photographic scrutiny. The detailed, relentless and permanent qualities of his black and white prints – especially in their largest sizes – can convey an honest brutality. When photographed by Avedon in 1976, then-US Secretary of State Henry Kissinger is rumored to have said, "Be nice to me."
Back in his 1959 essay for "Observations," Capote acknowledged Avedon's attraction to — and ability to depict — the evidence of age.
"It will be noted, as it is not avoidable," wrote Capote, "how often he lays stress on the elderly; and, even among the just middle-aged, inexorably tracks down every hard-earned crow's-foot."
Capote, himself shrewd and quick-tongued, must have expected that one day he would be subjected to that same implacable eye.