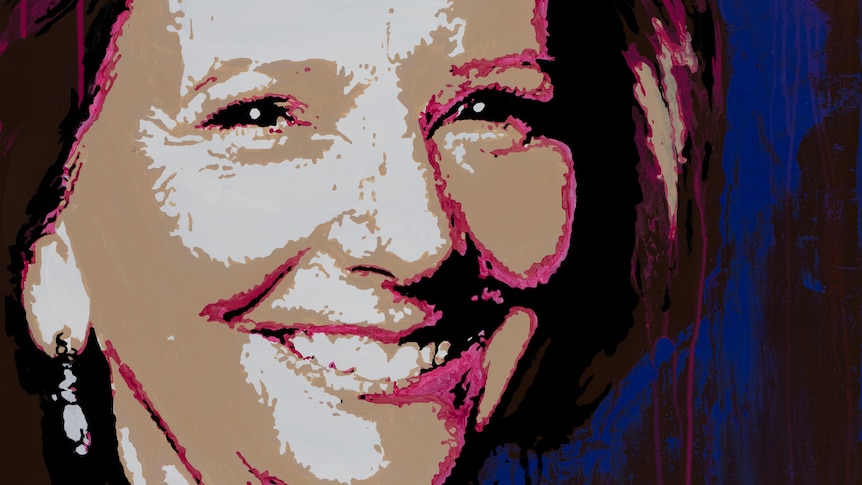 Some of the more beautiful lyrics of Don McLean's songs about Vincent van Gogh refer to "faces lined with pain" that are "soothing under the loving hands of the artist."
Key Point:
The Spirit of SA Collection showcases the people, places and things that have strong ties to SA.
The work will be auctioned to raise $100,000 to help children with cancer.
At the forefront is artist Mark Robert, who has taken the time to create 42 works in about 30 weeks.
Some of that kinder spirit is reflected in Mark Robert's Port Adelaide studio. A striking act of artistic altruism has materialized in recent months.
"I'm very proud of this collection, and I hope that it makes SA proud," Robert explained of the project.
Painting is hard work, but these portraits and landscapes are meant to ease the pain, especially for seriously ill children.
Collectively, 42 canvases make up SA's spirit exhibition, depicting some of South Australia's most prominent faces, places and icons.
Starting Monday, they will be on display at Adelaide's Westpac House and will be auctioned online to raise at least $100,000 for the Children's Cancer Association (CCA) to support children battling the disease.
Subjects include rock legend Jimmy Burns, actress Teresa Palmer, The Hills Whist, Kangaroo Island's Remarkable Rocks, chef Maggie Beer and pop singer Guy Sebastian.
There's also ABC's Collinswood Bill, AFLW star Chelsea Randall, and former Prime Minister Julia Gillard.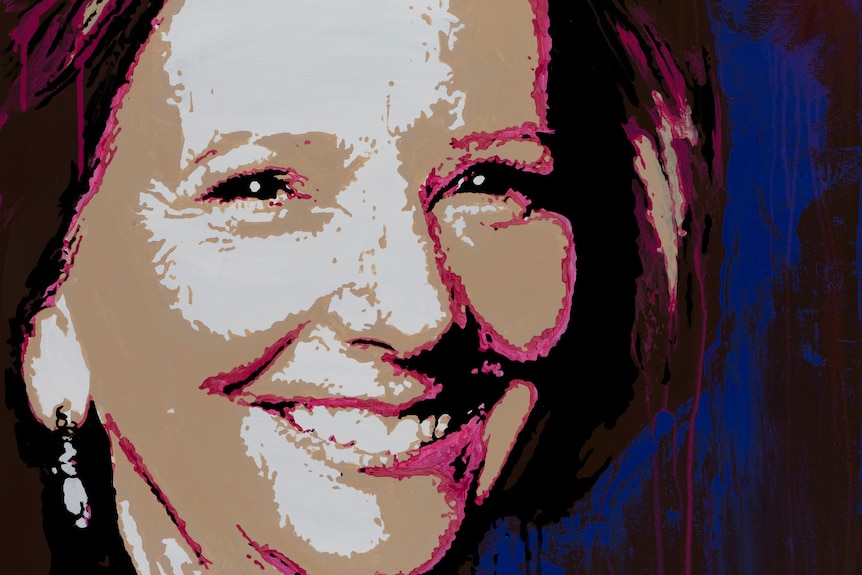 "As a woman in politics, and in general, she's a great person," Robert said of Guillard.
"Bernessy's paintings are associated with the Larg's Pier Hotel.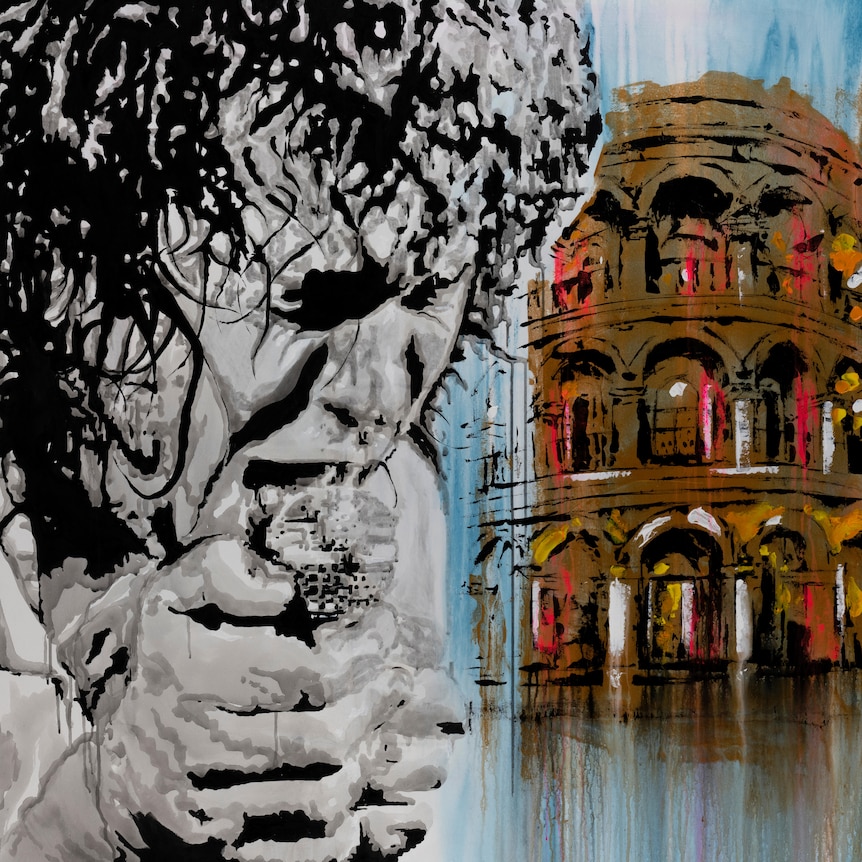 "That image must be one of my favorites."
The project has evolved collaboratively — fellow artist Phil Hodgson has worked closely with Robert.
Each brought different complementary skills.
Hodgson's talents include the ability to capture human facial lines, while Robert has focused on non-human subjects, color schemes and other touches.
42 paintings in 30 weeks
In fact, sometimes Robert himself seems like a canvas. His arms are strikingly inked, and his paint-stained shirt is like a palette for mixing colors.
His studio is an artist's den.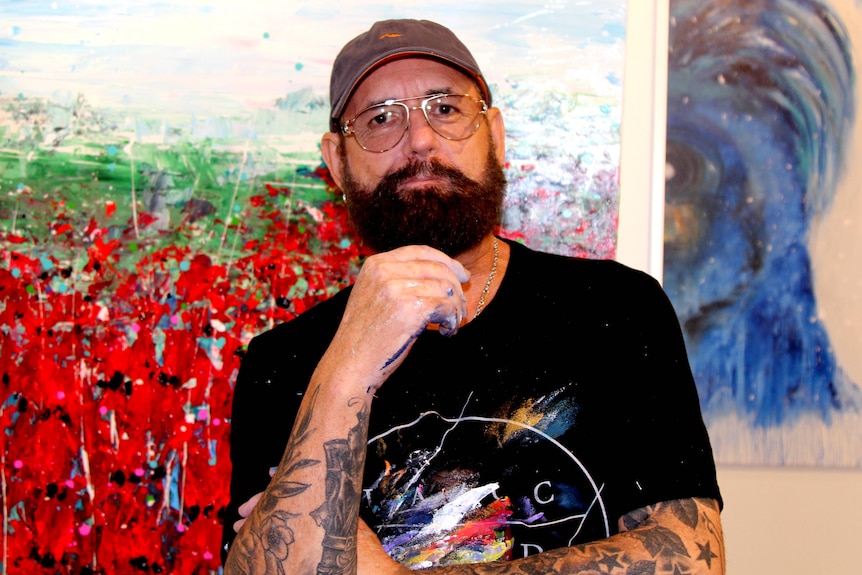 Filled with brushes, paint pots, blank canvases and works in progress, the floor is so densely covered with pigment splashes that resemble Jackson Pollock's Abstract Expressionist examples.
But the paintings themselves suggest other suitably eclectic influences.
A selection of cartons of Farmers Union iced coffee, packets of FruChocs and frog cakes evoke Andy Warhol's soup cans, while the blue and yellow imagery of the Adelaide skyline evokes Van Gogh's Starry Night.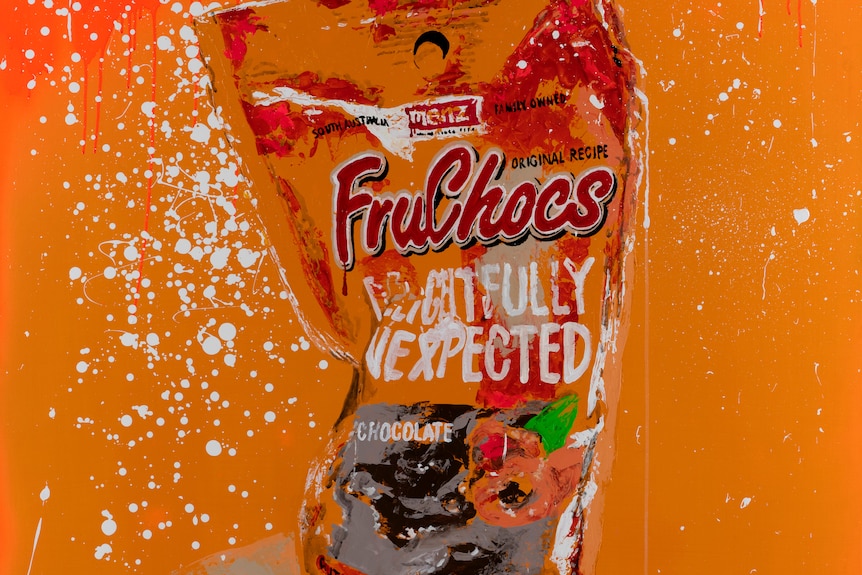 "I love color. I try to chase color all the time. I need color around me," said Robert.
Despite his passion, he admits it was a daunting task to produce 42 large works in about 30 weeks.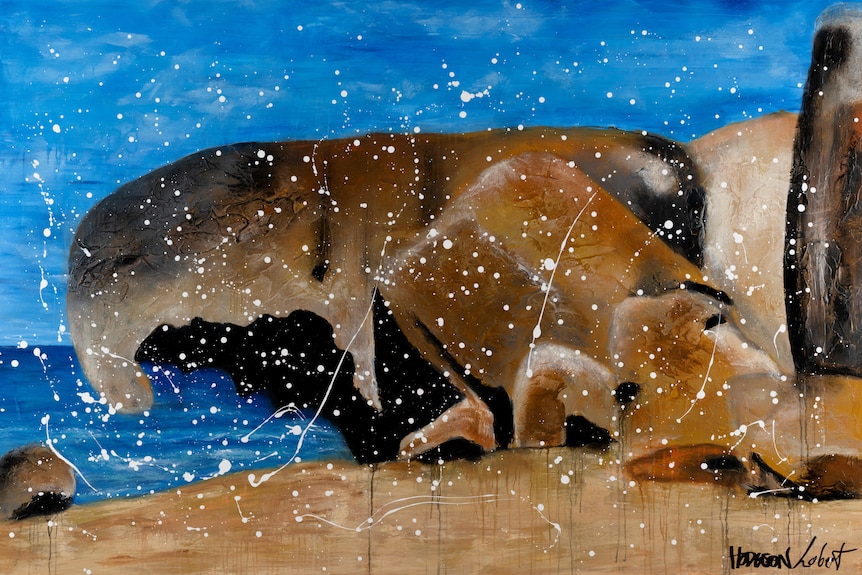 But when he admitted, "I'm not going to lie. It was very stressful," he smiled like someone who knew the finish line was in sight.
"They spent a lot of time," he said.
"Originally we were going to start at about 14, then it went to 20, then 25 to 30, then to 38, then to 42."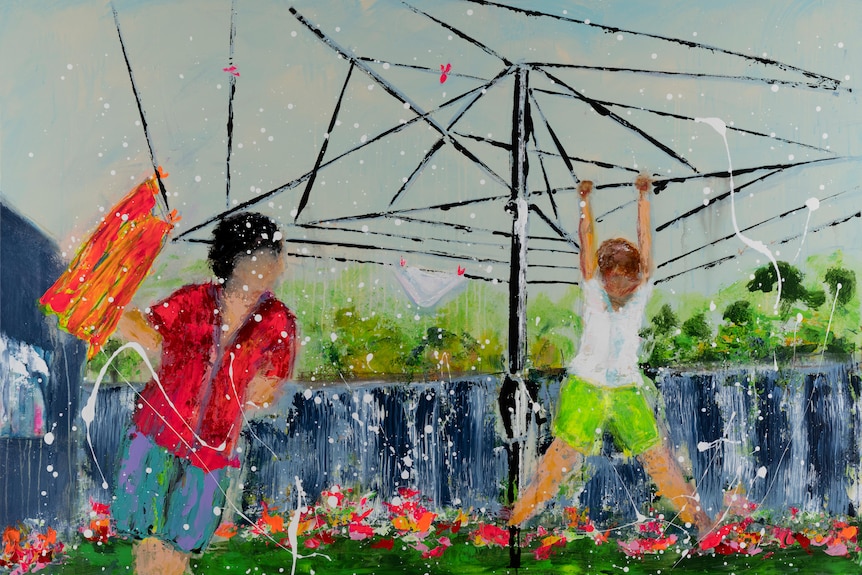 "The Battle of His Life"
The driving force behind this project was Media Identity and CCA Ambassador Mark Soderstrom.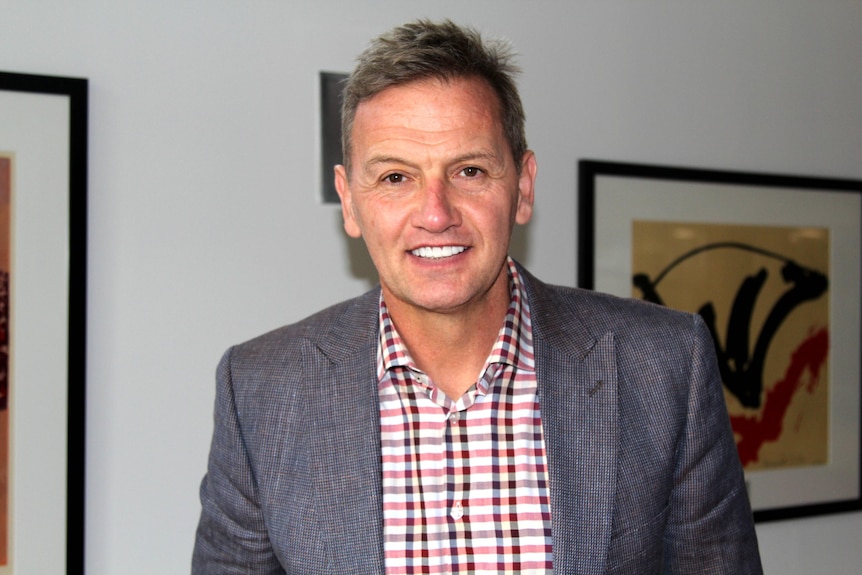 "We thought we should be thankful for where we live. What can we do to raise $70,000 to $100,000?" he said.
"What if we showed you the best places in South Australia and put them up for auction for childhood cancer?
"They cost something like $1.3 million a year to function and serve, so if we can reduce that, that would be pretty cool."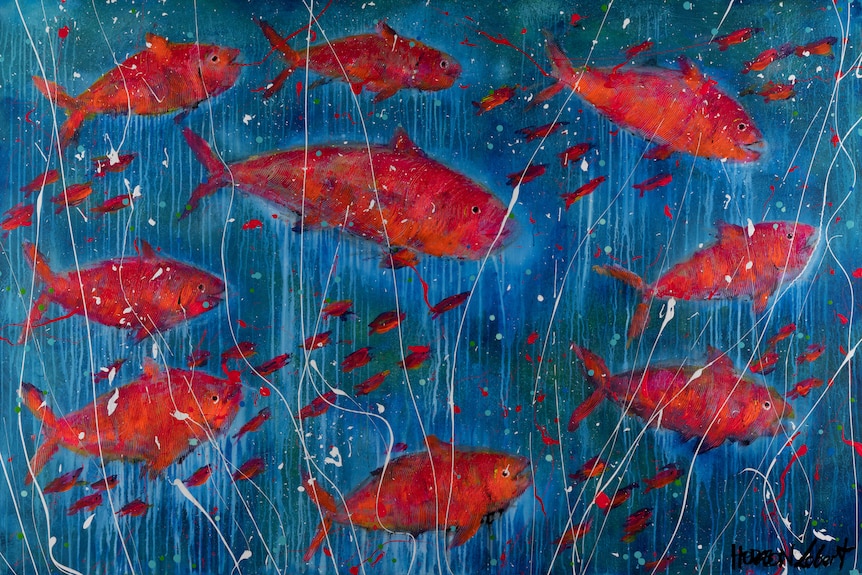 Soderstrom admits he's not "artistic" himself, but he's impressed by the power of art to not only raise money, but to rest.
Through CCA, he formed a friendship with Robert.
Their work has exposed them to some harrowing stories.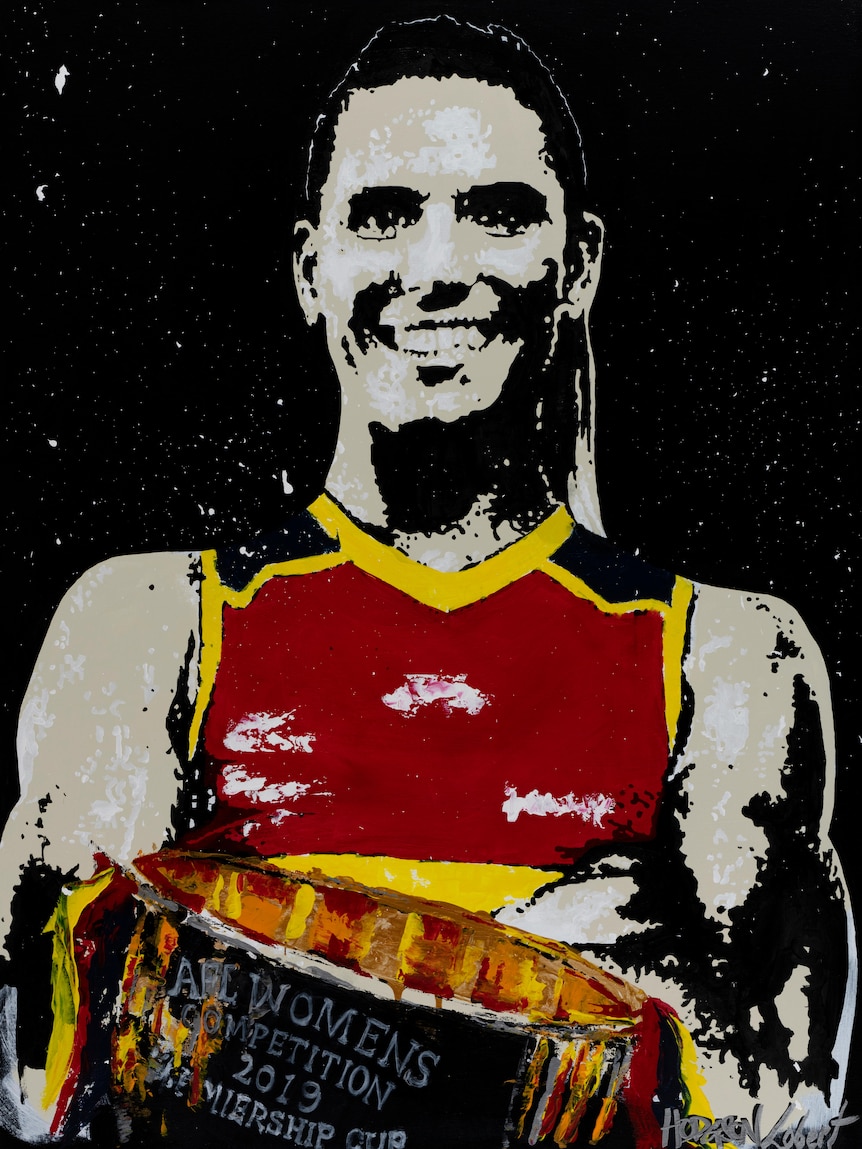 Soderstrom recalled the case of Jaxon, an "incredibly brave boy" who was in palliative care at the Women's and Children's Hospital.
"He was in a battle for his life and his parents called him Iron Man because he was so strong.
Soderstrom commissioned Robertt to draw a superhero painting for Jaxon to go on a hospital bed.
"Every time he woke up, with the time he had left, all he could see was Iron Man."
Lightening the burden on children like Jackson is at the heart of SA's ethos.
"Our father died of cancer," said Robert.
"So whenever I hear something [fundraiser] It has to do with cancer. Always yes.
"I love being able to give."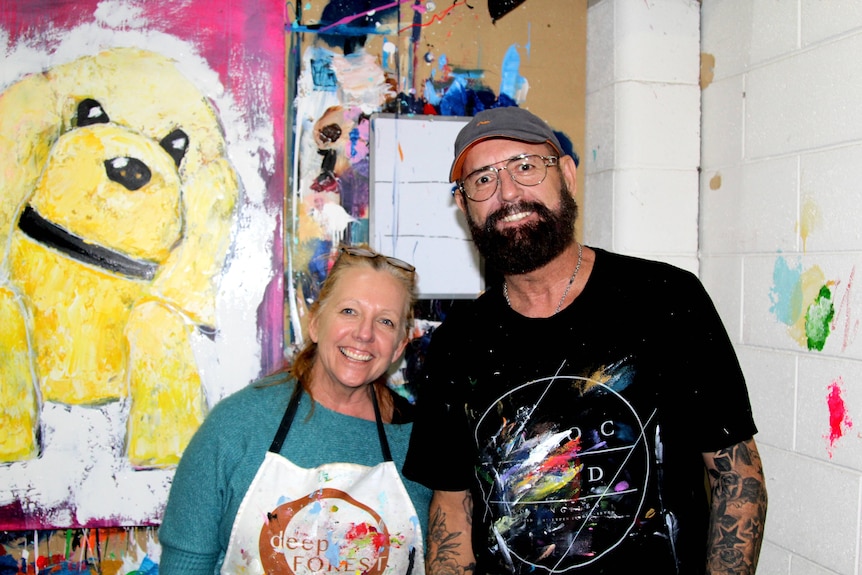 .