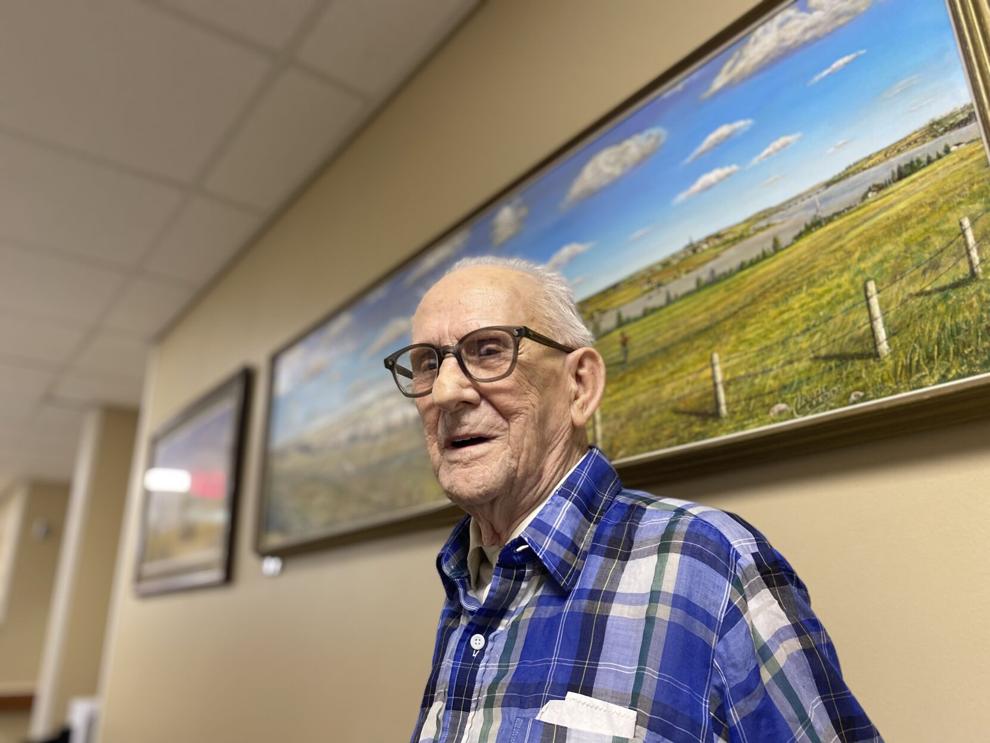 LENOX — The man in L32's room is waiting at the edge of the bed. His hands were folded over his knees and tamed with a soft bristle brush, including the rest of the hair on his head.
The coffee table book is arguably open to its most essential image. The walls on his side of the room he shares are reinforced with portraits of two saints: one is Teresa of Avila, who was canonized in 1622, and the other is the late May, who married in 1950. Mercier) Comier, Great Barrington.
His name is Laurie Comier and he is ready to fully describe his 97 years of life, subject to two things. Only if you really want to hear about it. Only if you stop him if he gets bored.
"Can I speak?" He asks.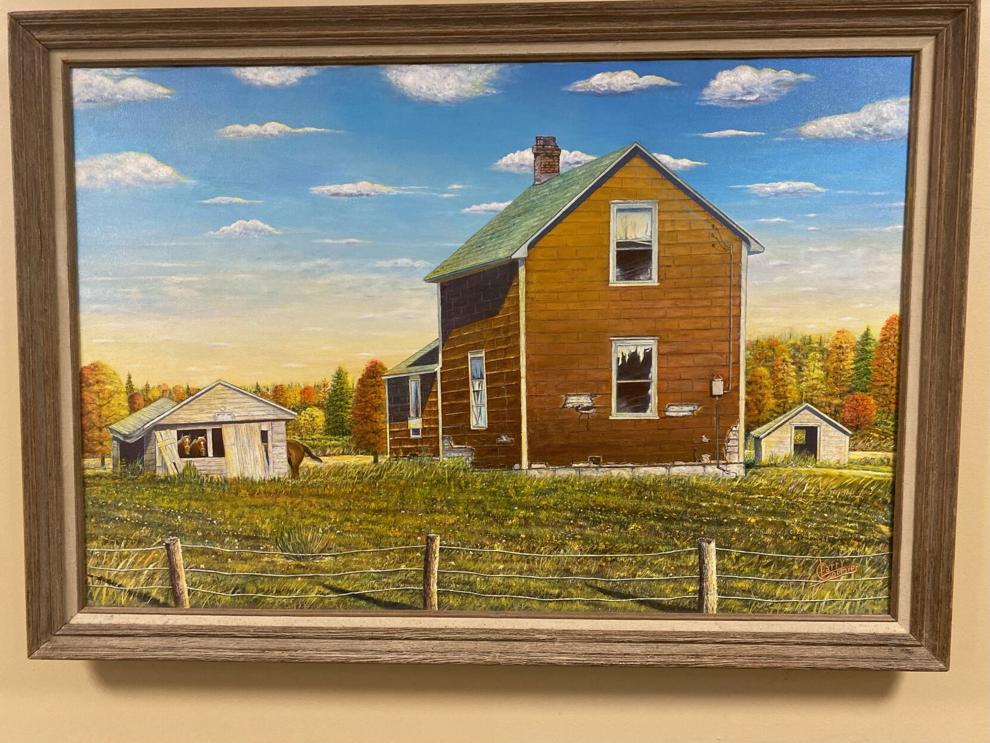 First, there is the question of what is happening in the corridor of his place of residence, here at the Kimball Farms Nursing Care Center. He moved 14 months ago after several falls and several mild strokes.
Since his arrival, the L-Wing corridor has transformed into a luxury art gallery of cityscapes, landscapes and wildlife scenes.
They are his artwork lined up on the wall: primarily his intimate and intricate oil painting prints are combined to break the disinfection efficiency of beeping machines, food trays and busy staff — beauty and good. Artwork that provides a background for the news Many of those calm, emotional corridors are swarming with problems of life, death, and love.
Comier created more than 1,000 such paintings in 1972. He estimates that about 12 of them are in the permanent collection of the Norman Rockwell Museum in Stockbridge.
"These aren't my best," Komier said of the Kimball Farm corridor collection, holding his hand to keep the news out.
I have something else to tell him.
"This wasn't my idea," he says of the hallway display. (Although he requested that one of the paintings be hung a little higher.)
But maybe we are ahead of ourselves. Comier has plans for this curated tour of his year on Earth. Starting with Mei, who made him her man, her lifelong friend, and May, who was born in Club Feet but chose him as her dance partner, everything in order of importance.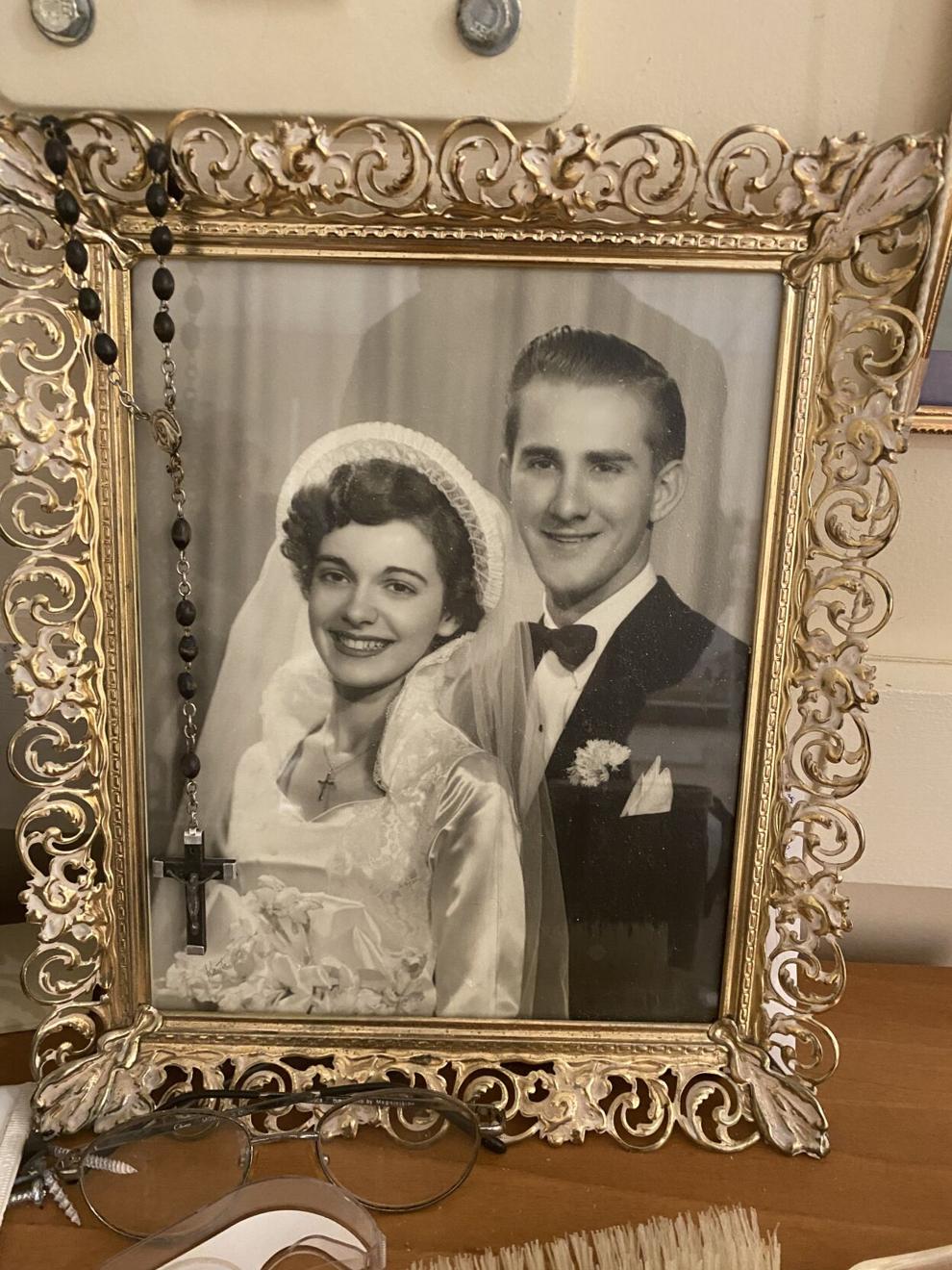 "My wife was the most beautiful girl in her school for the second year in a row," says Cormier. "There's a picture of her. She was so beautiful, so smart, and smarter than me. She was a good singer. She was a piano player. I was in love with her for the rest of my life. And now I'm about to cry. "
Of his eight brothers, only two remain. Of his four children, two have died and one has terminal illness. Her fourth is Pittsfield's Lynn Brown, who has her arms around her father.
"Dad," she says. "You made people happy. You made beautiful things for them to see and beautiful music for them to dance."
An art show in the hallway, she made it happen. And he is happy. And the staff are happy too.
"The fox is my favorite," said an aide named Samantha.
However, Comier is not yet ready to tour the corridor. He is not yet ready to reach his favorite prints from the Kimball Farm collection, to the very end of the corridor.
The beautiful music that his daughter mentions, well, her father was a musician, and he's some on the other side of the wall of his room in his time as a bassist of a local dance band. I would like to point out an old photo of.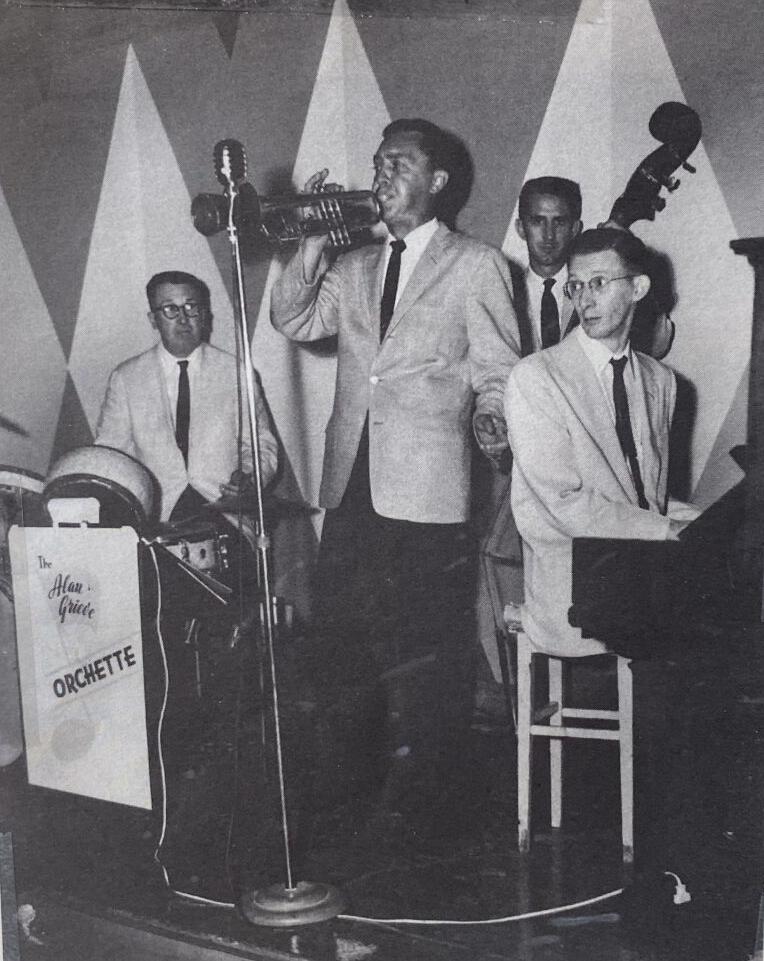 "You know about the Stanley Club, right?" Says Comie, referring to a social club organized by General Electric employees.
"That's me," he said, pointing to a sepia-toned image of a handsome young man in a jacket and tie on a stand-up base. There he was pushed into a crowded Pittsfield stage with other members of Alan Greaves Ochette.
"I had a lot of fun playing with everyone," he says.
He has two other interesting items, both of which are ready to be shared in the book. The first is a coffee table book called "Berkshire: A Beacon of Beauty, Culture and Commerce". In the center is a magnificent painting of the city of Pittsfield adopted by Comier from the perspective of South Mountain with Mount Greylock facing north. Boil in a foggy background.
The original painting is about 6 feet wide and he has no idea where it is now. But the painting made it this beautiful book, and it's enough for him.
His daughter remembers that he painted it.
"He had a paintbrush in one hand and a magnifying glass in the other," she says.
He asks for a second book. He turns to a marked page with pictures of an artist and educator named Jeanne Leger, who first discovered his artistic talent when Comier was ten years old.
He is from New Brunswick, Canada. Did he mention it? He was born in Leominster, but in 1924 he was raised by Canadian parents on a 500-acre farm still in his family.
He says Leger taught him for free for two years until he had nothing to teach. Her farewell advice was "keep painting," he recalls. And he did. He painted straight until the 1990s.
Comier was never a self-promoter. His occasional art exhibition was confined to the counties of Albany, New York, Boston, and New Brunswick, where he, his wife, and children spent the summer. He recalls an art show held in New Brunswick many years ago.
"They had a book by the entrance and everyone had to sign in," he says. "I shook hands with so many people that the next day his hands were swollen."
In Berkshire, many can remember his contribution to the art world.
Stephanie Habushplankett, Deputy Director and Chief Curator of the Norman Rockwell Museum, said: "I am honored to be able to preserve and share the work of this talented artist for generations to come."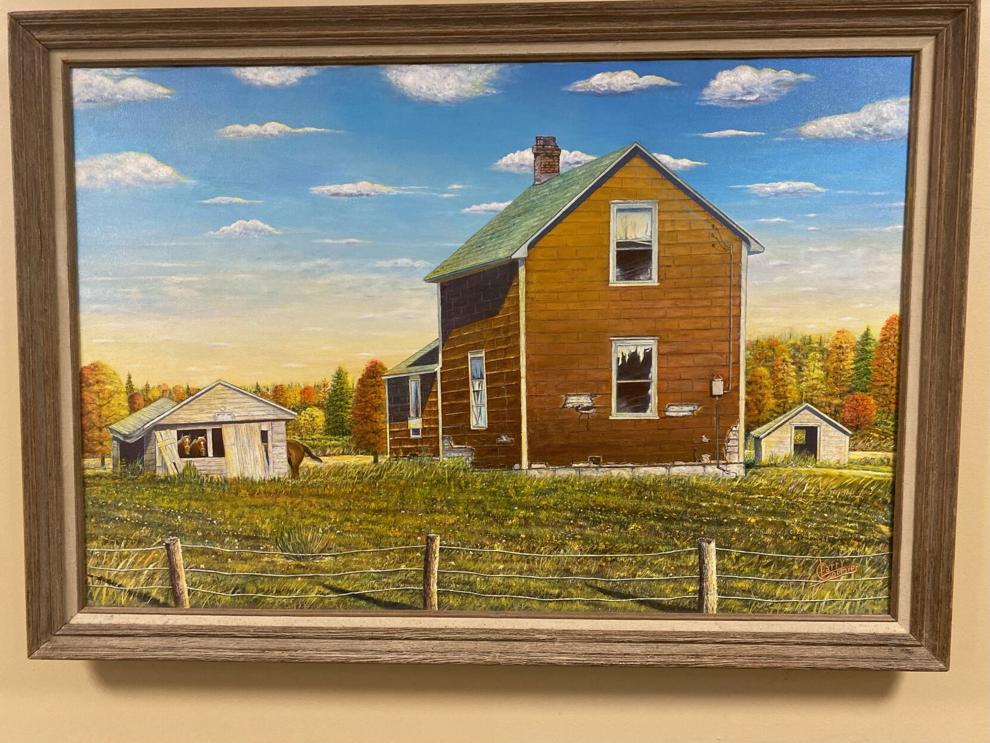 He painted the sides when he worked for General Electric and later at Marland Molds as a machinist, tool maker, and mold maker. He ran Enlight's package store, taught art in orchestras and quintets, and played bassist.
"I did so many things," says Cormier, a man with nine grandchildren and seven great-grandchildren. "I had a very good and happy life."
He pauses.
"Can I speak?" He asks again.
At Kimball Farm, Sandra Burn comes in and gives him a pill embedded in a spoonful of applesauce. She sets him a walker with his name on it. It's time for a carefully selected corridor tour.
He and his six legs pass down an image of a fallen stable and down the corridor. I passed a painting of his former home in Roselin Drive, Pittsfield. Pass the horses at Hancock Shaker Village. Pass the children's ice skates in the pond. Pass by a cat scene by the window, skillfully rendered through see-through drape gauze.
Comie goes all the way to the end of the corridor, with a print of the picture he wants to talk about. A family-owned farm in New Brunswick around the 1940s. It is that his father and his brother are collecting loose hay in the fields.
The original painting is in his daughter's house in Pittsfield, which is huge, she says.
The title of the picture is "Jeme Souviens", which means "I Remember" in French.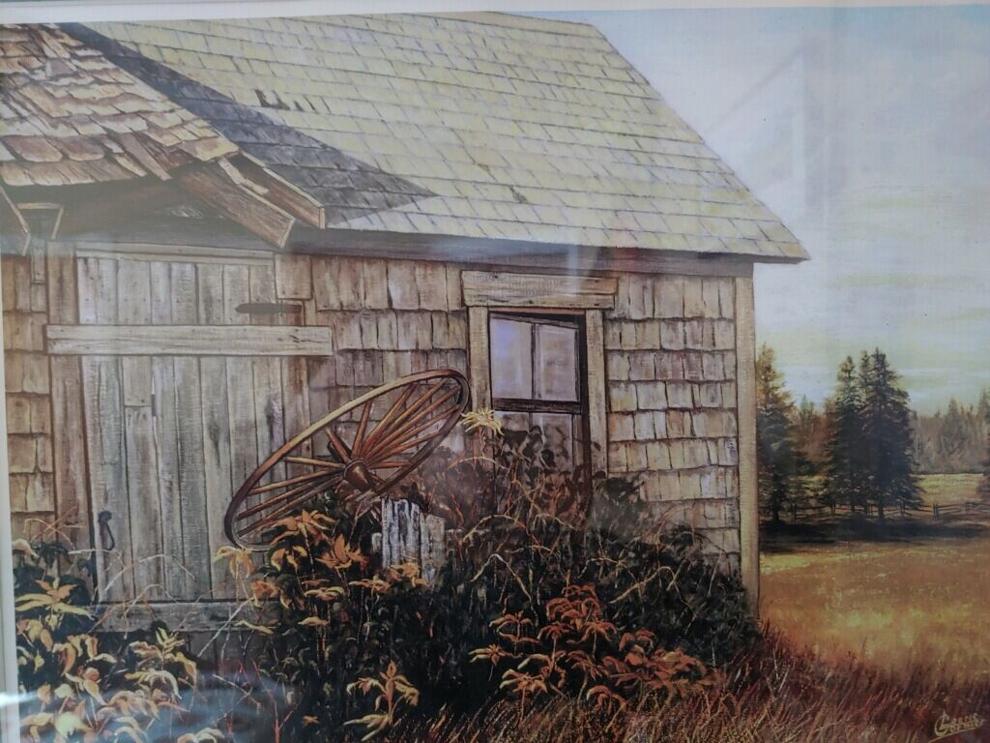 Indeed, he remembers. He says the farm is by the river in the village of Sante Marie Decent. He travels 12 miles down the river and he reaches the sea. If you follow upstream, it's where salmon lay their eggs.
He remembers learning to cook from his mother at that house. He learned to play the fiddle and remembers playing in square dance. He remembers leaving this place for western Massachusetts. There he eventually realized that he was playing bass in dance on the stage at Saals High School. A cute girl named Mei introduced herself.
She chose this man whose leg was broken. They married on November 18, 1950 at the Church of St. Peter. They will be dazzled by the dance floor playing Zilva.
With Mei, he proudly ran out of breath on November 7, 2019, through his career, through family trips, through art shows and tragedy, and through her dementia in her later years.
And he is very grateful to her. He is very grateful to be able to cry. But instead, he decides that there is one last thing to share.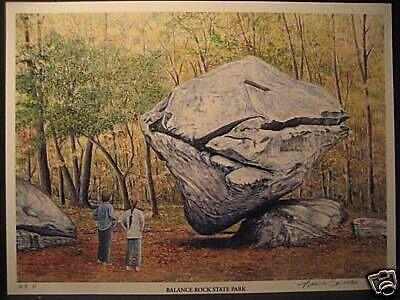 "Do you know what they call me here?" He asks.
He puts his hand on his mouth.
"Handsome," he says.
..