A young Nigerian artist will sell his photographic work to Odogwu Bitters, an ObiCubana-owned herbal beverage company.
A man identified as Sanjo Lawal visited Twitter to share his testimony and said the company contacted him about his work.
Artwork shows that Laural captures bottles of Bitters and skillfully combines them with a male model to show how delicious the drink is.
A talented young man named Sanjo Lawal is in the spotlight of Odogwu Bitters, the company of ObiCubana that is currently collecting his work.
Lawal twitter To let the public know that Odogwu Bitters will be collecting his artwork that was recently shot and shown online.
How it happened
Lawal first introduced the shoot at Odogwu Bitters on April 2nd and was hoping that the company would get the word out. The words reached them as he is now back on Twitter to report his success. His words: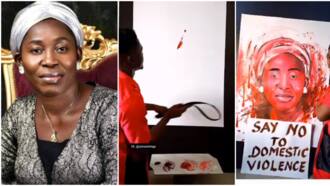 Osinachi: The artist aggressively beats the canvas to paint the face of a slow singer and preaches against violence in a sad video
pay attention: Install the latest app for Android and read the best news in Nigeria's # 1 News App
"Congratulations to me and the team. @ OdogwuBittersNG contacted me and collected the ODOGWU art I shot. Thanks to the sirobi # cubana / brand and support system. This joy is very much. its big.
"The art here depicts the visionary ODOGWU. The bike depicts the ODOGWU as the movement of everyone. Both movement and visionary are from sirobi # cubana as a perfect example and inspiration. It's a completely inspired art. "
See his tweet below.
Nigerians on Twitter react
On the other hand, the Nigerians on Twitter are reacting to Laural's success story, and many are congratulating him. Here are some reactions:
@jey_jey_Naija said:
"Wow! Finally! Celebrate with my brother, I'll win more."
@ Gloriousdavid2t's comment:
"Let's make that beautiful story. Gourets"
@matthewshotit reacted:
"Big win over my man Big win I have to admire."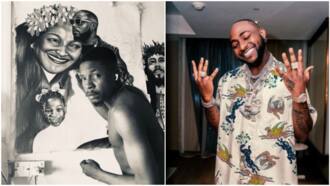 Send it to me when it's done: David tells the artist who is painting him, the Nigerians react
A young man takes a picture of an old man and sells it as an NFT
In another story, Legit.ng A young man named Adisa Olashile reportedly took pictures of an old man named Baba Onilu and sold them as NFTs.
Olashile returned to the old man and gave him the sum of the N500k that the Nigerians donated to him online and another N100k.
Kindness was praised online and cited as an example for young people to follow.
Source: Legit.ng