"I'm interested in how hairstyles become a non-permanent, fleeting statement that can be made about your identity, on your body for as long or as short as you like, and then changed or eradicated," says photographer Max Heilbronn. "The temporality of using your hair as a canvas to express your personality and how you see yourself to the world is particularly fascinating."
It was this kind of self-expression that Heilbronn wanted to capture and document in his new series of photographs, which explore the bleach movement among London's youth. Together with hairstylists Alfie Charles Vincent, Janina Zais and Ami Fall, who created the colorful designs on the models (and in Fall's case, herself), he sought to show people's deep desire for physical expression. "It was important to me not to cast models, but rather to use young Londoners who were already experimenting with this way of self-expression," he says. "Some of the subjects were friends and some were complete strangers who later became friends."
The result is a series of images that showcase a range of cheerful, colorful designs – animal prints, stars, hearts, abstract swirls – and revel in the freedom and confidence that can come when your outward appearance perfectly matches how you feel inside. even if it's just for that one fleeting moment. "What I like about the people involved in the project is that they understood that in the end it's just hair and that sometimes it's good, no matter how you feel, to shave the whole thing, " says Heilbronn. "To bring some color, to bring some freedom." Here, Heilbronn, Fall and Vincent share their thoughts on the images, and the inspirations behind the most colorful designs.
How long have you been taking pictures?
Max Heilbronn: I have been taking pictures for many years, but my passion for it really consolidated when I arrived in London three years ago. London felt like a new energy, and because I don't know many people here, I could challenge myself to shoot more and meet creative people around me. I also invested in documentary style photography when I went traveling with my older brother for eight months. It was exciting because I wasn't just taking more pictures of my drunk 17-year-old friends.
How did you become interested in bleached hair and buzzcuts?
Max Heilbronn: I got lost in who I was and how I identified, like we all do, and I came to a place where I only knew what I didn't like, as opposed to what I loved. I changed my hairstyle every few weeks and I was looking for new styles to try out, and then I came across the work of brilliant hair artists like Ami. This haircut looked more like a work of art to me, and prompted me to start photographing it.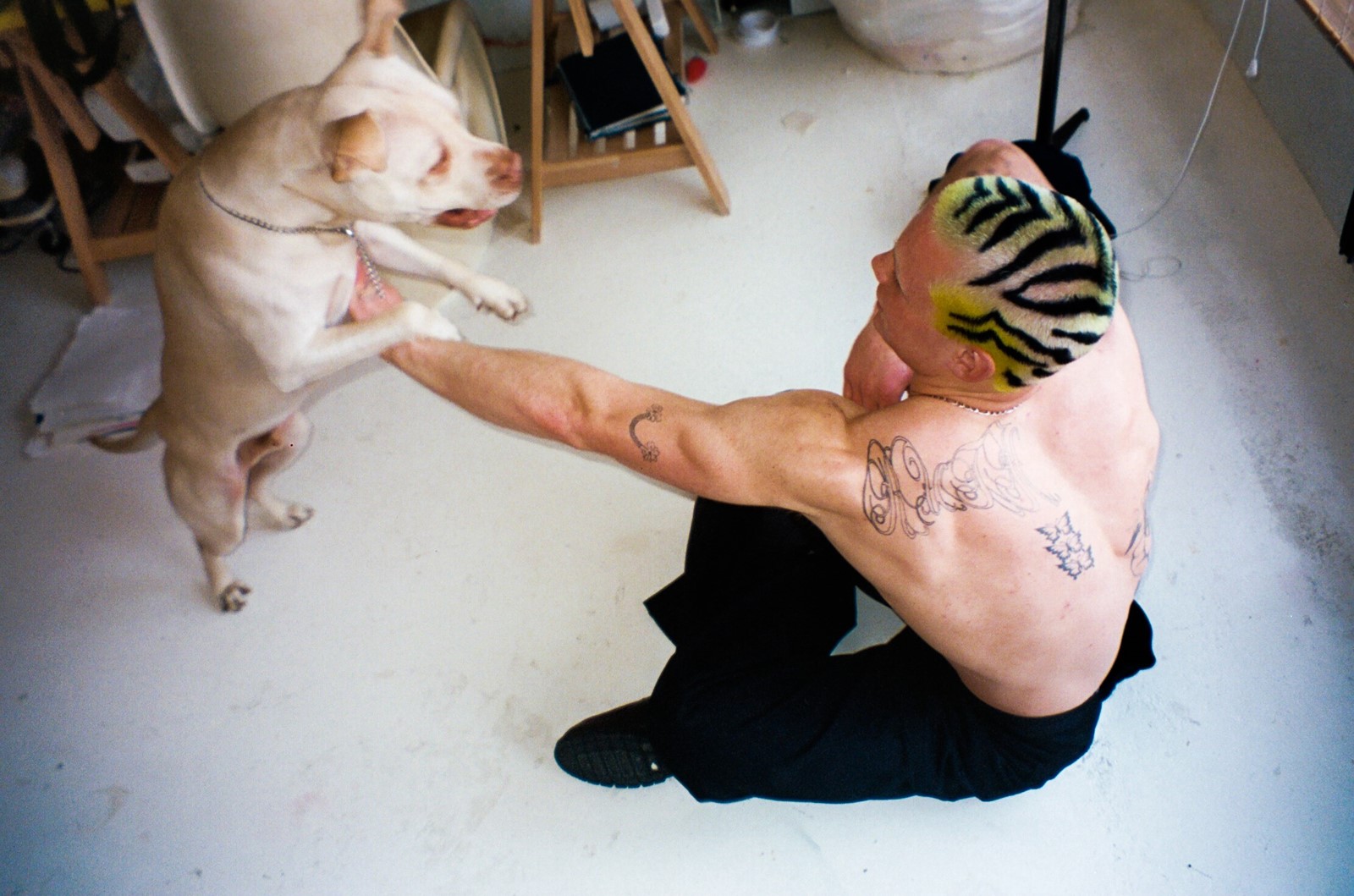 Did you try to match the look to the models personality and style?
Alfie Charles Vincent: I always love to work with my clients and let them choose their favorite colors. In this case, they browsed my work and selected a design from there.
Amy Fall: I generally consider the models' style and interests, but I would say the looks were not a direct expression of the models' personalities. If anything, they were an expression of me. I see the hair as a canvas for me to express myself based on the request or instruction of the model.
Why do you think colored buzzcuts are so popular right now?
Max Heilbronn: Many pop culture men have experimented with their hair, such as Dennis Rodman or even Tyler, the Creator. The options are also endless. Far from previous classic hairstyles, you can choose any design or any color that you really like. Shit, I sound like an ad.
Alfie Charles Vincent: You can paint anything on your head, people can say what they want, the color changes as often as they want. Brands also realize that they can use it in their advertising, while bands paint their album titles or logos on their heads. I paint AFC [Arsenal Football Club] on my partner's head and we go to the game, then color again before work on Monday. It's like a temporary tattoo.
You mentioned young people's desire for physical expression. Can you talk more about that?
Max Heilbronn: I don't think this is anything new: young people have always had a desire to express themselves through clothing or hairstyles, but in recent years the strong binary aspect of gender clothing and hairstyles has faded, allowing more experimentation and make fun possible. , at least in Western countries.
Do you think it's still harder for men to express themselves through their looks?
Max Heilbronn: I wouldn't say it's harder, but socially it's more restrictive for young men to open up, be eccentric and play more with how they look. There is sometimes a toxicity that comes from male friendship groups that I believe can trap men into following a classical ideal of dressing or how they should have their hair.
Amy Fall: I've never experienced being a man, but if I had to guess, maybe yes – there are certain style stigmas that still exist within certain communities in modern society, specifically to do with men's hair and fashion. [Men I know] said that there is generally less acceptance when it comes to expressing themselves in an unconventional way.
Alfie Charles Vincent: The whole concept of masculinity and expression has shifted in recent years. You see it in fashion, art and even social media and it's just an extension of that and a way of self-expression. I have many male clients from different backgrounds and I can only thank them for putting their trust in me to use their hair as a canvas.
Join Dazed Club and be part of our world! You get exclusive access to events, parties, festivals and our editors, as well as a free subscription to Dazed for a year. Join today for £5/month.