Hybrid work is here to stay, and it's more important than ever that we create workspaces where we actually want to spend time. An important part of this is decorating with the right colors.
It's hard to overstate the impact color has on how we feel in a space (for us, yellow can make us irritable if we're exposed to it for too long, while pink is supposedly most flattering under candlelight). Consider whether you want to coordinate your home office paint colors with the rest of your home's palette or make it completely different, drawing a firm line between work and play.
Working from home frees up a lot of time – a study by the University of Chicago showed that American workers saved more than 9 billion hours in 2020 because they no longer had to travel to work. To make those hours at our desks count, interior design and painting industry experts shared their advice on what color to paint a home office.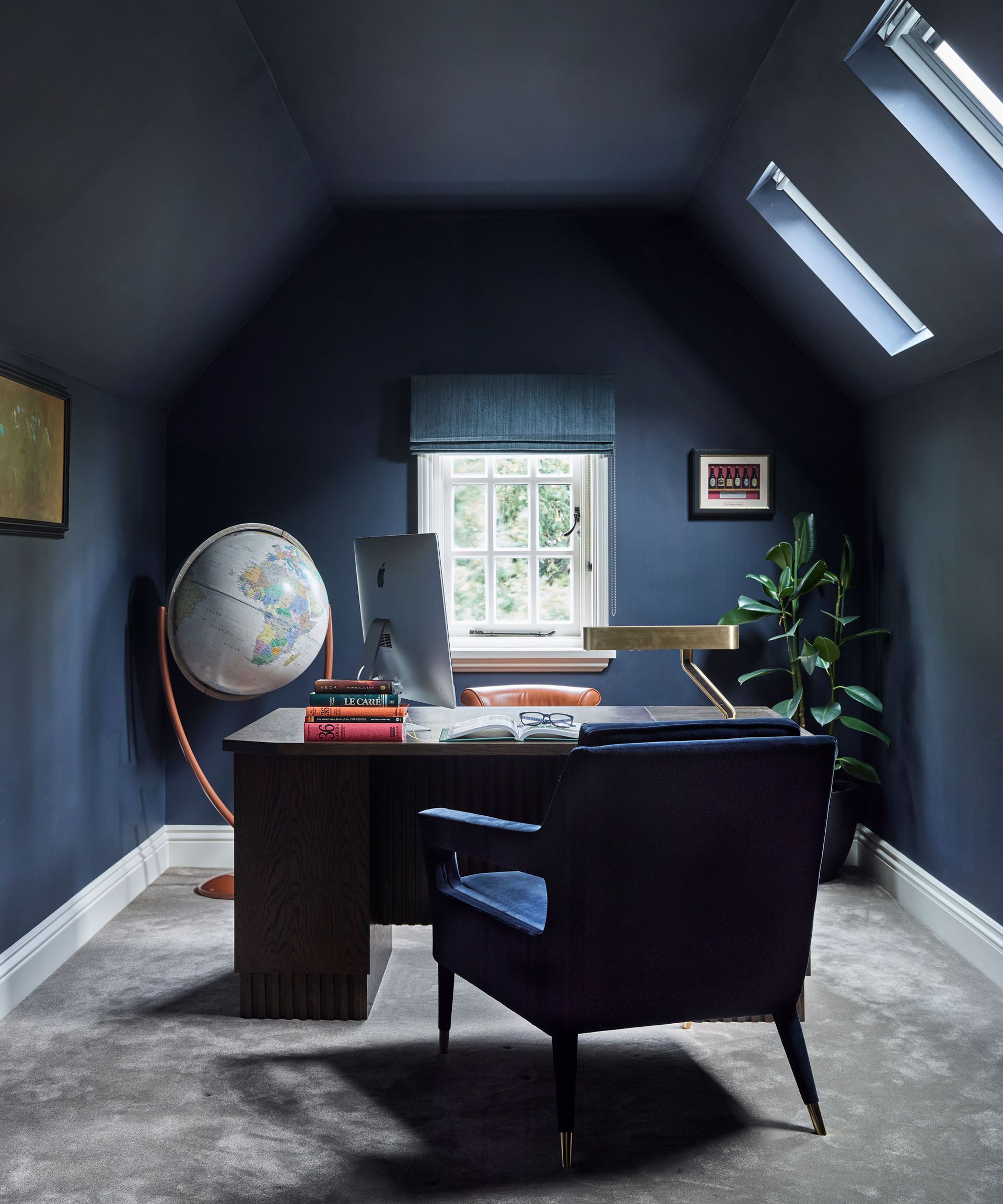 What color should you paint a home office?
'The best way to look at this is to consider your work, and some basic color psychology can help with your choice,' says Patrick O'Donnell, color consultant at Farrow & Ball (opens in new tab). 'While creativity can be inspired with bold colors such as burnt orange or punchy yellow, more data-driven people will respond better in a space of blue and green to help focus the mind. So consider these little rules before you commit to splashing on that can of paint.'
1. Soothing blues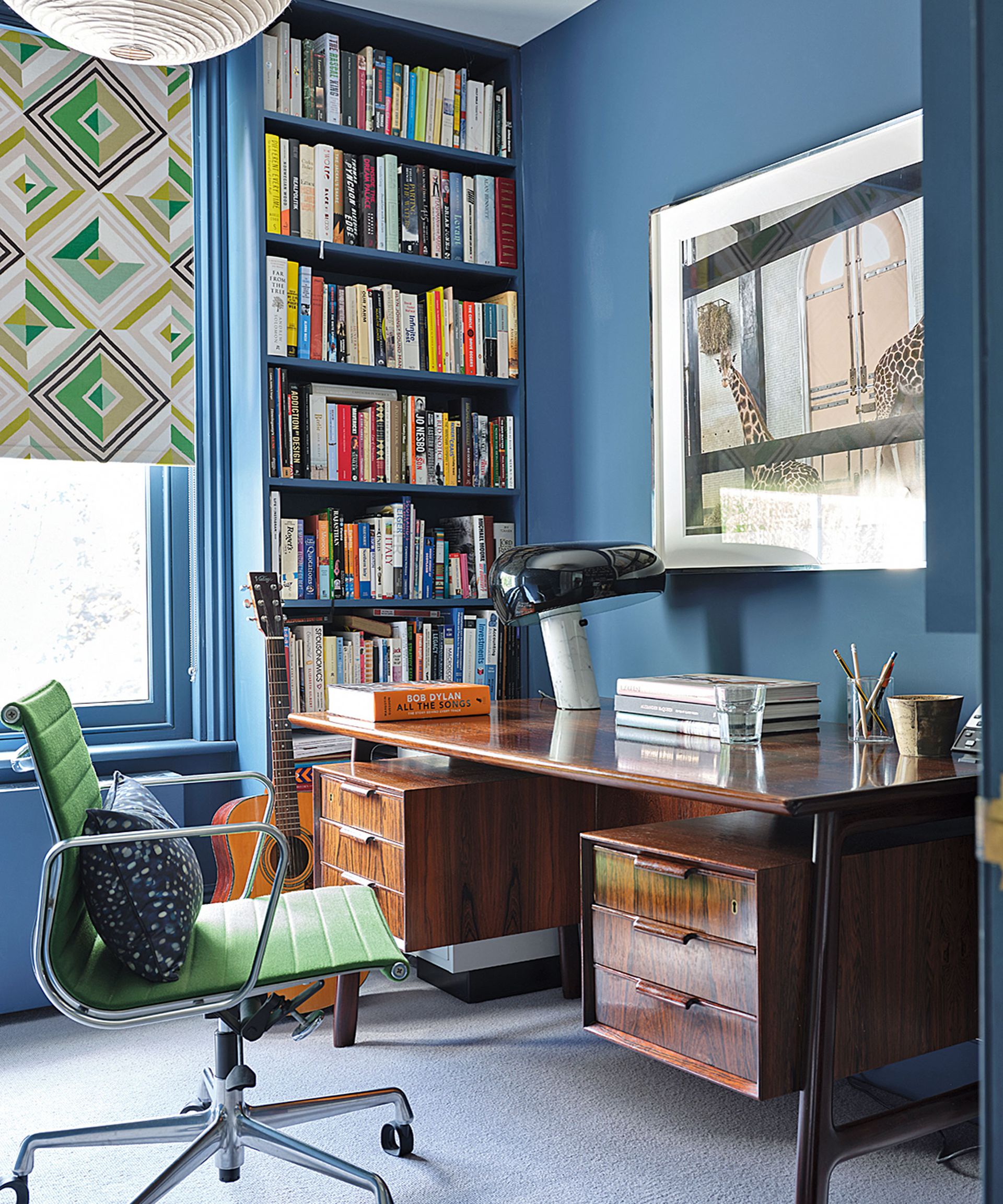 Blue is considered to be the color of the mind according to color psychology, making it perfect for a home office or therapy space. Calm and inspiring, light blue creates a sense of infinite space. It lends itself to problem solving, brainstorming ideas and attention to detail. In most of its guises, blue will help promote cool, calm and collected thoughts in your home office.
"Shades of blue are known to stimulate the brain, which ultimately leads to increased productivity and efficiency," agrees Mike Semegen, of interior design service Hello Home Studios (opens in new tab). 'It's a great color to stay focused in any office environment. Some examples of colors that work best are blue, teal and blue-grey.'
2. Rare-there neutrals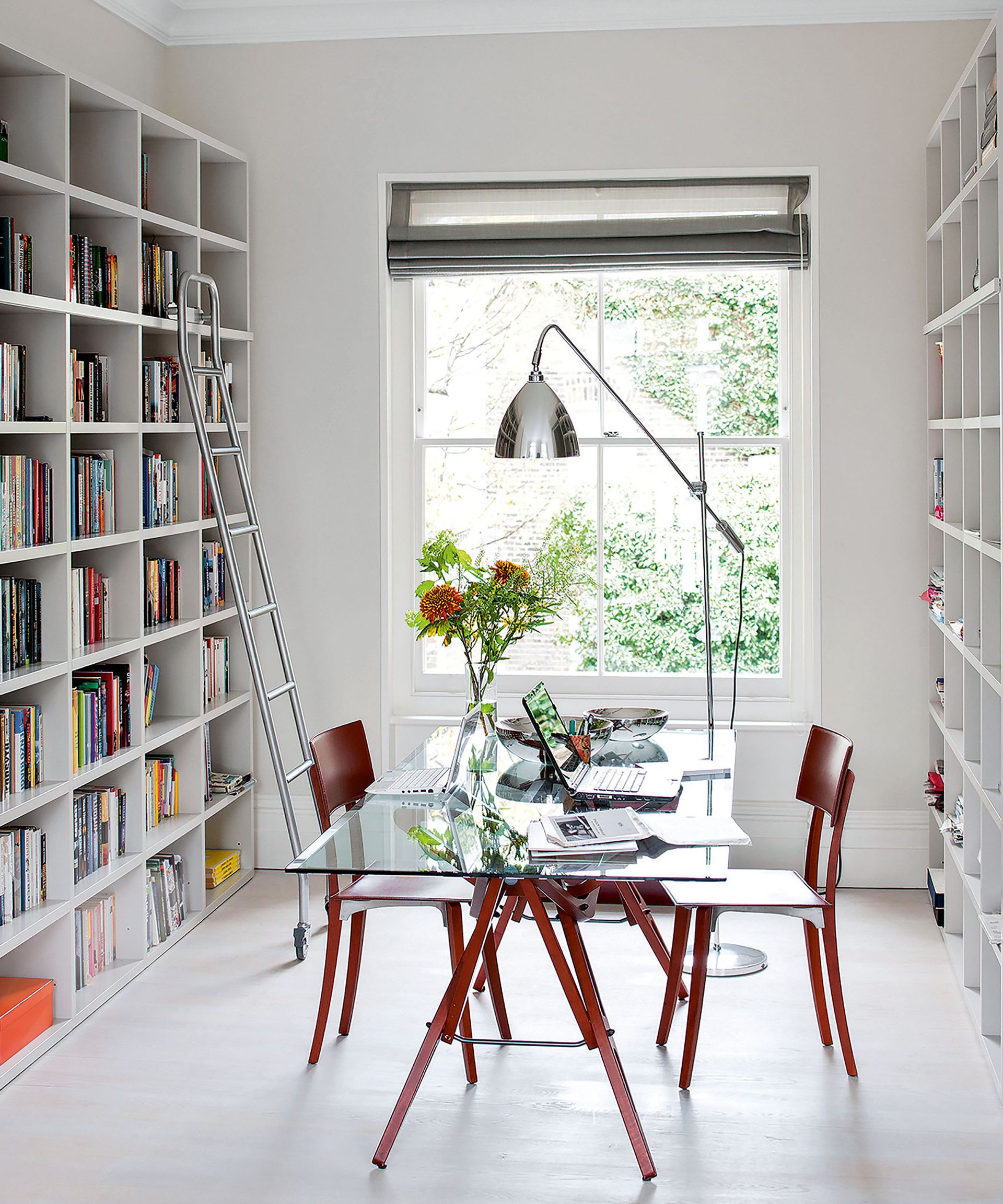 According to a survey by Living Spaces (opens in new tab), 66% of people preferred neutral colors for their home office. A warm, neutral palette of tans and beiges will provide a calming backdrop for a hectic workday prone to WFH distractions.
Despite what you may have read about orange being the most productive color, Jessica Harris, designer at Living Spaces says any colors that provoke a strong emotional response, such as red, orange or yellow should be absolutely avoided.
Homemaker Kate Keyser at Ivy Lane Design (opens in new tab) agree that neutrals are the ultimate choice in a space where you need to be focused. "We realize we may be in the minority here, but we actually recommend choosing an office paint that's super neutral to make the space feel clean and not overstimulating," says Kate Keyser.
'We recommend a simple color palette – and harness the power of inspiration in your art choice! Art gives you somewhere to rest your eyes and somewhere to draw inspiration from when you need to look up from your work.'
3. Soft greens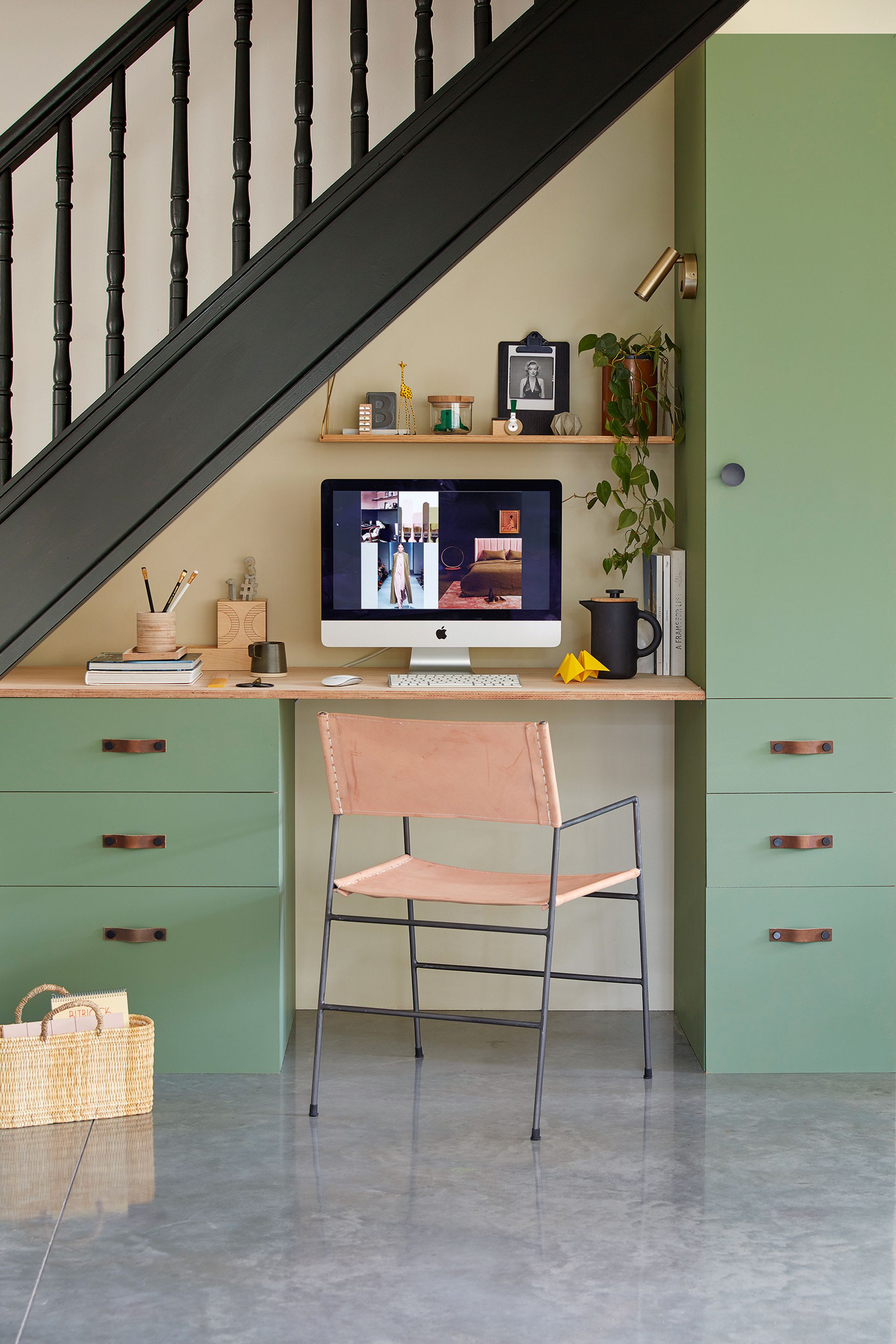 Consider introducing soft green tones into your home office, from delicate sage to rich olive. Sara Abate of Ambience Design Group (opens in new tab) says green is ideal for anyone who works long hours: 'Green is a great office color because it's easiest on the eye,' she says.
'A soft shade of green is ideal as it helps to create a calm and productive feeling in the space, where you can stay for long periods of time.' Nature-inspired colors from pistachio to pine create a sense of balance, which can help when facing challenging tasks or preparing for meetings.
'The perfect middle neutral would be the calming notes of Eddy (opens in new tab), a calm soft green that will encourage focus to get on with the work at hand,' says Patrick of Farrow & Ball. 'But if your metier is more creative, look to an enriching shade like India Yellow (opens in new tab) to truly inspire.'
4. Get inspiration from your wardrobe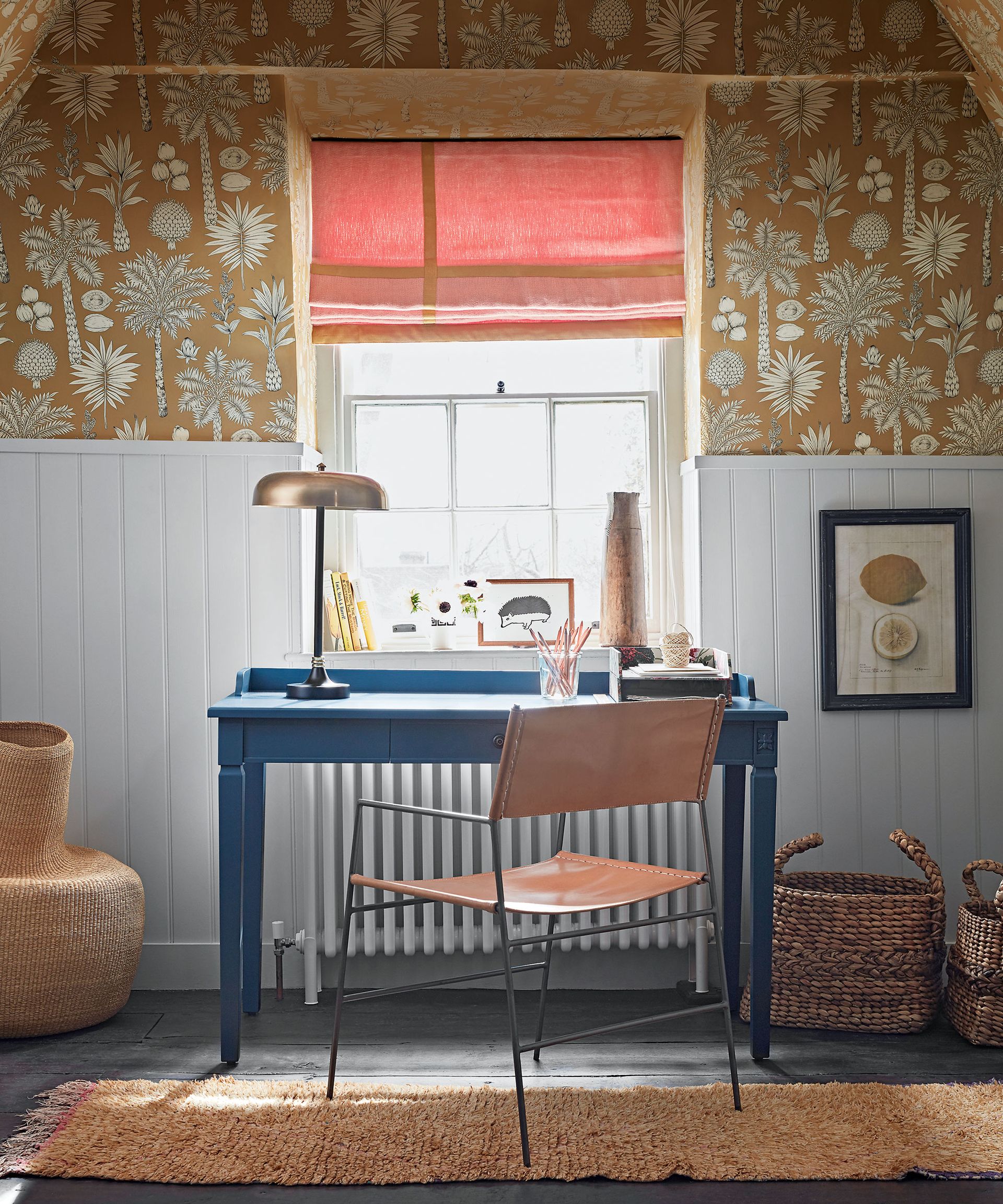 What color makes you feel good about yourself and the most productive? Since you'll be clocking up a lot of time in your home office setup, it should be a color or a choice of colors that reflect your personality.
'Not sure yet? Take a look at the clothes in your closet,' advises interior designer Lauren Jacobsen, president of Lauren Jacobsen Interior Design. (opens in new tab). "It should tell you what colors you feel best in. What's really great about the home office is that you can really personalize your own space to reflect exactly who you are," she says. This personal approach will create a home office that honors ourselves and the value of the work we do as we go.