High up in Mallorca's spectacular Tramuntana mountain range, the picturesque town of Deià is a Mediterranean idyll that has been a magnet for artists and bohemians for over a century.
There is no beach to speak of nearby, which served to keep the crowds at bay. The problem now is that only millionaires and billionaires can afford to live there.
"It still attracts creative people, but now they have to have money," says Chicago-born ceramist Joanna Kuhne, who has lived in Deià since 1980. "They come here to relax and they don't want to integrate or they don't want to know how to. Their life is somewhere else."
Local people were priced out. It's not that there is nowhere to live – the two estate agents in the village have many houses on offer for over €2m (£1.75m) – it's rather that people in the Balearic Islands, where the average monthly salary is €1,598, is well priced.
As such, while poverty drives the depopulation of rural areas on the Spanish mainland, Deià and dozens of towns like it in the Balearic Islands are being depopulated by wealth.
The regional government is fighting back, with a request for European approval for a law that would bar anyone not living on the islands from buying property.
This has been interpreted as a ban on foreigners buying property, but this is not the case in Deià, where foreigners, mostly from the UK and the US, make up around 37% of the population.
"It's not about people's nationality, everyone is welcome. This is how they plan to use the houses," says Deià's mayor, Lluís Apesteguia. "What we want are people who plan to live here. We don't want people to buy second homes, and we don't want speculators either."
It was the English poet and novelist Robert Graves, who settled in Deià in 1929, who put it on the map as a place of pilgrimage for artists and writers.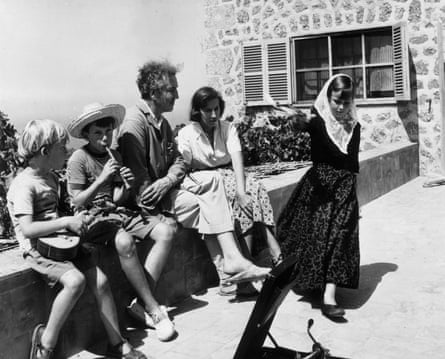 "Even when my father arrived, there was already an artists' colony of German and Catalan painters," says his son Tomás. "In fact, he initially rented from an American woman."
The charcoal industry declined, leading to massive emigration. As a result, houses were cheap to buy or rent.
When mass tourism arrived in the 1960s, the colony of foreign residents opposed any kind of tourist development.
"That was the first break between the locals and the foreigners," says Graves. "The foreigners didn't want more building work and the local residents saw what was happening elsewhere and wanted something for themselves."
"Then Mallorca was a paradise," says Carmen Domènech, who moved from Barcelona to Deià in 1974. "It was a haven for artists, poets and intellectuals.
"There was a good relationship between the locals and the foreigners. You can sit in a bar and Julio Cortázar [an Argentinian novelist] would be at the next table. It was all very natural and it was a proper village with a butcher and a fishmonger."
Things began to change in 1987 when Virgin Group boss Richard Branson obtained planning permission to build la Residencia, originally intended as an artists' retreat but in reality a luxury hotel.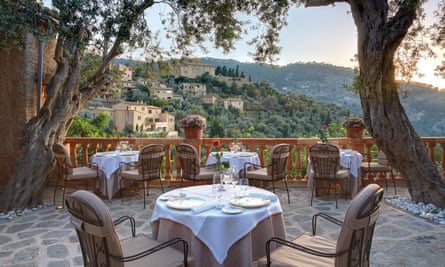 "The rot set in with the arrival of Branson and that's when I became an activist," says Domènech. "The argument went that, thanks to Branson, a lot of money would come to the area and everyone would have a job. Almost the whole town was against me because I was against it."
Graves says house prices skyrocketed "as soon as the Residencia began to attract art consumers rather than art producers".
Prices also rose when, under an ordinance passed in the 1980s, any new houses in Deià had to be built of stone, thus making them much more expensive.
Branson sold the hotel in 2002. It is now owned by Bernard Arnault, the boss of the luxury goods firm LVMH, and currently the world's richest man.
Francesca Deià (63) has lived most of her life in the village. She remembers what it was like to grow up with such a cosmopolitan crowd in a very conservative and Catholic place.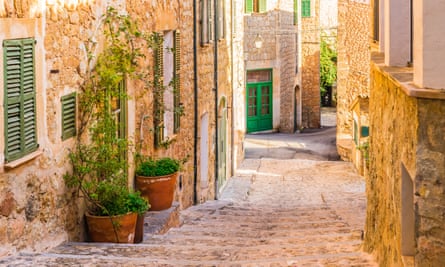 "For the older generation, the people who came here were like strangers and our parents wanted to protect us from all the sex and drugs and rock'n'roll," says Deià.
"I feel enriched that I was able to grow up with all these different nationalities and learn to speak English – and Welsh. The people I grew up with and their children are still here and they all speak Mallorcan. But these days I don't see that happening much. There is less integration."
Her Welsh partner, Dai Griffiths, says: "It's strange that artistic and bohemian types often say they feel freer in rural, conservative places than in the city. It's as if the linguistic and cultural barriers are a plus because they don't feel the need to connect with the people around them. The village is just a background."
Apesteguia, who describes himself as "pathologically optimistic", says the EU must be flexible and recognizes that the islands are a special case, "otherwise towns like Deià will cease to exist".
"The Majorca population is increasing while it is decreasing here in Deià," he says. "A village without a stable community is not a village, it is just a group of houses or a tourist resort."
Apart from a small supermarket, almost all the shops have gone and GP services have shrunk from four days a week to two hours.
"It's a ghost town and an amusement park," says Domènech.
Apesteguia tends to agree. "Tourists came here because it is authentic," he says. "But now it's not."