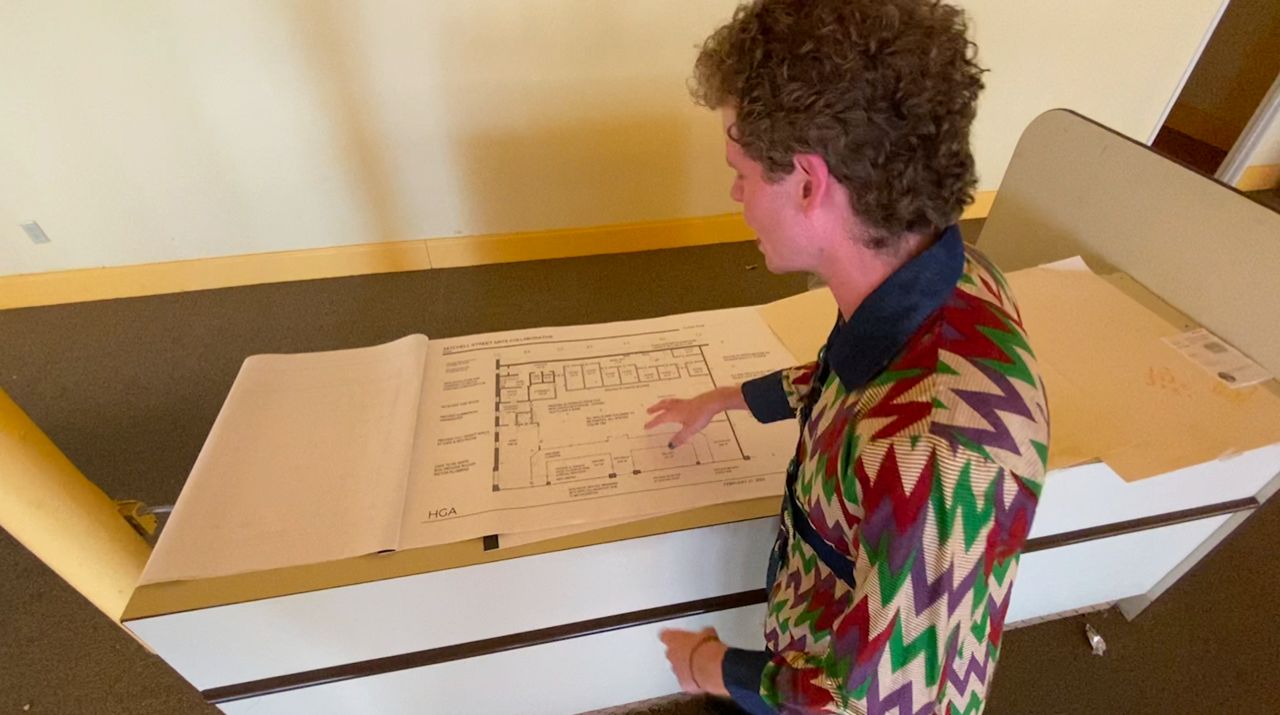 MILWAUKEE — When Rew Gordon's Mitchell Street Arts Collaborative opens in 2023, it will be the third tenant in the 122-year-old Kunzelmann-Esser Furniture Company building.
"Imagine these [front window display cases] As living rooms, bedrooms, we're going to transform them into artist galleries, so imagine moving walls inside, they're just rotating exhibits," explained Gordon.
They gave Spectrum News a tour of the site; Gordon was busy working with contractors and architects on the heavy lifting of transforming the recent former home of Mitchell Street Menswear into something many could use.
"It's everything from multilingual stand-up comedy and slam poetry, to small jazz performances, to silent orgy," Gordon said. "There are other events, and as we grow and build organically, we might have events like sipping and painting, or events for the whole community for many of our members."
In addition to the main event floor, it has a place for woodworking, ceramics, street art, other art studios, and even a café.
These are all things Gordon said when he asked the community what they wanted to see in the space.
"It's really trying to combine models of abundance and efficiency to see what works best for the space," Gordon said.
This is the first major project Gordon has worked on, and they don't really understand all the best ways to move forward.
That's why, in April, they signed up for the Wisconsin LGBT Chamber of Commerce's new entrepreneur boot camp.
"The content on accounting principles, hiring practices and legal structures is invaluable," Gordon said.
Jason Rae, president and CEO of the Wisconsin LGBT Chamber of Commerce, said they provide a lot of one-on-one help, but thinks there could be some benefit if there's a supportive community around business owners.
"We know that being an entrepreneur is hard, and having a network of people who go through this experience together, who can shape relationships, who can form partnerships, who can exchange ideas with each other, we really wanted to create it," Rae said.
One reason the chamber created the program, Rae said, is because 46 percent of LGBTQ workers aren't working "out of the home." It's also a big hurdle that many of them face when trying to start a business.
The plan has been successful. This year, 20 people signed up for training camp, which costs $100 for a full eight weeks thanks to a Harley-Davidson sponsorship, Rae said.
"I really hope this will be an ongoing program that enables LGBTQ entrepreneurs to start and grow their businesses," Rae said.
While Gordon's project is a nonprofit, they say they've learned a lot — something they hope will make the Mitchell Street Arts Collaborative a success.
.