In Annie Sloan's front room there is a small wooden table that she picked up at a flea market for next to nothing. The carved legs are painted black, but the top has the appearance of dark marble mottled with orange. "I'm very happy with that table," says Sloan. "I took a sponge, cut more holes in it and used it to apply paint. It's funny – sometimes I spend ages trying to get something to work and it just looks awful. And then something takes me 10 minutes and it's like, 'Oh wow!'"
Sloan, 73, has been experimenting with paint and color for more than 50 years and shows no signs of slowing down. "When I left art school, I realized that conceptual work doesn't really make me happy," she says. "It was color that people needed most in their lives." Half a century later, in this age of greige and perma crises, we probably need color more than ever.
Not surprisingly, Sloan's own home – a late-Victorian four-bedroom terrace in Oxford, which she shares with husband David Manuel – is a masterclass in how to use it. From piano to splashback, there is hardly an unpainted surface in the house. The entrance hall is in a sun-baked orange called Riad Terracotta, and the floorboards in Antibes Green. Like all the paints in the house, both are from her own Annie Sloan collection. "You can get away with large amounts of craziness in the hallway," she says, "because it's not an area you spend a lot of time in."
From here several green stairs descend to a mezzanine garden room. Here the walls vary from orange to green to pink, the latter inspired by the interiors of a Cuban cafe. "The pink is wax," says Sloan, "a product I developed to protect our paint. It gives the walls this beautiful soft finish."
On another half level is a basement kitchen and dining room. The kitchen has been expanded to include a damp, underutilized corner of the garden, now a bright breakfast room with wooden planters adorned with architectural salvage — fragments of chairs and moldings "that have just been glued and painted."
The same creative approach applies to the kitchen splashback, which is painted with bright, joyful figures that contrast with gun-metal painted cabinets. In the adjacent dining room, a hand-painted piano sits against bright red wash walls that have the sheen of Chinese lacquer.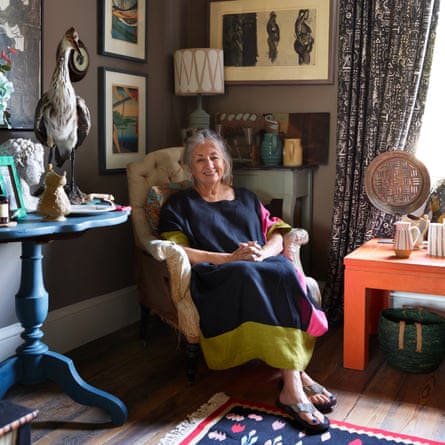 On the ground floor, two separate living rooms have been joined together. On one side, ornate stucco stands out against grass-green walls (Schinkel Green, named after the neoclassical German architect Karl Friedrich Schinkel). "I knew I wanted something strong and bright here," says Sloan. "It had to be a color that could carry the strong artwork we have. If you put those colors on anything too neutral, they just die, so it had to be bright, but not warm." In the alcoves on either side of the fireplace, shelves are painted in a variety of colors that "make the objects sing."
On the opposite side of the room, the walls are a more muted warm gray (French linen), chosen to reflect the quieter art and objects in this part of the room. (Although she couldn't resist a sunset streak of Barcelona orange above the picture rail.)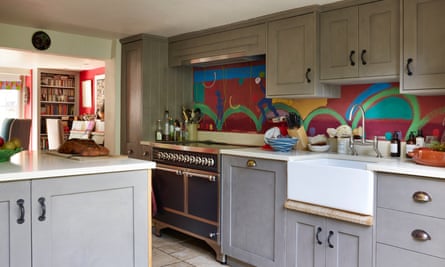 After a degree in fine art, Sloan branched out into interiors and began working for private clients. "It was in the days of marbling and woodcarving, so I did all that and ended up writing a book about it," she says. The Complete Book of Decorative Paint Techniques was published in 1987 and sold more than two million copies, establishing Sloan as an authority on color.
Three years later, when shabby-chic and upcycling emerged as interior trends, Sloan launched her own paint company, producing colors designed to transform vintage furniture.
"I ended up working with a factory in Belgium that was willing to experiment with me," she says. Together they created a formula for her Chalk Paint range, which can be used on almost any surface without preparation.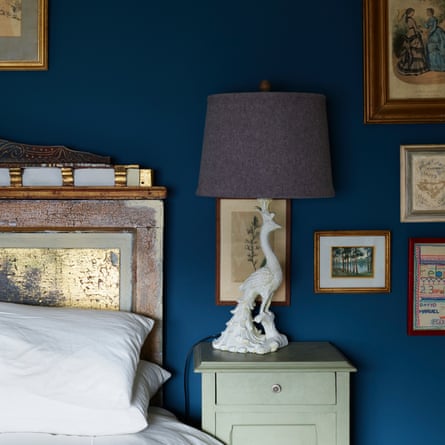 Sloan was born in Sydney to a Scottish father and a Fijian mother. When she was 10, the family moved to Kent. Sloan recalls spending six weeks on board a ship traveling to the UK via Fiji, Tahiti and Panama. The experience instilled in her a lifelong love of travel, and her home is filled with objects from her globetrotting: a sacred head from Brazil, maquettes from China, ceramics from South Africa, a collection of jugs from the south from France – "only things I really like the shape or color".
Throughout the house, one-off finds jostle for space, and picture frames hang slightly askew. "Things move around quite a lot," admits Sloan. "People tend to think that the house is finished now, that I'm not going to do anything else. But I think it's a good idea to keep our homes running. Everyone is creative in one way or another – I'm just really keen to help people find that creativity."
Annie Sloan's first online interior design course, How to Fill Your Home with Color, is available at createacademy.com